A bucket-list escape to Australia's East Coast
Whizz around the Whitsunday Islands on a speedboat, sandboard and quad bike the desert dunes and snorkel the Great Barrier Reef
A bucket-list escape to Australia's East Coast
Overview
Itinerary
Accommodation
Important Notes
About your trip
Dream of visiting Australia but don't know where to start? Let this escapade to the land of sunshine and high adventure be your guide.
We'll kick off things in Sydney, exploring on foot and by ferry, then push onto Hunter Valley to drink fine wine in rolling vineyards. You'll turn the dial up by sand boarding and quad biking the sand dunes of Port Stephens, then visit the handsome Dangar Falls. You'll pop by Byron Bay for a surfing lesson before heading off-road in 4×4 jeeps amid the rainforest and lakes of Fraser Island.
You'll explore the awe-inspiring Whitsunday Islands by speed boat and take a catamaran around the Great Barrier Reef, for snorkelling you'll never forget.
A truly momentous adventure with a perfect mix of decadence, adrenaline and Instagrammable moments.
What's Included
Accommodation in twin rooms
Equipment
Guide
Local transport
Most meals included
Max 14 travellers per group
ATOL protected
Private airport transfers
Remember, flights aren't included and prices are based on sharing a twin room. If you'd like to upgrade to a single room, you can add this during the booking process or by contacting our Customer Experience team.
Your Itinerary
Day

01

SENSATIONAL SYDNEY

G'day Flashpackers and welcome to Sydney! Arrive at any time today and we'll meet you at the airport and whisk you away to start your epic adventure, exploring Australia's incredible east coast. Settle into your hotel and catch your first glimpse of that oh-so-famous Sydney view – the iconic Sydney Opera House juxtaposed against the modern high-rises that offer headquarters to many of the city's FTSE 500 companies. Look slightly to the right and you will also see the beautiful harbour bridge: you've landed in an Instagram dream world. Your first evening will be spent meeting and getting to know your fellow Flashpackers over some food and drinks at a typical Aussie pub before bedding down and getting set for some serious exploration and adventure over the next 14 days.

Day

02

URBAN DISCOVERY

Awake to magnificent views over the gorgeous harbour and enjoy breakfast in your hotel before setting out to explore. Today we'll take in the contrasting areas of the bustling Central Business District. This includes the legendary Opera House and Harbour Bridge, The Rocks neighbourhood with its stunning architecture and fab coffee culture, and the historic Macquarie Street with the State Parliament House, The Barracks and Rum Hospital. After a brief sojourn to the botanical gardens, we'll hop on a ferry and enjoy a trip around the coast to Watson's Bay, famous with locals for being the best place to get your freshly caught fish. We'll sit down to freshest, tastiest fish and chips you will ever have tried (a bold claim we know) before ambling back towards the city via the crashing waves and surfer dudes of Bondi Beach. The evening is then yours to sample the buzzing nightlife of Sydney, your Flashpacker squad in tow.

Day

03

BOUTIQUE WINES AND STUNNING VIEWS

Goodbye bright lights of Sydney – today we'll drive three hours north to the pretty, laid-back Hunter Valley, one of the world's largest wine-producing regions. We'll visit boutique, family-run wine estates, where we'll learn all about how they produce their famous vintages while sampling some of the best they have to offer. Once you have been suitably satiated and educated, we'll hop back in our air-conditioned vehicle and mosey on up to the harbour city of Newcastle. Check in to your hotel and snooze off all that wine before grabbing some dinner and getting an early night. Tomorrow awaits with a day of super high-octane fun and adventure…

Day

04

SANDBOARDING AND QUAD BIKING

After brekkie in your hotel, head outdoors into the desert wilderness to try your hand at some heart-pumping activities at Stockton Sand Dunes, the largest moving dunes in the Southern Hemisphere. We'll kick things off with sandboarding. You'll be taught the basics of this thrilling sport before being set free to throw yourself down the sandy mounds, some of which tower up to 40 metres high. The adventure then continues as you're kitted out and provided with a quad bike to start bashing up those dunes. Go flying across the horizon on a rollercoaster ride. Then, we're heading straight onto our next destination in Byron Bay. Settle into your new coastal retreat, just in time for dinner.

Day

05

A BEACH DAY ON BYRON BAY

This morning, wake up to the fresh sea breeze in Byron Bay – you've got a whole free day in paradise. It's been a whirlwind of awesome experiences since you touched down in Aus, so today we give you a chance to recharge and soak up the excellent vibes of Byron Bay. From poolside chilling and massages, to sea frolicking and pottering the cute shops around the town centre, the options in this lovely corner of the world are endless. Make a beeline for local artisan and farmer's markets, or hit up Byron Bay Arts Trail for your culture fix. You could even head off to kayak the crystal waters, or venture into the hinterland of nearby National Parks to explore lush foliage and waterfalls. You might want to rally your Flashpackers for an evening out in friendly Byron but take our advice and don't go too hard – you'll want a clear head for tomorrow's sea-faring foray…

Day

06

A SURF LESSON AND FARM LUNCH

Byron Bay is the kind of place where the standard uniform is a wetsuit and every second person walks around with a surfboard. This morning, you'll sample the surfer lifestyle yourself with a beginners surf lesson on the baby waves. Rustle up your courage as you go flying across the surf (or more likely, wobble a bit and fall in – happens to the best of us). We'll refuel by heading out of town to a local farm, where we'll tuck into a fresh lunch. Then, bellies full, we'll make our way to Surfers Paradise for sunset, stopping to explore a rainforest en route. Navigate your way through the trees and waterfalls, before we continue to the coast. As evening settles in, explore the many bars and restaurants that the town has to offer.

Day

07

A FREE AFTERNOON IN NOOSA

After last night's activities, enjoy a lazy lie-in before tucking into breakfast at the hotel. Come late morning, we'll drive more than three hours north to the sunshine coast town of Noosa, where yet more idyllic beaches await. Those with a second burst of energy can head to the main drag of Hastings Street to watch the beautiful sunset, beer in hand, before checking out the Noosa nightlife.

Day

08

LIVE OUT YOUR ISLAND FANTASIES

Flashpackers, today we're off for an intense and sometimes bumpy ride around Fraser Island, on a fleet of 4×4 jeeps. Hop on a short ferry ride over from the mainland, before heading off-road for a day of unforgettable adventure. Measuring 120 kilometres, this gigantic World Heritage-listed sandbar is the world's biggest sand island, home to a rich and diverse ecology. It's quite unlike any other place on earth, so drink in the unique setting as we cruise amid a canvas of rainforest, dunes and freshwater lakes. Keep a lookout for dingoes and turtles, along with offshore whales and dolphins, as we explore the diverse and spectacular environment. There'll be plenty of stops for swimming, walking and nature spotting en-route, as we make the most of the sandbar wilderness. Once we've circumnavigated the island, we'll head back over to the mainland to hit up Hastings Street, for a second night of sunshine coast cocktails.

Day

09

OFF TO AIRLIE BEACH

Wave goodbye to the blue skies and glorious sun of Noosa because we're heading towards Brisbane airport for a 90-minute flight to Proserpine. A short drive then takes us to Airlie Beach, the gateway to the gorgeous Whitsunday Islands. Check into your hotel before spending an afternoon of free time in this lively coastal town. Ramble around the lagoon – the town's free public park and swimming pool – find a patch of beach to call your own, wallowing in some well-deserved sand time with your fellow Flashpackers. There are plenty of boutiques to wander around, along with some great bars and seafood restaurants. You could also pop over to Cedar Creek Falls for a dip in the secluded rockpool there. Stock up on sleep tonight: tomorrow's full-day speedboat adventure is going to be epic.

Day

10

SPEEDBOAT THE WHITSUNDAY ISLANDS

Whitehaven Beach is arguably Australia's number one beach. The sand is soft, perfectly white and makes your feet squeak. It is also made from quartz, something that can only be found here. Our full-day speedboat escape today will take us to this beautiful spot, alongside many other mind-blowing islets and coves that scatter the Whitsunday Islands. No photograph will ever be able to recreate the wonder of this idyllic maze, so take a mental picture and remember this moment. Onboard your boat, the crew will cater to your every need so soak in the sunshine and sensational views, as you whizz between lesser-known beaches, snorkelling in warm, turquoise waters to admire the incredible marine life.

Day

11

HELLO, URBAN OASIS

After breakfast in your hotel, still fresh from the amazing memories of yesterday's speedboat escape, we'll board a quick ferry ride to Hamilton Island and catch a flight up north. Take in your last glimpse of the remote and shimmering scenery as we head back to civilisation and the urban hubbub in the coastal city of Cairns, the entry point to the Great Barrier Reef and Queensland's tropical north. Check in to your hotel and take a wander around the neighbourhood to orientate yourself and plan your attack on the bars and restaurants this evening. This afternoon offers some free time to further explore. There's plenty of markets nearby, along with a vibrant café scene and the Tjapukai Aboriginal Culture Park, where you can learn all about Aboriginal history. Come evening, soak up the night-time vibes in this fun and eclectic metropolis.

Day

12

FREE DAY IN CAIRNS

Today is all yours to do as you please. If you want to explore this beautiful region further, we recommend travelling north along the beautiful coastal route towards Daintree National Park. This stretch of dense steamy forest and mountain peaks offers yet another ecosystem, and a real contrast to the azure waters of the reef. Alternatively, head down to the beach to unwind beneath the warm rays, or explore the city sights at your own leisurely pace.

Day

13

THE GLORIOUS BARRIER REEF

You'll want to load up on carbs at breakfast this morning because today we'll explore the Great Barrier Reef, a UNESCO wonder and the oldest living organism on Earth. This magnificent hotbed of biodiversity sprawls for over 1,500 miles off the eastern coast of Queensland, Australia, and is home to countless species of tropical fish and vibrant spools of coral. We'll head out early morning and cruise to the reef in style on a catamaran. On a full day's sail, we'll explore two reef sites on the Outer Barrier Reef, with swimming and lazing on the deck in-between. Grab your snorkels (you can scuba dive as an optional extra) and paddle around in the company of vibrant parrotfish, coral trout and beautiful maori wrasse, along with over 160 species of shark who call this region home. If you're lucky, you might also spot seahorses, green sea turtles and humpback dolphins. Get set for an bucket-list ocean dip as you admire this fragile and wondrous structure. Grab lunch on-board with your Flashpacker crew before we return to Cairns just in time for Happy Hour. Tonight we'll gather for a farewell dinner and drinks. Reminisce about your incredible fortnight voyage together, as the sun goes down over your finale Australian night.

Day

14

FAREWELL AUS

Grab your last brekkie at the hotel before checking out and making your own way to the airport; salty toes, sandy hair and a heart full of the joie de vivre only a true adventure can bring. As you jet back home, think back on the incredible adventure you've just had, from getting under the skin of Sydney's cosmopolitan city life, and drinking fine wines in Hunter Valley, to sandboarding and quad biking in Port Stephens and surfing in Byron Bay. You've bumped around Fraser Island in a 4×4 jeep, explored around the Whitsunday Islands by speedboat, and snorkelled along the Great Barrier Reef. It's been a jaw-dropping trip along the east coast of Australia, brimming with wow factor moments. So good, in fact, you might not want to ever leave. You've been warned…
Our Favourite Hotels
Browse a selection of our favourite hotels, for a flavour of where you may stay on this trip.
The Riley, Cairns
Think old-school chic, set against the tropical Coral Sea. The Riley is just the place to relax after exploring the Great Barrier Reef.
The Lord Byron, Byron Bay
Chic ensuite rooms in a palette of white and ocean blue, with private balconies overlooking tropical gardens or the pool (or both if you're lucky!).
Noosa Blue Resorts, Noosa
Smart rooms with a long list of welcome extras: cafe, yoga studio, fitness centre, massage rooms and a steam room. There are also two outdoor pools (one with a slide) and a poolside hot tub.
Important Notes
Fly into Sydney Airport (SYD) and fly out of Cairns Airport (CNS).

Please be aware that the itinerary, activities and hotels are subject to change. These changes can happen with little notice due to availability, poor weather, seasonal changes, or other circumstances beyond our control. From time to time we may also make changes to your itinerary to try out new ideas and keep things fresh.

We take safety very seriously on Flash Pack adventures – read more here.
What Flashpackers say
"In 2 weeks, we covered a lot of ground traveling the entire east coast and doing a variety of different things - rain forest hikes, beaches, boats/snorkeling, surfing, quad bikes, sand boarding, waterfalls, wineries, wildlife sanctuaries, etc. Our group dynamics were exceptional and this is what I believe made the experience worthy of 5-star review (this includes our tour guide, Rhen). I know for certain that I made some life-long friends from this experience. "
"Had the trip of a lifetime! Met incredible people and did so many activities and saw so many things that I would not have done on my own. Celebrated my 40th birthday with 7 strangers who quickly became friends!"
"It was an amazing trip, and couldn't have been better. If you're on the fence, don't be - just pull the trigger and go. You'll have an incredible time."
"This was the best thing I ever did for myself! The trip was perfect but even more so, the group they put together was fabulous! I had 13 new instant best friends. The adventures were unforgettable and the accommodations were lovely. Book one now and never look back."
OUR PROMISE
Joining the Flash Pack comes with a few special guarantees
Similar Trips
8 days in Asia
From Bali to Komodo: Discover Indonesia's uncharted beauty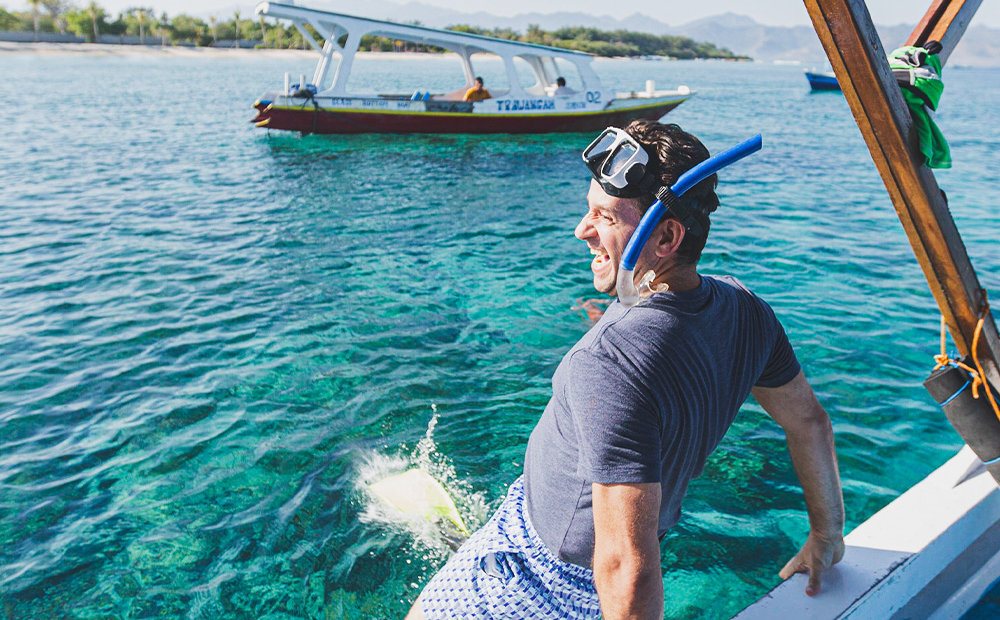 12 days in Asia
Bali & The Gilis: Island Adventures
12 days in Asia
Escapism in the Philippines
9 days in Asia
Alternative Thailand
10 days in Asia
Off-Grid in Thailand and Laos
Subscribe to our newsletter
SIGN UP TO OUR NEWSLETTER
Hear about our new adventures before anyone else
Talk to an expert
Need help choosing your perfect adventure? Speak to one of our dedicated Travel Advisors now.
Contact Us
WHAT TO EXPECT
Hear about our new adventures before anyone else.
Be the first to hear about exclusive Flash Pack offers.
Access exciting competitions.
Receive weekly inspiration and travel stories from solos just like you.