Savour the delights of Malaysia
See the magic of the rainforest by twilight, get your street food fix in Penang and Kuala Lumpur, and dial down with an idyllic island retreat
Savour the delights of Malaysia
Overview
Itinerary
Accommodation
Important Notes
About your trip
From vibrant port towns to steamy jungles and paradise beaches, our 13-day Malaysia adventure is the gift that keeps on giving.
This is an escape for foodies, as we head off-radar with street food safaris in Penang and Kuala Lumpur, and whip up local dishes under the eye of Malacca cooks. It's also a trip for nature-lovers, as we sail to a jungle salt lick and trek Belum rainforest by night, spying out wild elephants, giant flowers and wide-eyed loris.
Dive in for a whirlwind getaway of cycling, hiking and high tea in the Cameron Highlands, with a side helping of unbeatable views. Get hands-on with the country's dazzling diversity, as you trek Jasar Mountain and feast on all the Penang hawker you can eat. Then, break out your flip-flops for the finale: two days of dreamy escapism on the archipelago islands of Langkawi.
Settle into your palm-fringed retreat by the Andaman Sea. Ah life!
What's Included
Accommodation in twin rooms
Equipment
Guide
Local transport
Most meals included
Max 14 travellers per group
Private airport transfers
Remember, flights aren't included and prices are based on sharing a twin room. If you'd like to upgrade to a single room, you can add this during the booking process or by contacting our Customer Experience team.
Your Itinerary
Day

01

KICK-START IN KUALA LUMPUR

Touch down in Kuala Lumpur before 4pm and soak in the lively blur of city life, as your private transfer whisks you to your boutique hotel. Malaysia's effervescent capital dates back to 1857, when a small mining town sprawled into a booming city during the Industrial Revolution. Attracting Malays from nearby villages, British businessmen, Chinese labourers and Indian immigrants, Kuala Lumpur grew into the exotic melting pot that you see today. The largest and most developed city in the country comes with soaring skyscrapers that pierce the cityscape, along with luxe hotels, old colonial buildings and bustling food stalls. After freshening up at the hotel, we'll head out to bask in the energy of the streets and get a flavour of KL after dark. Toast your fellow Flashpackers and guide over welcome drinks in one of the capital's dynamic bars, knowing a whole lot of adventure awaits.

Day

02

ALL THE STREET FOOD

Today we'll take a three-hour foray around KL's insider foodie hotspots, seeing where locals go to get the best grub in town. We'll start at Brickfields, aka "Little India", to try yam and sweet potato fritters and tea-time snacks such as vade and curry puffs. We'll also tuck into Malaysian sweet treats, including fresh banana fritters and cendol; an exotic mix of shaved ice, plum sugar, kidney beans and coconut milk jelly. Then we'll hop over to Chinatown, where you can feast on spicy noodles with lime juice and amazing Chinese pancakes. We'll finish at an old-school coffee shop, for a cuppa served with kaya toast and coconut jam. The rest of the afternoon is free time to explore KL. Stroll the banyan tree-lined streets to find local parks and tucked-away temples. Pop by mega-sized shopping malls or the iconic Petronas Towers in their 88-storey splendour. There's also Central Market for local handicrafts.

Day

03

A COUNTRYSIDE BIKE RIDE

We'll take a hop-skip two hours south today, to the charming port city of Malacca. Explore the colourful sights of this UNESCO World Heritage City, with its boutique galleries, edgy street art and colonial architecture. This afternoon, we're going off the beaten path for a three-hour cycle ride through the nearby countryside. Saddle up and spend the afternoon pedalling through traditional Malay villages, amid a maze of rubber and palm oil plantations. Look out for monkeys in the swaying palm trees along the way, with your guide stopping to show you local herbs such as lemongrass, citronella and tropical fruit trees. Cycle past shimmering paddy fields as you bask in this glimpse of rural Malaysian life. Back at the hotel, there's just time to freshen up and hang out in the fairy-lit courtyard before we head to a great local restaurant for a well-earnt evening meal.

Day

04

TRISHAWS AND TERRIFIC COOKING

Foodies rejoice as we get stuck into a cooking class this morning, with local chefs helping you to rustle up a series of Malaysian favourites. Get to know your chicken rendang from your chicken candlenut, as you whip up an appetiser, a special regional dish and Malay veg – all with plenty of rice and lime juice! Feast upon your creations for lunch then, armed with your new recipes, it's time to hop on a trishaw. These colourful wheels are a spectacle to behold, with their bright decorations and stereos blasting out tunes. Sit back and savour the ride as you cruise by Malacca's historic headline sights, including the Stadthuys church and clock tower, the Dutch Square and the Villa Sentosa living museum. Keep note of any places that catch your eye, as this evening you're free to hit up the local nightlife. Let loose as you hop between bars in this lively coastal city.

Day

05

STRAWBERRY PICKING IN THE HIGHLANDS

Today we're heading to the Cameron Highlands, home to emerald valleys and epic views. Load up your playlist for a five-hour drive north, seeing Malayan life unfold on the kerbside as you go. Like the calming properties of a good cup of tea, the endless Cameron plantations will soothe your soul. Named after explorer Sir William Cameron, who mapped the landscape in 1885, the highlands became one of the country's biggest tea producers during the British colonial period. We'll kick things off by visiting a strawberry farm for a sweet treat, and the chance to see the harvesting in action. With its cooler climate and stirring countryside landscapes, this is a great place to unwind and escape the humidity of Malaysia's cities. Kick back in your serene new home and wallow in the wide skies and rolling hills. Cuppa anyone?

Day

06

HIKE FOR (VERY) HIGH TEA

The terraced valleys of Jasar Mountain are beckoning today: grab your hiking boots for a one-hour hike to its summit. We'll climb up through lush green scenery to reach the peak, where a sweeping panorama of the Cameron Highlands awaits. Drink in the rolling views of Malaysia's time-old tea country, amid fresh mountain air and an endless horizon. On our way back down, we'll pass the settlement of the Kampung Sungai Ubi people, where you can learn more about the lives and history of Malaysia's tribal groups. We'll then hike onwards through the striking beauty of the Cameron Valley tea fields, discovering unique plants and learning how these verdant hills became fertile ground for the most British of beverages. To toast the process, we'll finish with a spot of afternoon tea overlooking a picturesque plantation. You've climbed a mountain today – a brew never tasted so good.

Day

07

WILD NIGHTLIFE IN BELUM RAINFOREST

We're heading four hours north to the jungle wilderness of Belum Rainforest today, where wildlife-lovers are in for a treat. On the tip of the Thai and Malaysian border, this vast 300,000-hectare expanse is a tropical paradise brimming with rare and exotic species. We'll check into our lovely rainforest retreat on the island of Pulau Banding, where you can spend the afternoon wandering local nature trails, hitting up the hotel spa or wallowing in the infinity pool with views over Lake Banding. Then, as darkness descends, we'll embark on a magical night walk through the rainforest. Listen as the wilderness comes alive with the rustles and calls of nocturnal wildlife, your awareness peaked by the dark night skies. Wander through the jungle in the path of your guide, watching animals play in the dusk amid a chorus of buzzing insects. Keep a lookout for slow loris, with their shiny saucer eyes.

Day

08

IN SEARCH OF JUNGLE GIANTS

Rise and shine to the sounds of the jungle, ready for a day of exploring Belum Rainforest. Jump onboard our jungle boat and glide through the rainforest waterways in search of the rafflesia, the world's biggest flower with a speckled red appearance. It only blooms for four or five days and a sighting is far from guaranteed, but there's plenty more to see as we float towards the salt lick at Jenut Papan. This mineral source is an important habitat for local wildlife, so keep your eyes peeled for Asian elephants, Malayan tigers or even endangered Sumatran rhinos. It's then back on our boat once more, as we continue our river safari downstream to Ruok waterfall. This stunning beauty spot is the ideal place for a jungle picnic, surrounded by palm fronds and shoals of freshwater fish. More trekking and exploring lies ahead this afternoon in our tropical wonderland, before we return to the hotel jetty.

Day

09

THE NIGHT HAWKERS OF PENANG

Today we'll leave the rainforest behind and head three hours west to Penang Island. A lively blend of eastern cultures, the state capital of George Town combines ancient history with cosmopolitan culture. Settle into your charming hotel and sprawl by the oasis pool before spending the afternoon as you please. We recommend weaving your way through this eclectic city, discovering lantern-lined alleyways, ancient shrines, modern cafes and a vibrant arts scene. Come evening, we'll gather for a culinary safari to try out Penang's famous hawker food. With a born-and-bred guide leading the way, explore George Town's night hawker streets to try local delicacies such as Loh Bak (deep fried pork marinated in spices), Apam (a sweet pancake adorned with sugar and peanuts) and Kuihs (bite-sized Malay pastries). From celebrated foodie hot spots to hole-in-the-wall locations known only to residents, this is a great way to get a vibrant taste of local life.

Day

10

TREK TO THE PEAK OF PENANG

After eating our way through the backstreets of George Town, today we're heading upwards and conquering the iconic Penang Hill. Sitting pretty at 830 metres, the view from the peak offers a magnificent panorama across George Town and the shimmering Straits of Malacca beyond. We'll be hiking three hours or so through shaded forest and botanical gardens to reach this striking summit, where you'll find a mosque, a Hindu temple, restaurants and impressive views of mainland Malaysia and Penang Bridge. After climbing to the top, put your feet up with a funicular train ride back down to ground level, as the tapestry of the city unfolds before you. From here, the evening is yours to make the most of Malaysia's foodie capital. There's plenty of brilliant bars to choose from, or perhaps it's time to flaunt your new-found street food knowledge by grabbing some more Penang hawker with your Flash Pack pals.

Day

11

AN ISLAND ESCAPE IN LANGKAWI

After conquering mountains and trekking the rainforest, the last few days of your adventure are designed with palm-fringed escapism in mind. Nestled amongst rainforests, the exotic beaches of Langkawi are calling. We'll fly across the Strait of Malacca to reach this idyll; an archipelago of over a hundred paradise islands scattered across the Andaman Sea. Check into your luxurious hotel on the white sandy shores of Cenang Beach, complete with a kilometre of private shoreline, spacious swimming pools and a soothing spa. This is a chance for you to do exactly as you please at the finale of your action-packed Malaysian getaway. With snorkelling, jet ski safaris and waterfall hikes at your fingertips, there's plenty of scope for sun-dappled adventure. Or simply lay back, relax and adjust to the barefoot lifestyle as you embrace your own tropical island dream.

Day

12

SUNSHINE AND BEACH LIFE

Flashpackers, today you can relish a full day of free time in your private pocket of paradise. Bask in the freedom of having no plans whatsoever and see where the tide takes you, be it soaking up the rays, grabbing poolside beers or trying out water sports (paragliding, anyone?) Snorkel through turquoise waves, go in search of rainforest tombs or kick back on the white sand beaches, with the jungle hills in the distance. You can also hire bikes for an island mosey, or unlock those muscles with a holistic massage at the spa. Langkawi happens to be a duty-free island; perfect if you're thinking of getting gifts for back home. Then, as the sun sets on the final night of your adventure, prepare for a farewell meal with your fellow Flashpackers at a local restaurant. It's been 12 days of non-stop amazing experiences: raise a glass to friendships forged and memories made.

Day

13

SWEET MALAYSIAN MEMORIES

Flashpackers, it's time to say goodbye to Malaysia! Bask in one last wake-up call by the beach before making your own way to the airport. Since touching down here, you've feasted on the street food of Penang and Kuala Lumpur, as well as learning how to cook in a Malacca restaurant. You've conquered the summit of Jasur Mountain amid lush green valleys and trekked Belum Rainforest by night. And you've sailed through the jungle spotting incredible wildlife, making time for waterfall picnics and tea in the Cameron Highlands along the way. All this, with the lovely beaches of Langkawi and a gang of like-minded solo travellers in the mix. Fly out on a high – or grab a longboat and paddle off into the Andaman horizon. The choice is yours.
Our Favourite Hotels
Browse a selection of our favourite hotels, for a flavour of where you may stay on this trip.
Meritus Pelangi Beach Resort, Langkawi
Wooden chalets with private balconies dot across the 30-acre grounds, with spectacular views of white powdery beaches and the Andaman Sea.
Belum Rainforest Resort, Belum-Temenggor
Settle into low-rise lodges hidden away in the rainforest, with an infinity pool looking out across Lake Banding and two restaurants serving up local and international dishes
The Kuala Lumpur Journal Hotel, Kuala Lumpur
You might think you're in an edgy New York hotel thanks to exposed brickwork, colourful lounge areas and modern art, but the skyline views from the roof terrace give the game away.
Important Notes
Fly into Kuala Lumpur International Airport (KUL) and out of Langkawi International Airport (LGK).

Fly out from Langkawi International Airport (LGK), airport transfer included no matter what time you arrive but try and get there before 4pm.

We take safety very seriously on Flash Pack adventures, read more here.

Please be aware that the itinerary, activities and hotels are subject to change. These changes can happen with little notice due to availability, poor weather, seasonal changes, or other circumstances beyond our control. From time to time we may also make changes to your itinerary to try out new ideas and keep things fresh.
OUR PROMISE
Joining the Flash Pack comes with a few special guarantees
Similar Trips
10 days in Asia
Off-Grid in Thailand and Laos
9 days in Asia
Alternative Thailand
9 days in Asia
Discover the heart of Southeast Asia
8 days in Asia
From Bali to Komodo: Discover Indonesia's uncharted beauty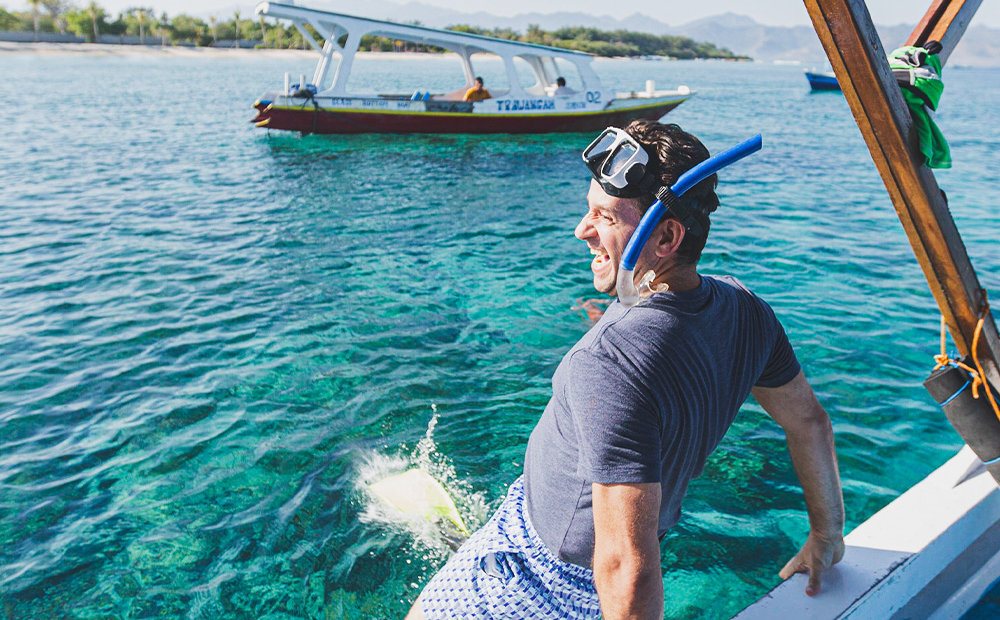 12 days in Asia
Bali & The Gilis: Island Adventures
Subscribe to our newsletter
SIGN UP TO OUR NEWSLETTER
Hear about our new adventures before anyone else
Hear about our new adventures before anyone else.
Be the first to hear about exclusive Flash Pack offers.
Access exciting competitions.
Receive weekly inspiration and travel stories from solos just like you.