Your adventure calendar: where to travel when in 2019
Want to know where to travel when in 2019? Your wish is our command.
Scroll down to find out everything you need to know about timing your next great escape, with our handy month-by-month guide.
But first, let's kick things off with nine must-try activities in 2019 for extra inspiration before you hone in on your month and destination of choice:
January
Big hitter: Mexico
Look to the Yucatán Peninsula for your go-to winter sunshine fix. Mexico's southeastern coast is littered with emerald lagoons and cenotes for New Year bathing, plus a tiny traffic-free island (Holbox) that comes straight out of a Caribbean dream.
January is dry season, meaning prime time for exploring Mayan ruins such as Chichén Itzá without the stifling humidity of later months. It's also slightly cooler now, with the mercury hoovering around 23-24°C.
To top it off, Mérida Fest runs to the 21 January,  so you can join the hordes of artists who gather in the state capital for a fiesta of theatre, music and dance.
Also consider: Finland
If Christmas isn't quite over for you yet, let Finnish Lapland be your solace.
The magic continues in this remote corner of northern Europe but the festive crowds are gone, with an endless Arctic horizon that's ripe for snow-mobile safaris, skiing, husky sled rides and more.
Read more: This is Google's most searched-for destination
Though skies are clearer in Autumn, this is still a great time to spot the ethereal Northern Lights, with the calm waters of Lake Torassieppi reflecting a spectacular show.
Rev up across the snowscape by twilight to make the most of the long starry nights, followed by a date with a snug lakeside sauna.
February
Big hitter: Vietnam and Cambodia
This is a great region to visit all year round, but February is dry season, meaning a cooler and more pleasant climate in central-southern Vietnam and Cambodia (including the temples at Angkor Wat).
More importantly, however, you can time your trip with Tet, Vietnam's colourful Lunar New Year celebrations that fall on 4-10 February.
Arrive during this period for markets heaped with lucky peach blossom, ornate dragon processions and parades with firecrackers and beating drums. You'll spot altars strewn with burning incense and gold leaf paper, and if you're lucky, you may even be invited to a local family's home for a traditional Tet spread.
Also consider: Australia
February is late summer in Australia, meaning you'll be guaranteed a good dose of sunshine but the students go back to school, freeing up beach space.
In tropical Queensland, the humidity equals low season, with fewer crowds around the Whitsunday Islands (hello, yacht for one).
February's rainfall also heralds in turtle nesting season with more shark activity on the Great Barrier Reef, along with a lush bloom of rainforest wildlife and flowing streams on Fraser Island. Oh, and it's harvest time over at the Hunter Valley vineyards.
March
Big hitter: Brazil
A glorious infusion of colour and samba-shimmying energy, Brazil's annual carnival is something everyone should experience at least once in their lifetime.
It doesn't have to mean running the gauntlet of vast Sambódromo spectacles, either (amazing as these are). Smaller towns are equally vibrant, and sometimes even more intriguing than the hot spots of Rio and Salvador, when it comes to carnival celebrations.
This year's carnival runs from 1-9 March, meaning you can tail-end your experience on the beautiful beaches around Paraty, with Flash Pack's Brazil trip… what hangover?
Also consider: Borneo
March signals the start of dry season in Borneo, and it's an excellent time to visit; the daily rainfall in Sabah and Sarawak drops right down, but the crowds haven't descended yet.
You'll be able to go caving and trekking in Mulu National Park with just a handful of fellow visitors, and over on Kota Kinabalu, you'll have gorgeous beaches all to yourself.
Read more: Epic beach experiences for travellers over 30
Best of all, the rainforest is in full bloom post-monsoon, with verdant jungle, gushing rivers and ample wildlife-spotting. After seeing orangutans, crocodiles and pygmy elephants in their natural habitat, you can hop on over to Lankayan Island for the start of whale shark season.
April
Big hitter: Japan
Japan's cherry blossom season can be fleeting and unpredictable, but time it right and it's an unforgettable experience. The average year sees "mankai" (full bloom) land on 2 April in Tokyo, so late March to early April is a good bet to see the country come alive in a soft pink canvas.
"Sakura" blossoms are beautiful not only to look at, but for what they represent. This is a time of renewal and merriment in Japan, where people gather under pink trees for picnics, and stroll along blush-hued avenues at night.
Even if you happen to miss the blossom, April is still a very scenic time to be in Japan. Head to the Inuyama Matsuri festival in Aichi to see enchanting three-story lantern floats, or marvel at the beautiful carp kites that flutter across buildings around the country, ahead of Children's Day in May.
Also consider: Cuba
Havana is an undisputed party city no matter what time of year you visit, but its effusive spirit comes to the fore during Ritmo Cuba, a week-long festival of Latin dance running from 22-28 April.
If you love nothing better than to get your hips swinging to a sultry groove, you'll adore this exuberant event in Old Havana, the birthplace of salsa rhythm.
Pop by hundreds of different salsa classes with some of the world's best teachers, along with seven days of parties, nightly shows and live bands. As an extra bonus, you can hop on a Flash Pack trip just before it all kicks off, and finesse your salsa moves.
May
Big hitter: Peru
May signals the start of dry season in Peru, but the landscape is still flush with greens from recent rainfall. In other words, a lovely time to visit, especially in the Inca hills around Cusco.
You can expect wonderfully clear days for hiking and cycling in the Sacred Valley, with blue skies, crisp sunshine and chillier nights. At the same time, the gem that is Rainbow Mountain becomes accessible once again, after the colder summit weather of winter.
Over in the Peruvian Amazon, it'll always be humid, but travelling in May means you'll skip the prime time crowds of high summer.
Also consider: Sicily
Bella Italia comes into its own in May. On the island of Sicily, temperatures rise to the mid-20s, and the sea is warm enough to swim in. But the crowds of high summer are still a way off, making for a wealth of secluded sandy coves.
Wild flowers bloom across the island, and the markets are full of seasonal harvest, from apricots and cherries to wild fennel and asparagus.
Read more: 5 friendly towns for solo travel newbies
You can tee your trip with a series of May festivals, including Infiorata, an elaborate flower petal ceremony in the Baroque city of Noto, and a Greek classical theatre festival which kicks off from late May in the glorious amphitheatre of Syracuse.
June
Big hitter: Morocco
Morocco is home to wildly diverse terrain, so you can find good times to visit at almost any time of year, depending on where you're headed.
The Atlas hills, however are wonderful in the early summer. The weather in June tends to be mild and sunny, with rolling green pastures that come alive in a carpet of wild roses, poppies and orchids.
Wander around the ancient foothills with mint tea on the rooftops of chilled Berber guesthouses, or go full-hog and climb to the top of Mount Toubkal, North Africa's highest peak.
Beach hangouts such as Taghazout are also great during summer (although you'll find better surf in winter months).
Also consider: Croatia and Quebec
With golden beaches, adventure kayaking and a rich sense of culture, Croatia has it all. Get in during June ahead of the school holiday masses, and enjoy the turquoise waters with that bit more wallow room.
You can also make good on the country's burgeoning music festival scene by shoehorning your trip with a ticket to InMusic, Zagreb's alternative indie-rock festival (24-26 June).
Meanwhile, over in Quebec, the temperatures are just warming up enough to tempt you East Coasters into a wilderness weekend in fragrant pine forest, which you can pair with a foray to the Mural street art festival in downtown Montreal.
July
Big hitter: South Africa
The drier winter months make for wildlife gold in South Africa, and July is prime time to spot humpback whales as they migrate upwards from Antarctica.
Head to the town of Hermanus for the world's best land-based sightings of these gentle giants, and keep your eyes peeled for their extraordinary ocean displays. You can also spy enormous pods of dolphins.
Superb game-watching awaits in the Eastern Cape, with increased visibility due to the dried-out bush, and animals flocking to watering holes.
Even Cape Town is still fairly balmy in July (its version of winter), with highs of 18°C.
Also consider: Tanzania
Tanzania's long dry season kicks off in late June with clear, warm days that are made for bush walks/game drives.
As with South Africa, the arid, dried-out terrain creates prime spotting conditions, with watering holes that are beacons for all kinds of animals in need of a drink.
Read more: This is why you should try travelling with strangers
As an added bonus, you may get the best view of the Serengeti wildebeest migration in July. Watch thousands of wildebeest, zebras and gazelles cross the Mara River on the northern Serengeti plains, for a dramatic sight that will stay with you forever.
August
Big hitter: Colombia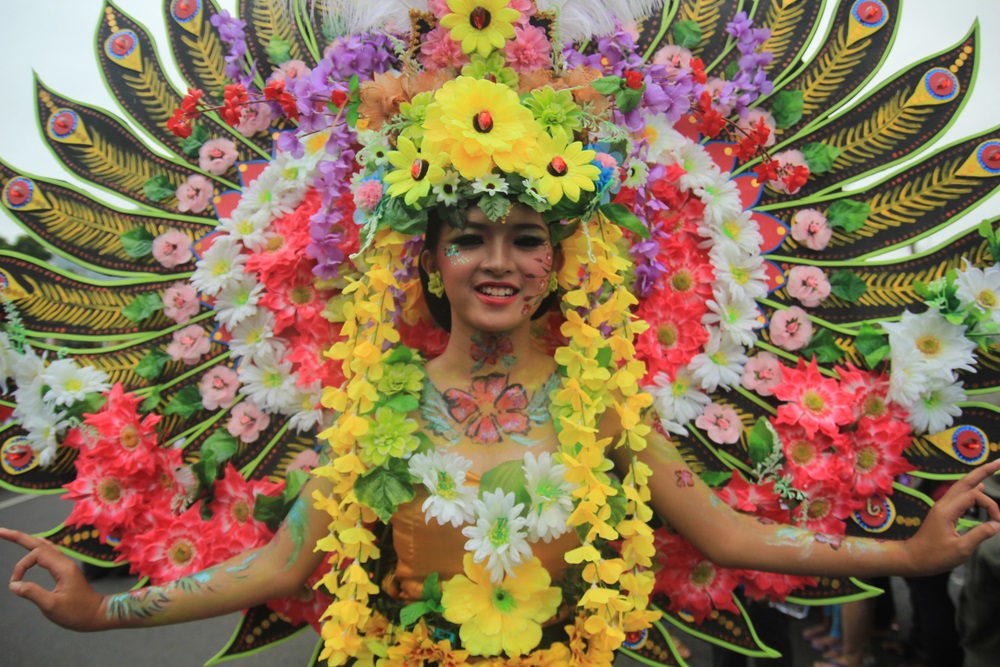 August is bang in the middle of dry season in Colombia, creating a beautiful setting to explore the Andean countryside around cities such as Bogotá and Medellín.
Speaking of Medellín, it's a good idea to chime your visit here with its annual flower fair (1-10 August), when the entire place lights up in a magnificent floral display that spreads across the city's billboards, balconies and squares, alongside parades and folk song performances.
Then you can head to the lower-altitude party town of Cartagena, where temperatures stay steady around the 30°C mark, but with fewer people than peak season (December-March).
Also consider: Banff in Canada, and Scotland
There's a reason why so many Canadians decamp to their lakeside cottages come August. This is a lovely month to hike and canoe in the Rockies, with long, sunny days and iconic lakes that many believe are at their most brilliant at the peak of summer.
Yes, there are more people here, but as long as you plan your trip right (avoid major public holidays), there's plenty of space to go around. As the temperatures stretch to the late 20s, wild swimming may even be on the cards.
August is also Scotland's warmest month, with the highland heather in full bloom, mirror-still lochs to mooch around and, of course, the much-loved Edinburgh festival (2-26 August).
September
Big hitter: Bali
With the retreat of the high summer crowds, Bali tends to be more chilled in September.
A slight dip in humidity from August means it's easier to get around, traffic in larger towns such as Seminyak is less snarled and with fewer people about, those powdery white beaches are ripe for the picking.
The fact that it's still dry season also helps. Rainfall is low in September, with balmy temperatures, clear seas for snorkelling, and jungle highland treks all in easy reach.
Also consider: Spain
The medieval hilltop towns of Castile y León in northwest Spain are never particularly busy, but they take on a new layer of charm in September – especially if you're travelling by Vespa.
You have crisp mornings, wide blue skies and plenty of sunshine to admire the Sierra mountains from. And without holiday crowds clogging the airports and roads, you'll feel freer than ever before.
Read more: The truth about being single in your 40s
Pottle through the cobbled streets and hazy countryside with barely a soul around, and feast on Galician-style grilled octopus and cod croquettes as you soak in the last of the summertime rays. 
October
Big hitter: Jordan
October in Jordan is a magical time where the heat drops away, and the first rains begin to turn the parched landscape green again.
This makes hiking in the Dana Biosphere Reserve a delight (look out for the native Sand Cat), and at night the cool, clear skies will light up in hundreds of stars.
You'll have easily enough sunshine to send the rose-red city of Petra aglow, but not so much that adventures in the Wadi Rum – camel rides, dune-bashing and more – feel clammy.
Also consider: Laos 
Arrive a little before Flash Pack's 31 October trip to Thailand and Laos, and you can enjoy the latter's Boun Ok Phansa festival that marks the end of the wet season and Buddhist lent.
To celebrate, ornate boat races take place all over the country, especially in the capital, Vientiane. Join the singing, drumming crowds by the riverside for a taste of this brilliant tradition, and wander around a vast array of street food stalls.
October also means shimmering green rice paddies fresh from the wet season, good river levels on the Mekong for a leisurely slow boat trip, and weather that is deliciously warm but not scorching.
November
Big hitter: Argentina
November is spring-time in Argentina, meaning the whole country comes alive with a fresh sense of energy and purpose.
This is especially true of the capital, Buenos Aires, where you'll really be able to feel the buzz in restaurants, bars, and in events such as pool parties and outdoor cinema.
Meanwhile, longer, clear days form the ultimate backdrop for horse-riding in the Andean foothills, hiking in Patagonia and cycling the vineyards of the Mendoza valley.
Also consider: Zimbabwe and Botswana
Tourism in Zimbabwe and Botswana dips in November because of the rising heat, but this is actually a great time for animal-spotting.
Vegetation lost in winter is still growing back, meaning you'll be able to see the likes of lions, giraffes and rhinos more easily through the dense African bush.
Read more: Why don't men like travelling alone?
This is also low water season, so as well as admiring Victoria Falls by helicopter (a Flash Pack perk), you can happily go white-water rafting down the Zambezi, with exposed rapids creating a thrilling — but not dangerous — ride.
December
Big hitter: Sri Lanka
If you want the evocative tea country of Sri Lanka to stir your soul, book a December trip, pronto.
This is when the mist-clad highlands really are at their finest, with a fresh burst of lush green growth created by the south-west monsoon season.
At the same time, the rains have calmed, making way for blue skies and mostly clear, sunny days: perfect for Christmas on the Indian Ocean coast.
Also consider: Chile 
Although it's more busy in December, the height of summer in Chile is still the best time to explore its stunning Patagonian landscape.
Up to 16 hours of sunshine a day leaves you plenty of scope to explore the glaciers and giants of Torres del Paine National Park and the Chilean Lake District, while negating the turbulent weather that often plagues both regions.
Over in Santiago, temperatures hover around 25°C; great for mooching around the Bohemian neighbourhood of Bellavista, and discovering Casablanca wine country.
Images: Flash Pack, Shutterstock