From private islands to boat parties: 5 fabulous ways to get your fix of vitamin D this summer
Sunlight comes with a whole host of benefits, including the release of so-called "happy hormone" serotonin. In fact, for those of us who live in cloudier climes – the Pacific Northwest, for example, or anywhere in the UK – chasing sunshine becomes something of an art form. 
We track the weather forecast with all the relentless zeal of a forensic detective. The slightest glimpse of the good stuff will have us spread out in the back garden, or cracking open the BBQ, in a desperate bid to make the most of those life-enhancing rays (and yes, even if the air still has a distinct chill to it). 
Naturally, lockdown in any region not famed for its good weather has been tough on us legions of sun-lovers. But now is the time to make up for it. As the world opens up again, so many sunshine destinations beckon – promising white-sand beaches and a boatful of beer to boot. 
That beach hammock has your name on
These are the places where the days are long and warm, and the sea water's positively balmy. The places where – prepare yourself – picnics don't go hand-in-hand with overcast skies, and the background threat of rain. You might even *never* need to change out of your flip-flops when you're there; that's how hot it can be. It's a giddying prospect, we know. 
So, grab that SPF 50 and lather up. These are five fabulously decadent ways you can catch your match of vitamin D this summer, all around the world. That beach hammock has your name on…
1. Party like there's no tomorrow on a private boat in Colombia 
If you're not familiar with Colombia's Rosario Islands, you're in for a treat. This Caribbean National Park is dotted with 27 islets, some uninhibited and others private, to form an aquatic playground of delights. With Flash Pack, you'll get a private boat to explore, stopping off at the party island of Cholon with its thatched swim-up bars, and the iconic Gente De Mar beach. There'll also be time for snorkeling in turquoise waters that are home to a rich marine ecosystem, including sea turtles, reef sharks and colorful coral. 
2. Soak in the sunshine on a castaway island in the Philippines
Those in search of a tropical haven can take the ultimate pilgrimage to Palawan, an archipelago of pristine islands stretching across the southwest Philippines region. With limestone karsts, emerald coves and sleepy fishing villages, a beachside adventure here is like something out of a film – it's picture-perfect. Flashpackers dial up the notch, by staying two nights on the private "Ginto" (meaning "gold") island, complete with a private chef for beach BBQs, massage therapists and a Bangka boat filled with beer and bubbles to explore the neighboring beaches.
3. Snorkel around the coral gardens of Zanzibar
Zanzibar is a semi-autonomous island off Tanzania with its own distinct beach vibes and easygoing culture. It's also home to a series of stunning coral gardens, led by the iconic Mnemba Atoll. These colorful ecosystems are teeming with marine life, from vibrant bluefin trevally to manta rays, green sea turtles and even bottlenose dolphins. In-between admiring the secrets of the deep, you can soak up some rays on a traditional dhow boat, or explore the island's luminous white sand beaches – all available as optional activities.
4. Feast on oysters and cocktails on Croatia's secret island
Imagine you had a friend with their own private island – oh, and they happen to be restaurateurs, too. That fantasy becomes a reality on Flash Pack's escape to Croatia, as we meet up with a family whose world-famous oysters are produced along the country's remote Mali Ston coastline. You'll learn all about how their Adriatic oysters are farmed, and taste a few of these sought-after oysters for yourself, before making use of the family's own island complete with a private restaurant. Cue: sunshine, seafood, cocktails; and unlimited play space by the sea.
5. Grab a slice of luxury beach life by Sri Lanka's Indian Ocean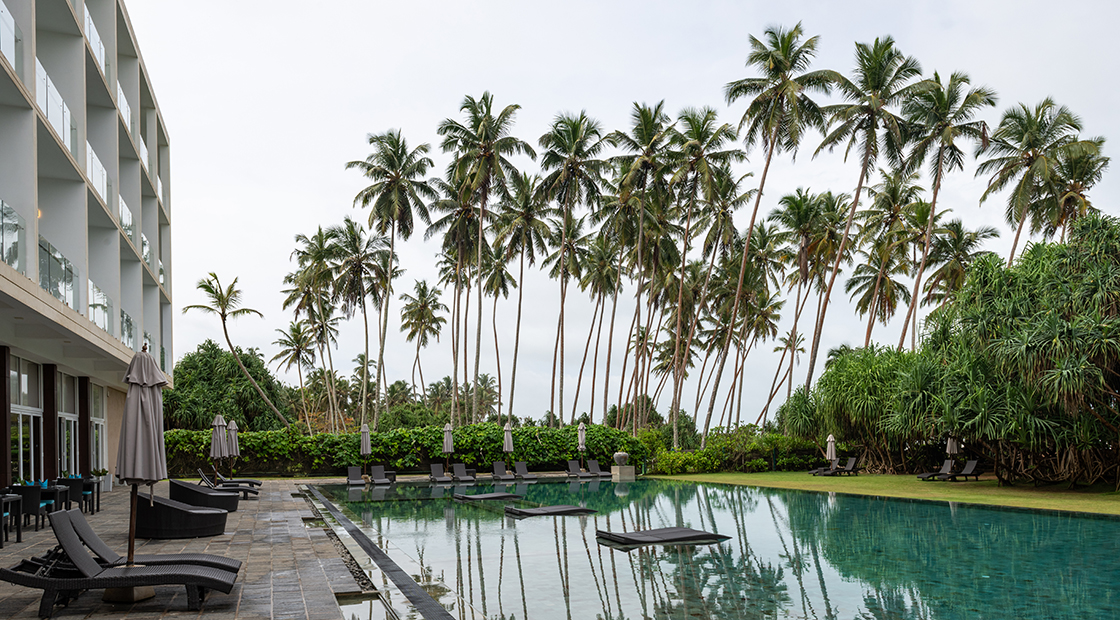 Tucked away on Sri Lanka's South West coastline, Shinagawa Beach Hotel – arriving at the end of Flash Pack's adventure on the island – offers a slice of barefoot paradise. For one, it overlooks a spectacular palm-fringed stretch of beach in the sleepy village of Balapitiya, with golden sands to lounge on. And its oceanside pool is also a delicious prospect, with horizon-stretching views framed by manicured gardens, and bar service that gives classic cocktails a Sri Lankan twist. Quite simply, you'll never want to leave.
Find out more about Flash Pack adventures right here. 
Got a story or adventure that could inspire a solo traveler like you? Tag @flashpack on social or email [email protected] to be featured.
Images: Flash Pack