Secret Vietnam
Kayak in beautiful Halong Bay, island-hop through the Mekong & take a vintage Vespa street food tour of Ho Chi Minh City
Overview
Itinerary
Accommodation
Important Notes
Unique Experiences
Seek out Ho Chi Minh's most authentic Vietnamese food on a vintage Vespa
About your trip
To the adventurers looking to get lost amongst unspoiled nature, to eat truly authentic Vietnamese fare and experience local living far from the crowds; this one's for you.
From Hanoi to Ho Chi Minh City, this nine-day group adventure will see you coast between Halong Bay's soaring limestone peaks on a traditional junk boat. You'll zip through Ho Chi Minh traffic on the back of a Vespa in search of incomparable street food, island-hop the Mekong Delta and chug through breathtaking landscapes on the 'world's best' train ride. You'll be invited into the home of more than one family and dine in Hue's Dong Thien Pagoda with Buddhist nuns; all the while getting to know your like-minded group of solo travelers.
What's Included
Max 14 travelers per group
Exclusively for people in their 30s & 40s
All activities mentioned on the itinerary
9 breakfasts, 4 lunches, 6 dinners
2 domestic flights
Hand-picked 4-star hotels & one 3-star
We offset 0.67 tCO2e (carbon) per person on this trip
Private minibus, train & boat
Arrival airport transfer
Accommodation in twin rooms
Experienced Pack Leader with you throughout the trip
Flashpackers must provide evidence that they have purchased travel insurance for the duration of their adventure. Remember, flights aren't included and prices are based on sharing a twin room. If you'd like to upgrade to a single room, you can add this during the booking process or by contacting our Customer Experience team.
Your Itinerary
Day

01

AT HOME WITH TRUE HANOIANS

First stop: Hanoi, where streets blare with the horns of innumerable scooters, colonial architecture provides a visual feast and the smell of street food infuses the air at every turn. Having met your group and had a chance to relax post-flight, your first night will see you all invited into the home of a Hanoian family for a traditional Cha Ca meal. Sitting in their living room alongside three generations, you'll get to feast upon a traditional fish or vegetarian dish that's near-impossible to find outside of a family kitchen. Relax into the meal and get to know your generous hosts and new friends. Just a few hours into your Vietnam trip and your cultural immersion has officially begun.

Day

02

Sailing on Halong Bay

Today you'll be transported to Halong Bay, an enchanting world of emerald waters and towering limestone cliffs. It's a popular spot, but secret bays far from the crowds can still be found. Board your traditional junk boat and cruise amongst the 2,000 islands that dot this UNESCO World Heritage Site until you reach the isolated and lesser-explored Lan Ha Bay. After lunch on deck, your Flash Pack guide will take you on a bamboo boat into the Dark and Light Cave. Prepare to experience "can't-see-your-hands-in-front-of-your-face" darkness as you venture through this spectacular network. Later there'll be cocktails, a sunset dinner, and, if your vocals are up to it, a night of karaoke on board. When in Asia…

Day

03

Sunrise tai chi and wild-island adventures

Wake early (if the karaoke didn't get too out of hand) and take part in an atmospheric tai chi class on the top deck. The combination of deep breathing and slow movement amongst such majestic scenery makes for a memorable group experience. After breakfast, you'll set off in kayaks to explore the idyllic Frog Pond Bay – the film location for Kong Skull Island in the King Kong movie. You'll be able to get right up close to the towering sea cliffs, with a chance to explore hidden islets and caves, and swim in the clear blue water. After paddling back to your luxury junk for brunch, breathe in the epic scenery one last time as you cruise back to port for your onward journey to Hue.

Day

04

Dine at a Buddhist temple

Straddling the tranquil Perfume River; Hue is a UNESCO city steeped in Imperial history. Travel back in time to the Nguyen Dynasty as your private guide leads you through the sprawling Citadel, with its vast network of temples and pavilions. Lunch will be a unique affair as you dine at the Dong Thien Pagoda. Following Buddhist rituals, you'll eat for a while in silence and be encouraged to savor the individual flavors of this satisfying Vietnamese food. Enjoy a traditional paper flower-making class, before ending the day at Tam Giang Lagoon – the biggest natural lagoon in Southeast Asia. A seafood feast will be served for your group in a picturesque water hut as locals swim and fish nearby, their daily customs uninterrupted by your presence.

Day

05

THE WORLD'S BEST TRAIN RIDE

Today, you'll reach Hoi An by taking one of the world's best train rides (as voted by Condé Nast). The Hanoi-Danang train travels at a lethargic pace through Vietnam's most spectacular scenery and we've secured you tickets for an unbeatable section of the journey. You'll be based in the upper-class carriage, but we encourage you to hop across to the canteen cart where you can chat to locals, pick up some snacks and experience true Vietnamese living. Once you've arrived in charming Hoi An, spend the afternoon being guided to some of this slow-paced city's icons. A combination of Asian, European and Arabic influences can be felt here and you'll enjoy the rich architecture of the Old Quarter, Jinshang Temple and more.

Day

06

HOI AN NOODLE TASTING & A WORLD-CLASS SHOW

After a relaxing evening, you'll be ready for a day of cycling through Hoi An's scenic countryside. Pedal past rice fields and swaying palm trees before taking a boat ride across the Thu Bon River to Cam Kim, an isle known for its tranquility and authenticity. Here you'll take a break from cycling at a noodle workshop. Watch as local craftspeople prepare a noodle that's unique to Hoi An and taste this key Vietnamese ingredient fresh from the pot. Later you'll be treated to an internationally acclaimed 'bamboo circus' performance at the Lune Centre, through which Vietnamese cultural stories are brought to life in the most evocative of ways.

Day

07

MEET A LOCAL LEGEND

Enjoy a day of free time in Hoi An, losing yourself in the winding alleys that thrum with market stalls and charming cafes. This evening you'll be treated to a unique tofu-making experience with local legend Mr Tu. Having worked for many years in the Hoi An Centre for Cultural Heritage, he's something of a local expert and has fascinating insights to share about how tourism has brought a better life for the people of the town. As well as enjoying a sumptuous home-cooked meal, you'll be given a lesson on how to make family favourites such as tofu and rice paper (for spring rolls), then Mr Tu and his friend will show off their guitar skills with some Vietnamese classics.

Day

08

VINTAGE VESPA FOOD TOUR

The calm of Hoi An will feel a world away as you arrive in Ho Chi Minh City and journey through the vibrant streets of Vietnam's largest city. First off, you'll visit the deeply moving War Remnants Museum to gain an important insight into the country's history. Then you'll enjoy some together at your hotel before a real highlight of your Vietnam trip begins: a local food tour by vintage Vespa. This Vespa food safari will first take you on a ride past the city's most significant monuments, before introducing you to the foodie haunts revered by local connoisseurs. The places you visit have been carefully selected by our contacts on the ground – places they have frequented for decades and whose flavors evoke special memories of their childhoods in the city. Tonight, you'll be heading to an atmospheric bar for cocktails and live music.  

Day

09

ISLAND HOP TO ISOLATED VILLAGES

On your last day you'll be taking to the waters of the Mekong; island hopping a part of the delta that has remained true to a traditional way of life. From island to island you'll visit workshops and pass through villages frozen in time, before meeting a local family on their working farm. Join them in the home they built themselves and dig into another authentic feast. Post-lunch, you'll get a chance to go deeper into the hidden waterways of the Mekong on a private sampan boat ride.  Before your final night dinner of yet more delicious Vietnamese food (this time with a modern twist), it's on to the best rooftop bar in Ho Chi Minh. Partake in a sunset cocktail and make a toast to your adventures as you overlook the sprawling cityscape. 

Day

10

Farewell, Vietnam

We hate to say it, but the end of your group adventure has arrived. We'll help you organise your transfer to the airport, or can give you some handy tips if you'd like to stay a bit longer. You're a Southeast Asia travel pro now, after all.
Our Favorite Hotels
Here's a taste of the hotels we sometimes use on this adventure. The hotels you'll stay in for your departure will be shared with you one month before you go.
ALBA SPA HOTEL, HUE
The serenity of Hue can be felt within the walls of this hotel, whose spa is its pride and joy. Rooms are bright and simply decorated whilst the location close to Imperial City means less-weary feet for you.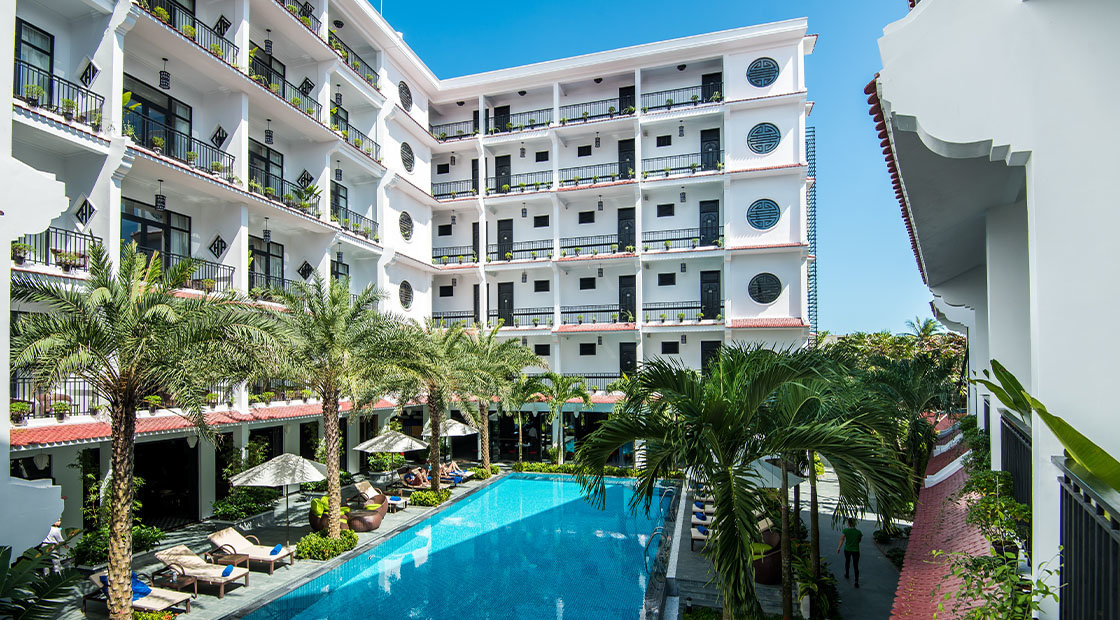 HADANA BELLE MAISON HOI AN RESORT
Spacious rooms with balconies, a pool plus a stand-out location close to Hoi An's Old Town. Make use of the free bike hire and end your days with a gin cocktail at the Terrace Cafe.
The Myst Dong Khoi
An oasis of calm just steps from the famous Dong Khoi Street. Expect ylang ylang-scented air and hushed modern facilities, including a tranquil spa and refreshing rooftop pool – a great spot to cool off with your group while overlooking the sprawling maze of Saigon.
Important Notes
Which airport do I fly in and out of? Plus airport code

Fly into Hanoi International Airport (HAN) and out of Ho Chi Minh International Airport (SGN).

What time should my flight arrive? (to arrive in time for the welcome meeting)

Before 3 pm ideally. The welcome meeting and dinner will be from 4:30 pm onwards starting at the hotel, which is located approximately 30 minutes away from the airport.

What time should my flight depart on the last day?

Check-out time is 11am but you can leave anytime that suits you. The airport is approximately 30-45 minutes away from the hotel, and your Pack leader can help you book your transfers the night before if needed.

Are airport transfers included?

If you arrive on Day 1 of your adventure, or you book pre-tour accommodation with us, your airport arrival transfer will be included. If you book alternative pre-tour accommodation or are arriving by another mode of transport you must arrange your own arrival transfer.

Arrival transfers are private to Flash Pack and will be in groups depending on flight times. Sometimes this means waiting in the airport for a short while until other flights have arrived.

We don't offer a departure transfer as Flashpackers leave at different times of the day and many stay for extra nights. However, your Pack Leader will offer you support with finding a local taxi, which should cost around 150,000 VND / 7 USD.

How much should I budget per day for extras?

We include the Pack Leader and driver tips and most meals are inclusive however we recommend approximately 500,000 VND, the equivalent of less than £20 per day.

What fitness levels do I need for this trip?

We recommend having a read-through of the itinerary above, and getting in touch if you have specific questions on fitness. Overall, the trip is relatively relaxed so only a moderate level of fitness is needed.

When's the best time to go? What is the weather like?

March – April, and October – November are the best times to visit. However, the country is beautiful the whole year long.

If you want to have a beach break, April to September is the best moment for a quiet, sunny relaxing moment in the central part of Vietnam, known for beautiful natural beaches.

Vietnam has a diverse climate influenced by both tropical monsoons and its range of altitudes and latitudes.

The temperature in Hanoi may range from 16°C/61°F – 21°C/70°F from November to March and 24°C/75°F – 30°C/86°F from April to October.

Ho Chi Minh City is consistently warm and humid, averaging around 28°C (82°F) during the day and dropping in temperature overnight.

Will the itinerary change?

Please be aware that the itinerary, activities and hotels are subject to change. These changes can happen with little notice due to availability, poor weather, seasonal changes, or other circumstances beyond our control – but we'll always do our best to ensure it has little impact on your experience. From time to time, we may also make changes to your itinerary to try out new ideas and keep things fresh and exciting.

Do I need a visa?

Most visitors will be required to apply for a visa: https://evisa.xuatnhapcanh.gov.vn. Please note there is only one official website to apply for an e-visa. Beware of the many scam websites.

A number of countries are currently exempt from needing a visa including the UK and some EU countries, if the stay is under 15 days. Please check with your local consulate/embassy if the country you are travelling from requires a visa. 

We recommend that you have at least six months validity remaining on your passport and can show a return ticket.

What are the Covid-19 requirements for visiting Vietnam?

Due to the changeable nature of Covid-19 entry requirements, we strongly advise Flashpackers to consult the travel advice issued by your local consular services well in advance of your departure date. Some countries do still require travelers to comply with pre-arrival testing and/or vaccination requirements. Links to the key consular services can be found on our Safety page.

What other vaccinations and medication will I need?

We recommend checking with your local travel clinic six to eight weeks before your trip to see if any medications or vaccinations are required.
As captured on Instagram
The latest from Flashpackers in Vietnam on #picsworthsharing
OUR PROMISE

Joining the Flash Pack comes with a few special guarantees

THE PEOPLE

Our mission to create 1 million friendships so we obsess over the group dynamic. Everyone is aged 30-49, 98% travel solo & 80% stay friends. Want to know more about your group? GET IN TOUCH

THE SECURITY

We operate using a 3rd party trust bank account meaning we guarantee refunds in 14 days if your trip has to be cancelled BOOK WITH CONFIDENCE

THE TRIPS

Our trips are made up of 'can't-do-by-yourself' experiences – think staying on your own private island in the Arctic and glamping in Land Rovers on the Serengeti SEE TRIPS

THE GUIDES

We only work with trusted local guides who know their destinations better than anyone.

Similar Trips

12 days in Asia

Bali & The Gilis: Island Adventures

14 days in Asia

Vietnam & Cambodia: Ancient Beauty & Emerald Isles

9 days in Asia

Alternative Thailand

11 days in Sri Lanka

Inside Sri Lanka

8 days in Asia

Untold Jordan

Subscribe to our newsletter

SIGN UP TO OUR NEWSLETTER

Hear about our new adventures before anyone else

Hear about our new adventures before anyone else.

Be the first to hear about exclusive Flash Pack offers.

Access exciting competitions.

Receive weekly inspiration and travel stories from solos just like you.

You are browsing our US website.

Please choose your current location below:

You are browsing our UK website.

Please choose your current location below: