Costa Rica: wildlife & beach beauty
Learn to photograph cloud forest orchids & insects by night, roast & blend your own coffee & spot sloths in Manuel Antonio
Costa Rica: wildlife & beach beauty
Overview
Itinerary
Accommodation
Important Notes
Unique Experiences
Explore the pristine Pacific coast by catamaran, searching for dolphins and stopping off to snorkel
About your trip
From cloud forest insect photography to roasting your own coffee beans; are you ready to go deeper into Costa Rica?
On this eight-day adventure you'll take in just two iconic destinations: the high-altitude cloud forests of Monteverde and the tropical beaches of Manuel Antonio, staying longer in each spot to fully appreciate its secrets.
Think night hikes in Monteverde's magical cloud forest for a lesson in smartphone macro-photography of orchids and insects. Immersive visits to spice farms and coffee plantations, where you'll roast and blend your own bag of beans, plus a chance to pan for gold with artisanal miners.
Ending in Manuel Antonio, you'll spend your last days exploring the Pacific coast by catamaran and wildlife spotting in the national park (and yes, sloths are even cuter in real life).
See you in San Jose?
What's Included
Max 14 travelers per group
Exclusively for people in their 30s & 40s
All activities mentioned on the itinerary
7 breakfasts, 3 lunches, 2 dinners
Stay in hand-picked 3-4 star hotels
Minibus
We offset your carbon emissions
Arrival airport transfer
Accommodation in twin rooms
Experienced Pack Leader with you throughout the trip
Flashpackers must provide evidence that they have purchased travel insurance for the duration of their adventure. Remember, flights aren't included and prices are based on sharing a twin room. If you'd like to upgrade to a single room, you can add this during the booking process or by contacting our Customer Experience team.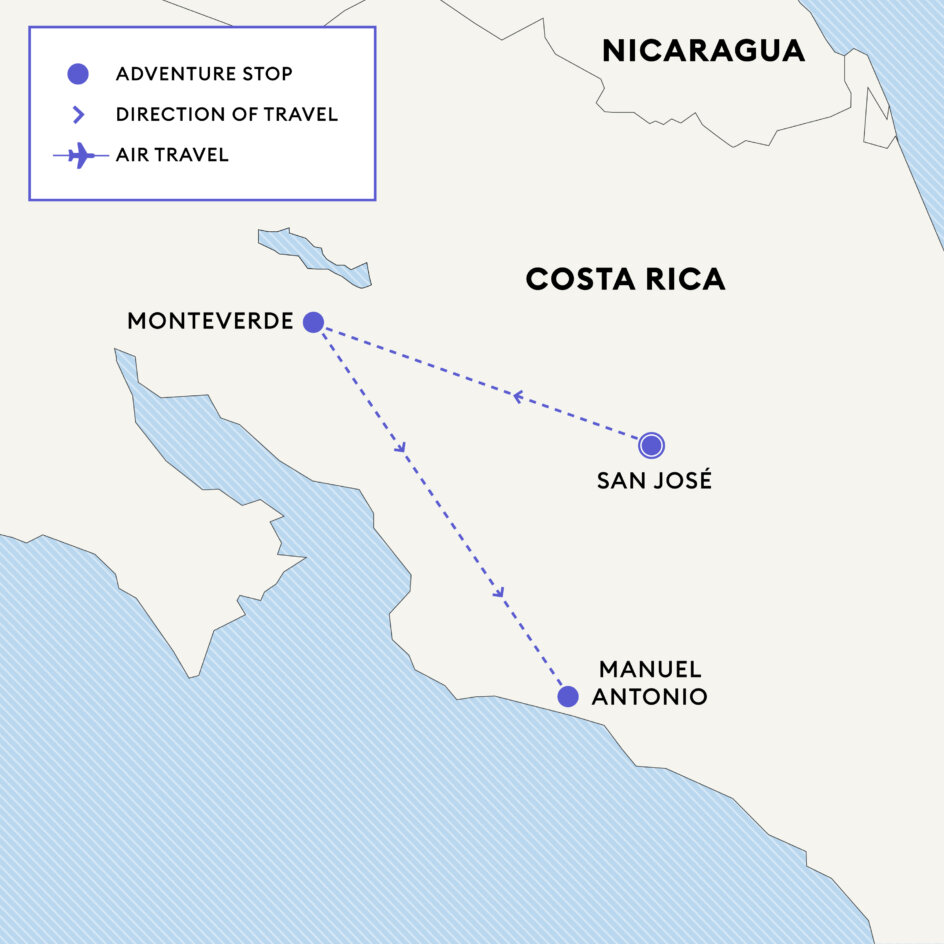 Your Itinerary
Day

01

Welcome to San José

Pura vida – your Costa Rican adventure has begun. Arriving at San José Airport, a private Flash Pack transfer will be waiting to transport you to your upscale downtown hotel. There'll be time to freshen up before meeting your guide and group for a welcome drink and traditional Costa Rican dinner. In an atmospheric set-up, you'll sample some typical local dishes – think rich black bean soup, fresh ceviche and plantain – and raise a glass of guaro to the week of adventures to come.  

Day

02

Orchid & insect photography

After breakfast, settle in for a scenic journey into the Monteverde hills. True to its name ('green mountain'), the high elevation area is known for its rare cloud forests, fertile climate and incredible biodiversity. Your first stop will be a smallholding where you'll enjoy a hands-on cheese-making experience with the farmer: milking the cows, bottle feeding the calves and learning the art of tortilla-making. Later, you'll venture into a private reserve for a night walk in the forest. Many critters are most active at night and the noises are quite incredible. Your biology focused guide will not only point out colorful orchids, insects and sleeping birds, but will show you how to use the settings on your smartphone to take impressive macro photos – no extra equipment required. 

Day

03

Bird spotting in the clouds

You'll be up early this morning for your best chance to spot wildlife in Monteverde's famous Cloud Forest Reserve. Mist-shrouded for much of the year, the strangulated fig trees, mossy tendrils and abundant epiphytes look straight out of Lord of the Rings. Hidden amongst the dense foliage, animals can be hard to spot but you'll be exploring with an expert guide who can point out the camouflaged creatures. Keep your eyes peeled for the resplendent quetzal – a secretive bird that was sacred to the Maya – plus anything from porcupines and frogs to vipers and bird-eating spiders. Feeling brave? This afternoon, you'll have the option to spice up your wildlife-viewing with a thrilling high-speed zipline tour over the jungle canopy.

Day

04

Coffee & gold

With its high humidity and mountainous terrain, Monteverde is the ideal climate for slow-ripened Arabica coffee, and today you'll follow the process from bean to brew on a local plantation tour. See how the humble red cherries are picked, washed and hulled and polished before being roasted according to taste, then mix your own bag of light, medium or dark roasted beans to create your perfect blend. After the freshest cup of coffee you'll ever have, your group will visit a private artisanal gold mine located next to the farm. Some 2,000 miners still work in the area, extracting ore from the mountain. You'll be invited to see the hand-dug tunnels, grind the glittering gravel and try your hand at panning. You might get lucky…

Day

05

Rainforest flavours

Today, you're heading west to the beautiful beach town of Manuel Antonio, fringed by crescent bays and steamy jungle-covered hills. En route, you'll pause to check out the huge crocodiles lurking underneath Tarcoles Bridge, before visiting a family-run spice farm filled with tropical fruits, medicinal plants and exotic flowering trees. Learn how the likes of cardamom, pepper and vanilla are grown before a delicious spice-infused lunch cooked over a wood-fired stove. Then, it's time to check into your idyllic rainforest abode. You'll be spending the next few nights here, soaking up the stunning sunsets and settling into beach life. 

Day

06

Exotic wildlife encounters

Small but perfectly formed, Manuel Antonio is Costa Rica's most popular national park, and it's easy to see why. This craggy outcrop of tropical terrain jutting out into the Pacific has three picture-perfect rainforest beaches and is absolutely teeming with wildlife. You'll spend the morning wandering the park trails with an expert naturalist guide, scanning the lowland vegetation for playful monkeys (spider, capuchin and howler), dangling sloths (both two and three toed) and hundreds of squawking birds, including toucans and scarlet macaws. You could easily spend a whole day here, exploring the forest-fringed beaches, snorkeling the offshore reefs and hiking to Cathedral Point for panoramic views. 

Day

07

Sail the Pacific

Wake up in heaven to the sounds of birds and monkeys chattering in the trees. Your final full day will be spent exploring the luxuriant Manuel Antonio coast by catamaran, cruising to small islands, secret coves and hard-to-reach beaches. You'll stop off to snorkel amongst the tropical fish while the crew prepares a light lunch on board. Keep your eyes peeled for dolphins, turtles, sting rays and even migrating whales – depending on the time of year – as you motor slowly back to shore. Tonight, you'll gather with your group for a farewell dinner, celebrating the end of a wildlife-filled week. Drink in a final Pacific sunset from your rainforest-fringed restaurant, savouring the perfect moment with your new-found friends.   

Day

08

Farewell, Costa Rica

After breakfast, it's time to say goodbye – never easy when you've had such a memorable adventure amongst pristine natural beauty. You'll transfer back to San José for your onward flight home. To extend your time, why not combine this relaxing tour with our Untamed Costa Rica trip? Or start planning your next tropical Flash Pack adventure to Bali or Sri Lanka? 
Our Favorite Hotels
Here's a taste of the hotels we sometimes use on this adventure. The hotels you'll stay in for your departure will be shared with you one month before you go.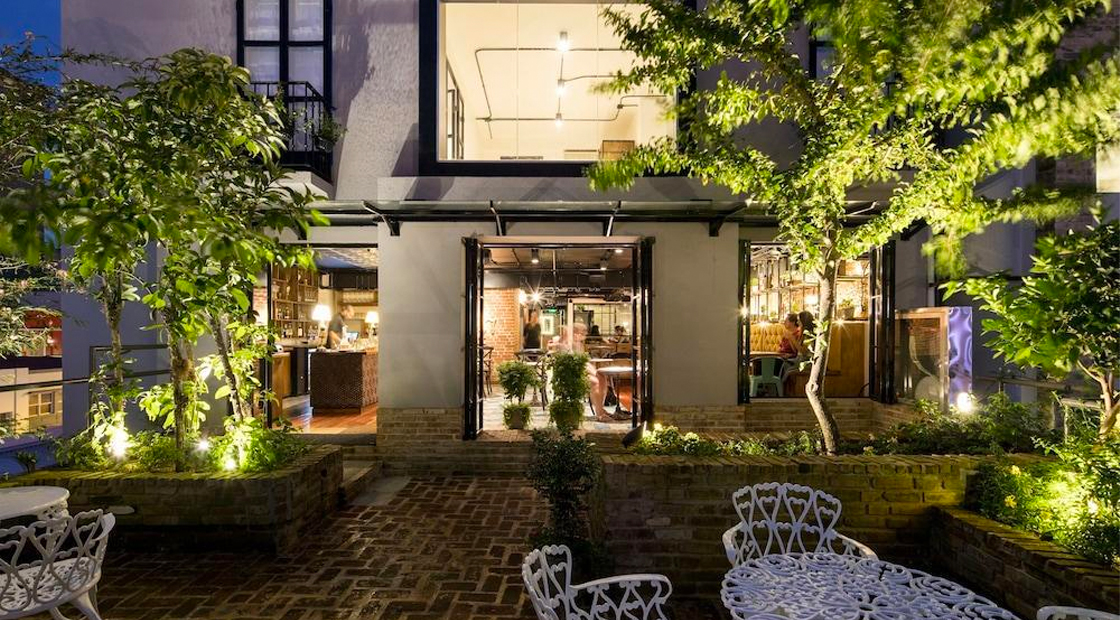 Hotel Presidente, San José
This urban retreat in downtown San José boasts an eclectic, modern style: think spacious rooms with reclaimed furniture and vibrant artwork on the walls. Be sure to head up to the rooftop bar for sundowners overlooking the city.
Sibu Lodge, Monteverde
A Costa Rican style mountain lodge with rustic rooms set around a courtyard garden. The whole place has been freshly renovated, making it a clean, comfortable base for forays into the cloud forest and the cute town of Santa Elena. 
Shana by the Beach
Expect expansive Pacific views from this boutique hilltop retreat, a 5-minute walk to the beach. The bird-filled grounds are lush with native plants while the spa offers everything from indulgent chocolate massages to rejuvenating coffee scrubs.    
Important Notes
Which airport do I need to fly in and out of? Plus airport code

Fly into and out of Juan Santamaría International Airport (SJO) in San José.

What time should my flight arrive (in time for the welcome meeting)?

At 5 pm you will meet your guide and and the other Flashpackers before our welcome dinner at a top local restaurant. We recommend arriving no later than 3 pm.

What time should my flight depart on the last day?

On your final day, you'll travel from Manuel Antonio to San José Airport – a journey of about four hours. We recommend booking an evening flight to ensure you arrive in plenty of time.

Your departure transfer will be in groups, depending on flight times. There will be one transfer in the morning and one slightly later, so you will arrive at the airport either around lunchtime or mid-afternoon.

You should arrive at the airport two hours before your flight departs. A late afternoon or evening flight is ideal, however an early afternoon flight is also possible with the early morning transfer.

Are airport transfers included?

If you arrive on Day 1 of your adventure, or you book pre-tour accommodation with us, your airport arrival transfer will be included. If you book alternative pre-tour accommodation or are arriving by another mode of transport you must arrange your own arrival transfer.

Arrival transfers are private to Flash Pack and will be in groups depending on flight times. Sometimes this means waiting in the airport for a short while until other flights have arrived.

Departure transfers are also included for this trip, from Manuel Antonio so San José airport. There will be two different transfer times available.

Do I need a visa?

You do not need a visa if you're visiting as a tourist from the EU, UK, USA, Australia or Canada. Please check with your local consulate/embassy if the country you are travelling from requires a visa.

Alternatively, you can check the requirements here: https://migracion.go.cr/Paginas/Visas.aspx

We recommend that you have at least six months validity remaining on your passport and can show a return ticket.

What fitness levels do I need for this trip?

We recommend having a read-through of the itinerary above, and getting in touch if you have specific questions on fitness. This is a fairly relaxed trip that should be comfortable for most fitness levels.

Will the itinerary change?

These changes can happen with little notice due to availability, poor weather, seasonal changes, or other circumstances beyond our control – but we'll always do our best to ensure it has little impact on your experience. From time to time, we may also make changes to your itinerary to try out new ideas and keep things fresh and exciting.

What are the Covid-19 requirements for visiting Costa Rica?

Due to the changeable nature of Covid-19 entry requirements, we strongly advise Flashpackers to consult the travel advice issued by your local consular services well in advance of your departure date. Some countries do still require travellers to comply with pre-arrival testing and/or vaccination requirements. Links to the key consular services can be found on our Safety page.

What other vaccinations and medication will I need?

We recommend checking with your local travel clinic six to eight weeks before your trip to see if any medications or vaccinations are required.
As captured on Instagram
The latest from Flashpackers in Costa Rica on #picsworthsharing
OUR PROMISE

Joining the Flash Pack comes with a few special guarantees

THE PEOPLE

Our mission to create 1 million friendships so we obsess over the group dynamic. Everyone is aged 30-49, 98% travel solo & 80% stay friends. Want to know more about your group? GET IN TOUCH

THE SECURITY

We operate using a 3rd party trust bank account meaning we guarantee refunds in 14 days if your trip has to be cancelled BOOK WITH CONFIDENCE

THE TRIPS

Our trips are made up of 'can't-do-by-yourself' experiences – think staying on your own private island in the Arctic and glamping in Land Rovers on the Serengeti SEE TRIPS

THE GUIDES

We only work with trusted local guides who know their destinations better than anyone.

Similar Trips

9 days in The Americas

Untamed Costa Rica

10 days in The Americas

Ultimate Argentina

11 days in Sri Lanka

Inside Sri Lanka

9 days in Asia

Alternative Thailand

12 days in Asia

Bali & The Gilis: Island Adventures

9 days in The Americas

Vibrant Colombia

Subscribe to our newsletter

SIGN UP TO OUR NEWSLETTER

Hear about our new adventures before anyone else

Hear about our new adventures before anyone else.

Be the first to hear about exclusive Flash Pack offers.

Access exciting competitions.

Receive weekly inspiration and travel stories from solos just like you.

You are browsing our US website.

Please choose your current location below:

You are browsing our UK website.

Please choose your current location below: