Mexico Dreaming: Tulum to Holbox
Snorkel with wild sea turtles, sleep in a tree-tent at the mouth of a cenote & cruise through Mérida in a fleet of classic VW Beetles
Mexico Dreaming: Tulum to Holbox
Overview
Itinerary
Accommodation
Important Notes
Unique Experiences
Rappel 40 feet down into a cenote cavern before ziplining across a lagoon
About your trip
Steamy jungle, mystical cenotes and miles of tropical sand… the Mayans certainly knew how to pick a scenic spot. 
You'll be following in their footsteps as you cycle, rappel and zipline your way around the idyllic Yucatán Peninsula. Naturally, there'll be plenty of unique Flash Pack experiences along the way.  
Like touring Mérida in a fleet of VW Beetles, seeing the cosmopolitan city in style. Or sleeping in a jungle tree-tent at the mouth of a private cenote, complete with shamanic blessing and a magical candlelit swim. And staying with a small Maya community, sampling their food and learning about their traditional way of life. 
This trip isn't short on beachy wonders either. Think snorkeling with turtles in Akumal Bay and cocktails on the coraline sand of your private Holbox beach club. Add to this tequila-tasting, ceviche-making plus the fabulous ruins of Tulum and Chichén Itzá and you're Mexico dreaming.
Three thousand years of history can't be wrong.
What's Included
Accommodation in twin rooms
Max 14 travelers per group
Exclusively for people in their 30s & 40s
Private airport transfers
All activities mentioned on the itinerary
8 breakfasts, 2 lunches, 3 dinners
Stay in hand-picked 3-4 star hotels
Minibus & boat transport
Experienced Pack Leader with you throughout the trip
Flashpackers must provide evidence that they have purchased travel insurance for the duration of their adventure. Remember, flights aren't included and prices are based on sharing a twin room. If you'd like to upgrade to a single room, you can add this during the booking process or by contacting our Customer Experience team.
DAY BY DAY
Day

01

A Yucatán welcome

Flashpackers, welcome to Mexico! Be sure to secure a window seat for your flight into Cancún, for majestic views over the jungle or turquoise Riviera Maya coast. Touching down at the airport, a private transfer awaits to whisk you to Tulum – a journey of around two hours, so sit back, relax and enjoy the tropical ride. Arriving at your boutique hotel, halfway between buzzing downtown and its powder-white beaches, there'll be time to freshen up before your welcome meeting. Get to know your Pack Leader and group over some traditional Yucatán cuisine and raise a glass of margarita to eight days of adventure to come. Salud!

Day

02

Wild turtles & Tulum

Rise and shine – there are some unforgettable experiences on the agenda today. First up, you'll travel along the coast to beautiful Akumal Bay. Protected by a reef, the shallow lagoon here is famed for its resident green turtles. You'll have the chance to don a snorkel and swim alongside these graceful creatures as they feed on the abundant seagrass – a magical encounter. After lunch, you're off to one of the most instagrammed spots in Mexico: Tulum. Perched in a lush green jungle atop the limestone cliffs of the cobalt Caribbean, this ancient fortress dates back to the 13th century. Explore the pre-Columbian temples and stone palaces within the compact ramparts before descending to stunning El Castillo beach – don't forget your swimwear. 

Day

03

Jungle camping & candlelit swims

There are more wildlife encounters in store this morning at the Punta Laguna spider monkey sanctuary. Owned and run by the Najil Tucha community, this private jungle reserve supports 35 Mayan families. Keep your eyes peeled for aardvarks, deer and crocodiles – and of course spider monkeys – as you stroll through the forest with your guide. Tonight you'll be sleeping in suspended tree-tents at the mouth of a private cenote. You'll be invited to take part in a special Mayan blessing with a shaman, using flowers, native plants and incense, before sharing dinner with the local villagers. Later, there'll be time for a candlelit cenote swim. Softly illuminated for just you and your group, it's an experience like no other. 

Day

04

Rappel into a cenote

This morning you'll be hiking through the jungle to explore some larger cenotes. Dotted across the Yucatán Peninsula, these spectacular limestone sinkholes are steeped in Mayan legend – representing both a life-giving source of water and the gateway to the world of the dead. Test your nerve as you rappel 40 feet down inside a cavern, sunlight streaking in from above. Spend some time floating on inner tubes and swimming in the crystalline water before a thrilling zipline ride over a nearby lagoon. Once you've dried off, it's time to get back on the road. You're headed for Valladolid, a tranquil bohemian town filled with pastel stucco and elegant colonnades. Be sure to get an early night as you'll be up at dawn tomorrow. 

Day

05

Chichén Itzá at dawn

Rising early to beat the crowds and the heat, you'll travel to Chichén Itzá, one of the New Seven Wonders of the World. Your group will be amongst the first to enter and you'll explore this once vast and powerful city with an archaeologist guide. Don't miss the Temple of Kukulkan (El Castillo), with its serpentine design, the El Caracol observatory or the ball court where Mayan rituals were held. Mind blown, you'll journey to Mérida for a unique Flash Pack activity: a whistle-stop tour of the city in a fleet of VW Beetles. Affectionately known as vochos, these iconic cars are a firm Mexican favorite. Follow this up with a tequila tasting, from water-white blanca with grass and pepper notes, to the richer, aged reposado and añejo with hints of smoke, spice and caramel.

Day

06

Pink flamingos & beach time

After your busy day yesterday, you'll slow the pace down today. Enjoy a leisurely breakfast before traveling by minibus to the sleepy fishing village of Celestún. The biosphere reserve here is home to an abundance of waterfowl including a vast colony of flamingos. Together with your group, you'll take a gentle boat ride through the mangrove-lined estuary out onto the lagoon to witness the vibrant pink birds flocking in their thousands, feeding in the shallow waters and possibly taking flight in a dramatic display of colour. Then, you'll transfer to a nearby beach resort for an afternoon of R&R on the sand. This is a vacation after all. 

Day

07

Paradise calling

Pack your bags, you're off to Holbox: an unspoiled car-free island off the tip of the Yucatán Peninsula. It's a half-day journey from Mérida, but you'll stop off en route at the fascinating Hoctún Cemetery to see the colorfully decorated mausoleums that celebrate the dead. It's a short ferry hop across the bath-warm turquoise sea to this idyllic island. On arrival, you'll make your way along the sandy streets past colorful Caribbean buildings to your boutique seafront hotel. The afternoon is yours to do exactly as you please – perhaps exploring the island by golf cart, visiting vibrant Holbox Town or chilling out by the pool. Finish the day in the perfect way: sipping sunset cocktails on your private beach. 

Day

08

Snorkeling & ceviche

It's your final full day, but the fun isn't over yet. Today, you're off on a boat trip to Cabo Catoche, a semi-uninhabited island off the northern tip of Holbox. Lined with coraline white sand and surrounded by clear emerald water, this was the site of the first European landing in 1517 and the oldest Christian church in the Americas. The crew will show you how to fish using ancient string techniques, then you'll head to a 'deep zone' for swimming and snorkeling amongst the tropical fish and corals. Landing on a secluded beach, the day's catch will be prepared into a delicious ceviche feast. Then you'll journey through the mangroves back to your hotel in time for your farewell dinner. 

Day

09

Until next time, Mexico

All too soon, your trip has come to an end. A Flash Pack group transfer is included to take you back to the airport in Cancún. If you're not ready to leave, why not book some additional nights and stay a little longer? Alternatively, extend your adventure by combining your trip with one of our other Mexico tours, or maybe Costa Rica. Our travel experts are just a phone call away. 
OUR FAVORITE HOTELS
Here's a taste of the hotels we often use on this adventure.
Holbox Dream
This low-key island escape ticks all the boxes: a gorgeous pool leading out to coral white sand, Caribbean-style rooms set amongst lush gardens and a private beach club serving signature cocktails to a soundtrack of tropical tunes. 
Kimpton Aluna Tulum
Hidden in the rainforest, halfway between buzzing downtown Tulum and its white-sand beaches, this tranquil oasis was designed with free spirits in mind. Think yoga classes, killer cocktails and DJ nights on the rooftop by the outdoor pool. 
El Mesón del Marqués
Set in a restored 17th-century casona, Meson de Marques is the epitome of elegance. With its atmospheric atrium, central courtyard and traditional Yucatán menu, it's a colonial gem right in the heart of historic Valladolid. 
Important Notes
Which airport do I need to fly into and out of? Plus airport code

Fly into and out of Cancún International Airport (CUN).

What time should my flight arrive (in time for the welcome meeting)?

Please try to arrive in Cancún before 1pm as the transfer to your first hotel in Tulum will take approximately two hours. However, we will arrange a private airport transfer for you whatever time you arrive.

What time should my flight depart on the last day?

On the final day, make sure your flight does not leave before 2pm. This is because the trip finishes a few hours away and we only have one group transfer on this day back to Cancún.

Are airport transfers included?

If you arrive on Day 1 of your adventure, or you book pre-tour accommodation with us, your airport arrival transfer will be included. If you book alternative pre-tour accommodation or are arriving by another mode of transport you must arrange your own arrival transfer.

Arrival transfers are private to Flash Pack and will be in groups depending on flight times.

We also offer a departure transfer trip on Day 9, returning from Holbox to Cancún International Airport. If you would like to stay longer on Holbox, our Travel Experts can help you book additional nights. However, you will have to arrange your own departure transfer.

What will the jungle camping be like?

This is a basic but atmospheric site exclusive to Flash Pack. You'll be sleeping in individual net-sided tents, suspended between trees and open to the sounds of the jungle. There will be a toilet and shower block, with flush toilets and cool showers (the jungle is hot so the cool shower is refreshing). Meals are provided by the local community and you'll have a chance to learn about their traditional way of life. 

What fitness levels do I need for this adventure?

We recommend having a read-through of the itinerary above, and getting in touch if you have specific questions on fitness. The cycling on Day 2 takes approximately 15 minutes each way and there will be some gentle walks through the jungle to reach the cenotes, as well as exploring the Chichén Itzá ruins. Overall this adventure does not require a high level of physical fitness.

Are there alternatives to rappelling?

The rappel into the cenote is about 40 feet. There's also a rope ladder to climb down If you'd rather not rappel, but you'll still be required to wear a safety harness. At the bottom of the cenote are inner tubes that you can use to float around and swim. 

How much should I budget per day for extras?

Activities and some meals are included in the adventure cost, so you won't need to spend much money other than for souvenirs and the meals that aren't included. In hotels and establishments that cater primarily to tourists, expect to pay about 25% less for food and drinks than you would at a similar place back home. However, your Pack Leader will help you find the best local places that offer great value.

What are the Covid-19 requirements for visiting Mexico?

Due to the changeable nature of Covid-19 entry requirements, we strongly advise Flashpackers to consult the travel advice issued by your local consular services well in advance of your departure date. Some countries do still require travellers to comply with pre-arrival testing and/or vaccination requirements. Links to the key consular services can be found on our Safety page.

What other vaccinations and medication will I need?

We recommend checking with your local travel clinic six to eight weeks before your trip to see if any medications or vaccinations are required.

Will this itinerary change?

Please be aware that the itinerary, activities and hotels are subject to change. These changes can happen with little notice due to availability, poor weather, seasonal changes, or other circumstances beyond our control. From time to time we may also make changes to your itinerary to try out new ideas and keep things fresh.
OUR PROMISE
Joining the Flash Pack comes with a few special guarantees
THE PEOPLE
Our mission to create 1 million friendships so we obsess over the group dynamic. Everyone is aged 30-49, 98% travel solo & 80% stay friends. Want to know more about your group? GET IN TOUCH
THE SECURITY
We operate using a 3rd party trust bank account meaning we guarantee refunds in 14 days if your trip has to be cancelled BOOK WITH CONFIDENCE
THE TRIPS
Our trips are made up of 'can't-do-by-yourself' experiences – think staying on your own private island in the Arctic and glamping in Land Rovers on the Serengeti SEE TRIPS
THE GUIDES
We only work with trusted local guides who know their destinations better than anyone.
Similar Trips
8 days in Cuba
Soulful Cuba
12 days in Asia
Escapism in the Philippines
9 days in The Americas
Untamed Costa Rica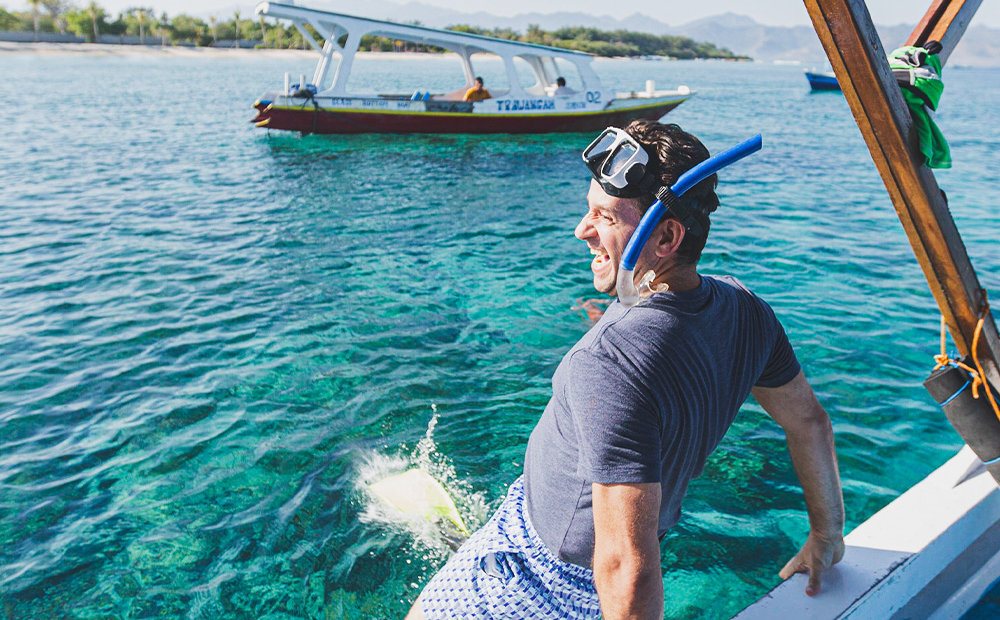 12 days in Asia
Bali & The Gilis: Island Adventures
9 days in The Americas
Vibrant Colombia
Subscribe to our newsletter
SIGN UP TO OUR NEWSLETTER
Hear about our new adventures before anyone else
Hear about our new adventures before anyone else.
Be the first to hear about exclusive Flash Pack offers.
Access exciting competitions.
Receive weekly inspiration and travel stories from solos just like you.