Inside Sri Lanka
Wildlife, beaches, meditation, tea and luxurious hand-picked retreats
Overview
Itinerary
Accommodation
Important Notes
Unique Experiences
Visit a plantation to learn the intricate art of picking and processing tea leaves
About your trip
Dramatic landscapes, fragrant cuisine, pristine beaches and exotic wildlife. Sound like your perfect adventure combination? Ours too.
From ancient cities to tropical beaches and the misty hills of Tea Country, Sri Lanka is an island perfectly set up for immersive group adventures – and on this 12-day Flash Pack escape you'll really get the inside view. 
Whether it's seafood beach BBQs by candlelight or sleeping in an ancient fort, nothing you experience on this trip will feel off-the-shelf. Instead of joining the crowds at Sigiriya Rock Fortress, for example, your group will scale the neighboring Pidurangala Rock for sunset tea – which is equally as beautiful and far more fun. To top it all off, your experience in Sri Lanka will be elevated by stays in some beautiful hotels: we're talking rooftop pools, fancy spas, cocktails by starlight and idyllic lagoons. Ready? Sri Lanka awaits.
What's Included
Max 14 travelers per group
Exclusively for people in their 30s & 40s
All activities mentioned on the itinerary
11 breakfasts, 1 lunch, 9 dinners
Stay in hand-picked 3-5 star hotels
We offset 0.56 tCO2e (carbon) per person on this trip
Private minibus & train
Arrival airport transfer
Accommodation in twin rooms
Experienced Pack Leader with you throughout the trip
Flashpackers must provide evidence that they have purchased travel insurance for the duration of their adventure. Remember, flights aren't included and prices are based on sharing a twin room. If you'd like to upgrade to a single room, you can add this during the booking process or by contacting our Customer Experience team.
Your Itinerary
Day

01

A tropical welcome

Welcome to Sri Lanka. It's hard to imagine a more stunning start to a trip, as you're whisked by private transfer from the airport to one of the country's finest boutique hotels. Settle into poolside living here as your fellow Flashpackers arrive. In the early evening, you'll gather by a frangipani tree for a passion fruit cocktail and welcome briefing from your guide. Then it's time to head out to a local restaurant in the laid-back fishing port of Negombo – and your very first taste of homegrown Sri Lankan cuisine.

Day

02

Sunset atop Pidurangala Rock

Start your day at Negombo fish market to learn about the catch of the day from the friendly fishing community, over huge trays of freshly caught crabs and calamari. Later, you'll transfer to your hotel on the shores of peaceful Lake Kandalama. Surrounded by lush jungle, it's a great spot for birdwatching and immersing yourself in nature. Your next stop is nearby Pidurangala: an ancient rock formation that's less touristy than neighboring Sigiriya Rock Fortress. The climb to the top is also more challenging – but nothing you can't handle with Flash Pack teamwork. After a summit scramble (watch out for monkeys), soak in a sunset view over tea, with Sigiriya cast in a golden glow.

Day

03

The temples of Polonnaruwa by bicycle

Today you'll head to Polonnaruwa, an ancient city of 12th-century temples and palace ruins, where you'll hop aboard bikes for an alternative view of this medieval kingdom. Then it's onto a farmer's house for lunch. With chickens roaming around and mango trees overflowing with fruit, this is a great local experience. Watch on as the farmer whips up fresh, flavor-packed curries, with women making bread nearby and perhaps coconuts foraged for coconut sambol. Rest back at Amaya Lake ahead of a very special experience this evening. All we'll say for now is that it involves immersive dining with live music, lantern light and colorful sarongs. 

Day

04

A private spice plantation & Kandy

Your journey continues into Sri lanka's lush green hill country: an emerald landscape of misty hills dotted with sparkling waterfalls. You'll travel to a private spice plantation, where a spice connoisseur will explain how fragrant spices are grown and used for cooking/medical purposes. It's a rare experience, and the treats just keep coming as we travel onwards to the sacred city of Kandy, a UNESCO World Heritage City. You have a lovely hotel with pool in this home-place of the Temple of the Tooth Relic. In the evening, gather for a meal at a quaint local restaurant before enjoying a walk around this buzzing city.

Day

05

Meditate with a master

Enjoy an early breakfast before being taken to meet a yoga and meditation master at their home on the outskirts of Kandy. Surrounded by a picturesque landscaped garden, your host will talk deeply and beautifully about Buddhism and what it means to him, before moving on to yoga and all of its benefits. You'll be taken through a private yoga session and put into practice the deep breathing techniques your guide has taught you. After a spiritual morning, you'll meet Chami, a local Kandyan artist and your inside guide to the delights of Sri Lankan cooking. You'll accompany Chami to the local market first, travelling in tuk tuks with a shopping list of vegetables and spices to buy. Then you'll work as teams to conjure up a curry feast.

Day

06

A spectacular train ride

A Sri Lankan train trip is a bucket-list moment; and today you'll experience it first-hand. You'll board a four-hour train from Kandy to Nanuoya, traveling third class for a local experience with spectacular jungle views. Your group's first stop is Nuwara Eliya, an elegant city in the tea country hills of central Sri Lanka. Have lunch at a local restaurant and wander around the charming streets and colonial-era cottages of a place dubbed "Little England". Then, travel further into tea country to your tranquil lodgings at a boutique resort and spa. Upon arrival at your unique abode, surrounded by rolling hills and plantations, you'll receive the ritual Hindu Tilak mark on your forehead. Then, once settled in, it'll be time to relax around the cerulean pool overlooking the misty landscapes.

Day

07

Learn the art of tea making

Having enjoyed a leisurely breakfast, you'll enter into the world of tea. At a nearby plantation, you'll watch the Tamil tea pickers at work before learning how to pluck the leaves yourself. You'll then carry the leaves back to the factory, where the factory manager will guide you through the process of weighing, withering, rolling, fermenting and drying. For lunch today, you'll have the chance to make a popular Sri Lankan street food dish: kottu. The spicy mix of chopped up roti, stir fried vegetables and eggs is prepared to a rhythmic beat. Later, you'll have time to explore the town of Ella – visiting the dramatic Nine Arches Bridge and Little Adam's Peak – before dinner at the Chill Cafe.

Day

08

Journey to the Indian Ocean

You can put your feet up today as you travel some hours south to Yala: Sri Lanka's premier national park, where local villagers live side-by-side with free-roaming Jungle Book wildlife. Arriving at your hotel, on the edge of the park, you'll have the rest of the afternoon free to unwind. Take a refreshing dip in the pool or book in for a massage at the Balinese-inspired spa before dinner overlooking the ocean. Get an early night tonight ahead of your early-morning game drive.

Day

09

Leopard spotting at Yala

You'll make a super-early start today to beat the crowds at Yala National Park, home to elephants, crocodiles, aquatic birds – and the highest population density of leopards worldwide. Spotting these elusive creatures on a morning game drive is a pinch-me moment; keep your eyes peeled for them and other wildlife (elephants, bears) in the wilderness.  You'll hit the hotel pool before moving into the beautiful old trading port of Galle, with lunch along the way. Once checked in to your next hotel, you'll spend the afternoon exploring the 300-year-old UNESCO World Heritage setting. Overlooking the Indian Ocean, Galle city is packed with art galleries, grand colonial-Dutch mansions and stylish cafes: the evening is yours to enjoy. 

Day

10

16th-century forts & beach resorts

You'll have a bit more time to explore Galle this morning, before driving up the coast to the chilled beach area of Kosgoda. This will be the final stop of your Sri Lanka trip and it's well worth the wait. Known for its stunning palm-fringed beach and dreamy sunsets, you'll be staying in comfort just steps from the sand. Make the most of this idyllic setting for the rest of the day: you can stretch out by the sea or the hotel pool or unfurl at the on-site spa.  Come evening, head to the hotel bar and relax with a sundowner to the sound of lapping waves.

Day

11

Lazy beach living & a candlelit dinner

More beach life beckons today: enjoy a long, leisurely breakfast at the hotel followed by free time to laze around and soak up the rays in your last full day in paradise. For those who find it hard to sit still, there are optional excursions available. If you're travelling between November and April, wildlife-watching boats head out regularly in search of spinner dolphins, sperm whales and the truly colossal blue whale. There's one more treat to come tonight, as we drive over to a nearby beach for a private farewell dinner. Tuck into Sri Lankan seafood platters in the glow of a candlelit beach BBQ, with live DJ music. A worthy end to a sensational trip.

Day

12

Until next time, Sri Lanka

There's time for one last breakfast spread at the hotel before your group goes its separate ways. It's been an adventure, that's for sure. Wherever life takes you next, we know you'll fly out of Sri Lanka fuelled by new friendships, great food and a lifetime of memories.
OUR FAVORITE HOTELS
Here's a taste of the hotels we sometimes use on this adventure. The hotels you'll stay in for your departure will be shared with you one month before you go.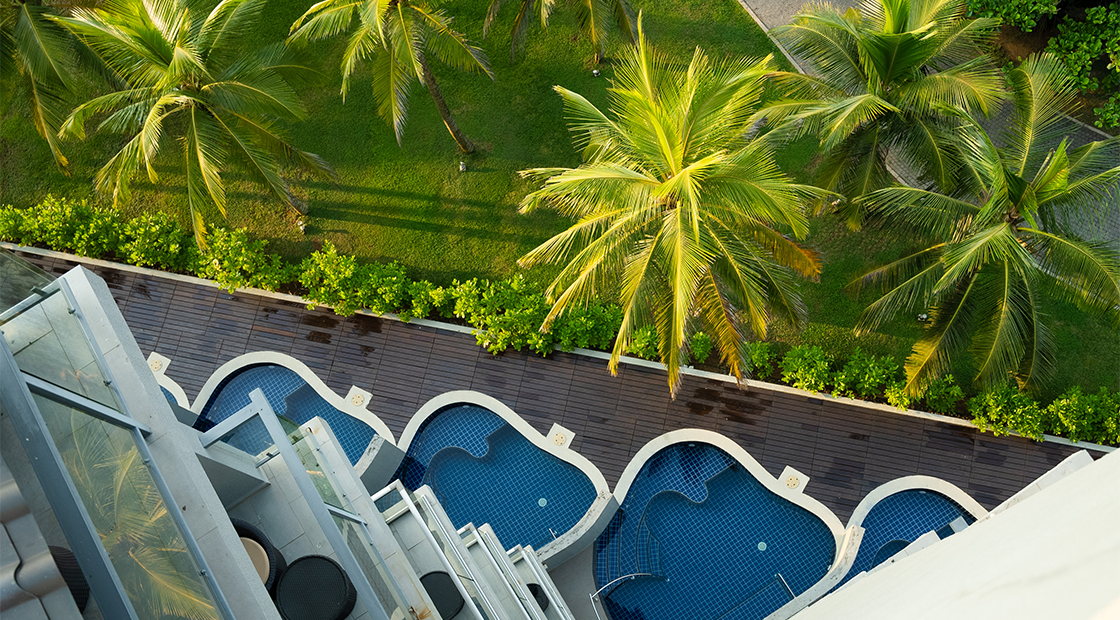 Sheraton Kosgoda
From its stunning beach views to a huge pool overlooking the Indian Ocean and a spa with ancient healing treatments, this hotel is all about beachside living. Rooms come with sea views, private balconies, rain showers and pampering toiletries. 
Jetwing Yala
Nestled amidst sand dunes and spectacular coastal scrub, this eco-conscious boutique hotel is an idyllic place to relax after wildlife spotting in nearby Yala National Park. Facilities include a 75-meter pool and open-air lounge-bar overlooking the ocean.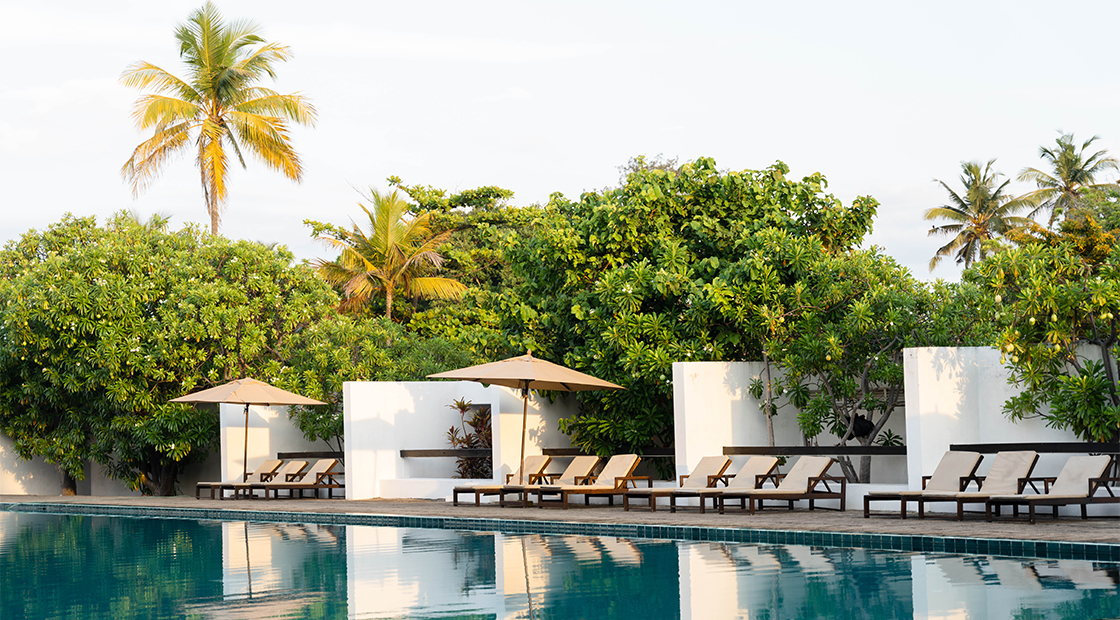 Jetwing Lagoon, Negombo
An architectural masterpiece designed by Geoffrey Bawa, this chic Ayurveda spa resort offers the largest pool on the western coastline, a range of ancient healing therapies and an enviable position on a skinny peninsula between the ocean and Negombo Lagoon.
Important Notes
Which airport do I need to fly in and out of? Plus airport code

Fly into and out of Colombo International Airport (CMB).

What time should my flight arrive (in time for the welcome meeting)?

Before 3 pm ideally. The welcome meeting and dinner will be from 5:30 pm onwards starting at the hotel, which is located approximately 30 minutes away from Colombo International Airport.

What time should my flight depart on the last day?

There are no activities planned for the last day, however, your last hotel in Kosgoda is located around two hours away from Colombo International Airport. You should arrive at the airport three hours before your flight departs, so we advise booking flights after 2 pm to allow for travel time.

Alternatively, Flash Pack can organize a post-trip night at the Kosgoda hotel or at a hotel near Colombo Airport.

Are airport transfers included?

If you arrive on Day 1 of your adventure, or you book pre-tour accommodation with us, your airport arrival transfer will be included. If you book alternative pre-tour accommodation or are arriving by another mode of transport you must arrange your own arrival transfer.

Arrival transfers are private to Flash Pack and will be in groups depending on flight times. Sometimes this means waiting in the airport for a short while until other flights have arrived.

We also include a group transfer back to the airport (or the hotel near Colombo) on your last day. This is because your last hotel, in Kosgoda, is located around two hours away from Colombo International Airport and it would be hard to organise these transfers yourself. As we are only able to offer one group departure transfer, this could mean waiting at the airport for your flight.

However, if you choose to stay an extra night at the Kosgoda hotel or Colombo hotel, it is up to you to book onward transfers to the airport. Your Pack Leader can help you book your transfers the night before if needed.

Will there be a kitty for tips?

During the welcome meeting, the leader of your group will request that each member contributes 25 USD to a 'tipping kitty'. This pooled fund is intended for gratuities to be distributed among 'on the ground' staff, such as waiters, porters, and other personnel providing services during the trip.

Do I need a visa?

All visitors will need to apply for an e-visa online: http://www.eta.gov.lk/slvisa/

We recommend that you have at least six months validity remaining on your passport and can show a return ticket.

How much should I budget per day for extras?

8,000 LKR, the equivalent of 30 GBP / 40 USD per day.

What fitness levels do I need for this trip?

We recommend having a read-through of the itinerary above, and getting in touch if you have specific questions on fitness.  Overall, the trip is relatively relaxed so no level of fitness is needed. However, there is a good amount of walking (at your own pace) and a climb up Pidurangula rock on Day 2 so good, worn-in walking shoes or trainers are advised. When climbing Pidurangala, the last 800 meters will be challenging as there are no fixed steps and so you have to navigate around the rocks, which is really fun.

When's the best time to go? What is the weather like?

November to March are usually the best months to go weather-wise, however because of this they can get quite crowded, so we also recommend going in the shoulder seasons on either side. November to March sees pleasant temperatures ranging between 80-90ºF (27-32ºC). April, July, and August are the hottest months, with temperatures elevating to 97ºF (36ºC).

May and June are monsoon periods so best to avoid if possible. September and October are inter-monsoon periods, so can still be a great time to travel as it is much quieter, just with a few rain showers.

What are the Covid-19 requirements for visiting Sri Lanka?

Due to the changeable nature of Covid-19 entry requirements, we strongly advise Flashpackers to consult the travel advice issued by your local consular services well in advance of your departure date. Some countries do still require travelers to comply with pre-arrival testing and/or vaccination requirements. Links to the key consular services can be found on our Safety page.

What other vaccinations and medication will I need?

We recommend checking with your local travel clinic six to eight weeks before your trip to see if any medications or vaccinations are required.

What should I pack?

Your Sri Lankan adventure will involve a variety of activities, so you'll need to pack a range of clothes. Generally, we recommend bringing light and breathable tops and shorts that will keep you cool in the humid climate, but some warmer layers may be required in the hills of central Sri Lanka as it can get cool, especially at night. You will also need to bring a light waterproof with you as it can rain all year round.

It's important to pack some modest clothes that cover your shoulders and knees for when you visit Sri Lanka's magnificent temples. Large colorful scarves and sarongs are popular for temple visits and they can easily be bought locally.

What you pack is personal to you and our list is certainly not exhaustive. If you have any questions about what to pack for your trip to Sri Lanka, please get in touch with one of our friendly Trip Experts.

Baggage

Large backpack or suitcase – it's up to you whether you bring a backpack or a suitcase, but either way, a soft-sided bag is best for packing into transfer vehicles.
Day bag – this will need to be big enough to fit your daily essentials, such as water and your camera.

Clothing

Lightweight tops – t-shirts are great for day-to-day wear, but we also recommend bringing lightweight long-sleeved tops to keep insects off of your skin.
Activewear – breathable and lightweight materials will be perfect for the more energetic activities on this adventure.
Sunhat/sunglasses – the sun is likely to be very strong during the day, so protecting yourself with sunglasses and a sunhat is vital.
Light waterproof jacket/poncho – it can rain at any time of the year in the highlands of Sri Lanka, so a poncho is recommended.
Jumper/sweater – you may want a light jumper/sweater for any cooler evenings and for rooms with strong air-conditioning.
Modest clothes – you'll need to make sure that your shoulders and knees are covered during temple visits. Long trousers, long skirts and sarongs all work well. You may also be required to take your shoes off, so you might want to have a pair of socks in your bag to avoid bare feet.
Linen trousers – always handy for keeping the sun off of your legs and for covering your legs during temple visits.
Swimwear – you'll have plenty of chances to go for a swim in hotel pools and the sea.
Evening outfit – what you wear in the evenings is up to you, but you may want some nicer clothes for meals and drinks.

Shoes

Hiking shoes/trainers – you'll need comfortable, worn-in hiking shoes suitable for climbing up Pidurangala rock.
Day shoes – for walking around cities, we recommend closed and comfortable shoes.
Sandals/flip-flops – it's a good idea to bring a comfortable pair of shoes for relaxing in at hotels.
Evening shoes – you might want some shoes to wear out in the cities in the evenings.

Accessories

Electricals and accessories – phone, camera, chargers, etc
Plug socket adapter – plugs in Sri Lanka usually either have three round prongs (type D) or three square prongs (type G). Bringing an extension cable will allow you to charge multiple devices with one adapter.
Book or music – for transfers and any relaxed evenings, you might want to bring a book or some music.
Eye mask and earplugs – if you're a light sleeper, you may feel more comfortable bringing these as a precaution.
Pool towel – hotels will provide bath towels, but you might want to bring a towel for going swimming. Travel towels work well and pack down very small to save space.
Hand fan – it can get very hot and humid, so a fan can be a handy addition to your bag.

Toiletries/medical

Any personal medication you require
Personal toiletries – toothbrush, deodorant, razors, hairbrush, etc
Shampoo and conditioner – most hotels will provide these, but we recommend bringing your own because small plastic bottles are not environmentally friendly.
Painkillers
Anti-bacterial gel
Tissues
Insect repellant
Lip balm with SPF
Moisturiser
High SPF factor suncream

What are the drive times like?

This is a trip for travellers that enjoy a road trip. The total drive time is around 25 hours and some of the mountain roads are winding, so we don't advise joining if you suffer badly with motion sickness or any other ailment that extensive travel can make worse. We use a comfortable vehicle, complete with Bluetooth through which you can connect your Flash Pack Spotify playlist, but there are some long drives, like from from Mandaram Nuwara to Yala, for example. We do break up the drives by stopping off at points of interest or to have authentic experiences, such as visiting a local craft village.
AS CAPTURED ON INSTAGRAM
The latest from Flashpackers in Sri Lanka on #picsworthsharing
OUR PROMISE

Joining the Flash Pack comes with a few special guarantees

THE PEOPLE

Our mission to create 1 million friendships so we obsess over the group dynamic. Everyone is aged 30-49, 98% travel solo & 80% stay friends. Want to know more about your group? GET IN TOUCH

THE SECURITY

We operate using a 3rd party trust bank account meaning we guarantee refunds in 14 days if your trip has to be cancelled BOOK WITH CONFIDENCE

THE TRIPS

Our trips are made up of 'can't-do-by-yourself' experiences – think staying on your own private island in the Arctic and glamping in Land Rovers on the Serengeti SEE TRIPS

THE GUIDES

We only work with trusted local guides who know their destinations better than anyone.

Similar Trips

10 days in Asia

Secret Vietnam

12 days in Asia

Bali & The Gilis: Island Adventures

8 days in Asia

Untold Jordan

11 days in South Africa

Bucket-List South Africa

10 days in The Americas

Ultimate Argentina

Subscribe to our newsletter

SIGN UP TO OUR NEWSLETTER

Hear about our new adventures before anyone else

Hear about our new adventures before anyone else.

Be the first to hear about exclusive Flash Pack offers.

Access exciting competitions.

Receive weekly inspiration and travel stories from solos just like you.

You are browsing our US website.

Please choose your current location below:

You are browsing our UK website.

Please choose your current location below: