A local's guide to Luang Prabang from Madame Toune of Maison Dalabua hotel
Life in Laos is changing fast, but I have a lot of respect for the past. I want to preserve the traditional way of life and customs I learnt growing up with nine siblings in Luang Prabang, a riverside town and the spiritual soul of my country. It's a calling that led me to set up Maison Dalabua, a boutique hotel set around tropical gardens, including three Unesco-listed lily ponds. 
Maison Dalabua is so much more than a business to me; it's close to my heart. When I first visited the site with my mum back in 2011, we discovered that the land had been in my family for generations. I never expected to find my ancestral roots here, but it meant the project developed a whole new, deeply personal resonance.
Maison Dalabua is a magical place. I see myself as its caretaker
For me, Maison Dalabua is a magical place and I am its caretaker: it's my pleasure to look after my heritage by sharing it with my team and treasured hotel guests. It's very important to me that I'm running it as a local, conserving the country's cultural pastimes and the serene surrounding environment. 
One thing that guests love about our bedrooms is that they are filled with traditional woven fabrics and colourful curios. I source these from local ladies living in nearby villages, supporting the revival of a tradition that might otherwise vanish with time. 
Working in collaboration with Unesco, I've also dedicated a lot of time over the past decade to learning how to care for the lily ponds. They are made up from very sensitive ecosystems and it's important to get the balance right and without using chemicals.
The tempo of life is slow in Luang Prabang 
I've taught myself a lot using a slow, considered approach. It's a big undertaking but the reward lies in the reaction we get from guests. Being able to reconnect with nature in this serene oasis we've created brings a lot of joy. 
Luang Prabang in general is a beautiful place to live and visit. You'll find the tempo in Laos is a little slower compared to neighboring countries like Thailand or Vietnam. 
This is especially true of Luang Prabang, our ancient city and royal capital of the kingdom until 1975. When you take a morning walk through the Old Town, life in our Buddhist-led community feels relaxed and friendly. There are lots of temples around and you'll often hear monks chanting in unison as the sun comes up over the Mekong River.
The city has a rich food heritage. People really know how to cook
Luang Prabang also has a rich foodie heritage and people here know how to cook really well. I'd recommend visiting Tamarind restaurant and cooking school, which is inspired by local produce. Lao co-owner, Joy, runs Tamarind along with his Australian wife Caroline, and their recipes are based on family traditions from his childhood growing up in the countryside. They run food tastings, events and cooking sessions with local market visits, too. 
Bouang, a pretty French-style bistro with Laos flavours and plenty of veggie options, is also worth a visit, as is the Bamboo Garden Restaurant, with specialties like steamed jasmine rice and stir-fried pork in a lovely lantern-lit setting. 
Meanwhile, Le Calao Restaurant is situated right on the banks of the Mekong in a 20th century heritage building. It's something of an institution here, with authentic family dishes made from seasonal ingredients, such as lemongrass, Luang Prabang river weeds and Lao buffalo steak.
Manda de Laos restaurant is a homage to my mother's cooking 
I should also mention our sister restaurant Manda de Laos as it's a real work of love. The word manda means "mother" in Lao, and the menu is directly inspired by the knowledge and passion for cooking that my mum, Maman Phiew, passed onto her daughters. Often, Lao people don't have written records that allow recipes to be passed down from one generation to the next. But before my mother died, I asked her to write down everything to do with her kitchen philosophy. 
Manda de Laos is the result. It's a homage to my mother that shares a style of cooking from the past. Based in an enchanting, candlelit garden by one of the Unesco-listed lily ponds, guests can feast on dishes ranging from jungle honey-glazed spare ribs, to Lao-style shredded fish salad mixed with shallots and crispy garlic, or barbecue chicken with local herbs. 
In addition, we also serve French artisan cuisine at Gaspard, a historic two-storey salon lovingly restored by craftsmen from Luang Prabang and Brittany in France.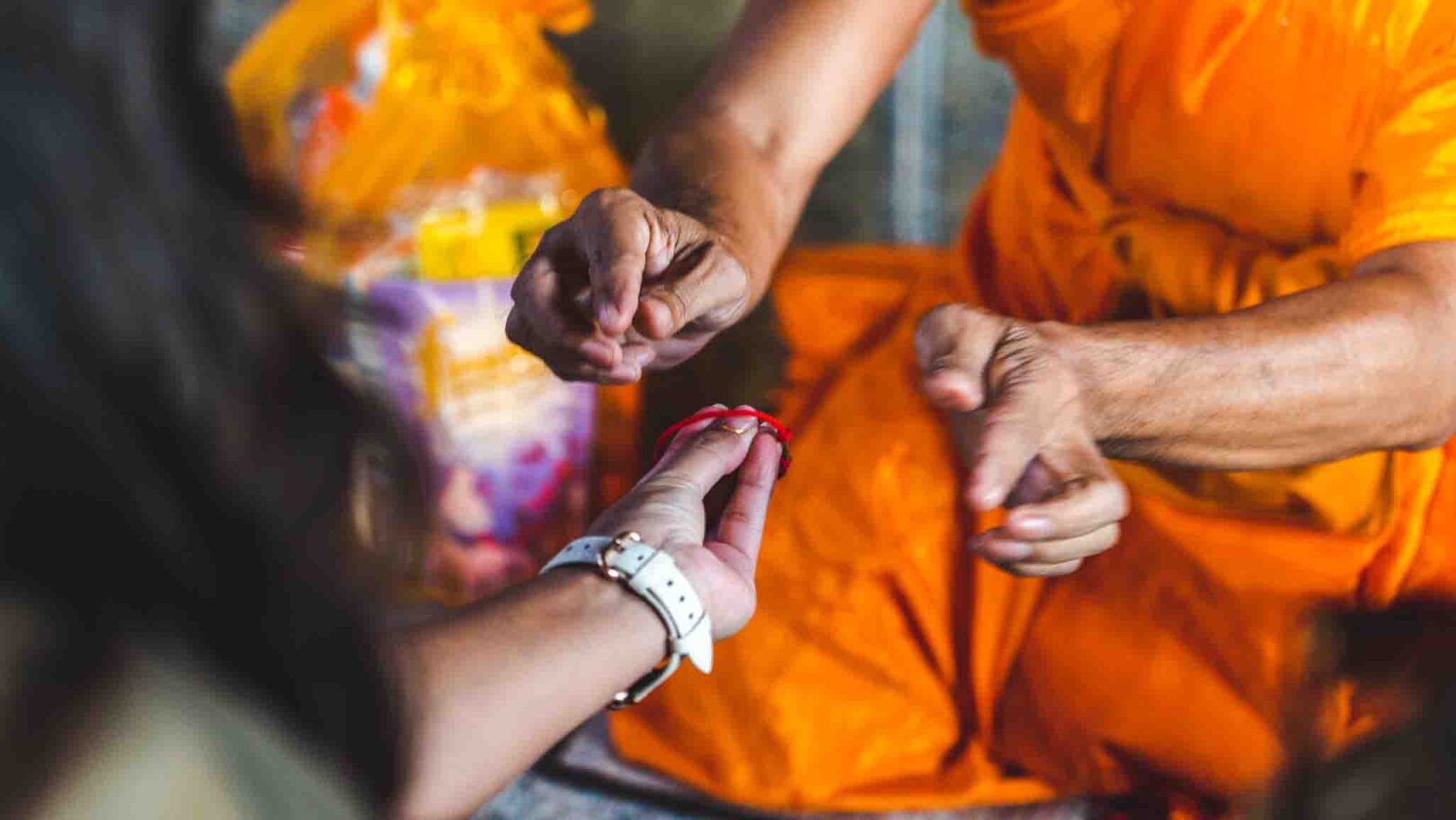 In Luang Prabang, you can witness the alms-giving ceremony at dawn
Food is not the only thing to tempt visitors to our small city. We also have over 30 temples, each with their own history, murals and gilded stupas to marvel at, along with the Royal Palace (home to the legendary mirrored Throne Hall). 
Elsewhere, you'll find gorgeous views at the top of Mount Phousi, our so-called "sacred hill", or you can visit the Kuang Si Falls for wild swimming in scenic emerald lagoons. 
Sunset cruises on the Mekong are also popular. Or you can get up early to witness the alms-giving ceremony at dawn, a symbiotic ritual where locals provide food donations to the monks in return for good karma. But be sensitive: this is not a photoshoot. Instead, it's an opportunity to give from the heart.
I'm proud to be a part of the sustainable tourism scene here
If you like vintage textiles, I'd suggest visiting Ock Pop Tok, which sells beautiful local fabrics, along with its Living Crafts Centre, where you can watch batik masters at work or try out a weaving workshop. 
Meanwhile, animal-lovers will be happy to hear that Laos is known as "the land of a million elephants", some of which live in the sanctuaries around Luang Prabang. Most good experiences now focus on non-riding interactions, where guests can feed these noble creatures and find out more about their needs and welfare. 
I'm happy and proud to be a part of Luang Prabang's sustainable tourism scene, too. Along with my French husband (who has a background in hospitality), I employ many local staff straight out of high school and train and care for them like family.
I see it as my responsibility to grow our offering responsibly
The world moves so rapidly these days and tourism is both a good and a bad thing. So, I see it as my responsibility to help grow our offering here in Laos in a gradual, sustainable way. Generations past have a lot to teach us about the power of a job done honourably – with care for the nature, people, creativity and culture that makes us who we are. 
Madame Toune is founder of Maison Dalabua in Luang Prabang, which features on Flash Pack's off-grid adventure to Thailand and Laos.
Got a story or adventure that could inspire a solo traveler like you? Tag @flashpack on social or email [email protected] to be featured.
Images: courtesy of Maison Dalabua, Ock Pop Tok and Flash Pack