Chile: Santiago to Patagonia
Raft the rapids of the Petrohue River, learn the ways of a gaucho at a remote estancia & hike to Las Torres Base Lookout in Patagonia
Chile: Santiago to Patagonia
Overview
Itinerary
Accommodation
Important Notes
UNIQUE EXPERIENCES
Hike to Patagonia's Las Torres Base Lookout for 10 hours of awe-inspiring mountain scenery
About your trip
Dive headfirst into a land of colossal natural wonders on this 10-day Chile escape – the very definition of adventure.
Beginning in pacy Santiago, you'll eat your way around famed Lastarria, where hip restaurants and craft cocktail bars thrum with life that spills out onto leafy avenues. You'll get to drink in Chile's endlessly epic scenery with a bike ride to a traditional winery in Casablanca, conquer the roaring rapids of the Petrohue River, traverse the verdant Alerce Andino National Park and feast on traditional barbecues. And let's not forget your time at a remote Estancia where you'll live out the gaucho dream, horseback riding across the wilderness with a local rancher.

Asado feasts, local wine and lashings of pisco will fuel you on your voyage, while anything from design-led enclaves surrounded by wilderness to welcoming wood-panelled lodges will welcome you home each night. Chile is built for adventure. Perfect for a Flashpacker like you, then?
What's Included
Accommodation in twin rooms
Max 14 travelers per group
Exclusively for people in their 30s & 40s
Arrival transfer included
All activities mentioned on the itinerary
9 breakfasts, 5 lunches, 5 dinners
Experienced Pack Leader with you throughout the trip
3 domestic flights
Flashpackers must provide evidence that they have purchased travel insurance for the duration of their adventure. Remember, flights aren't included and prices are based on sharing a twin room. If you'd like to upgrade to a single room, you can add this during the booking process or by contacting our Customer Experience team.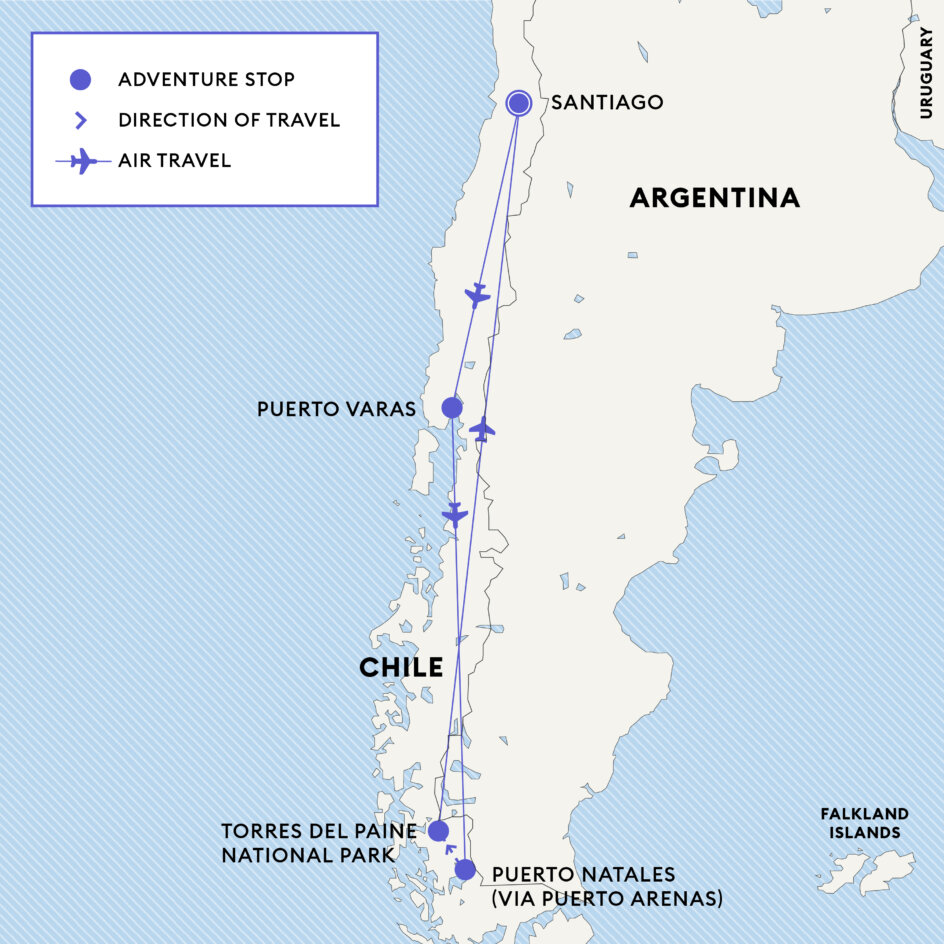 Your Itinerary
Day

01

BIENVENIDOS, CHILE

Welcome to Santiago. Cropping up where the sky (the Andes) meets the sea (the Pacific), this thriving metropolis has a spectacular backdrop that seduces visitors from touchdown. After checking into your hotel, you'll meet your fellow Flashpackers before finding your bearings with a sunset walking tour around the bohemian barrio of Lastarria. Dominated by the 19th-century Castillo Hidalgo fort, the neighborhood's tree-lined streets are brimming with boutique hotels, independent bars and stylish restaurants, giving way to epic views beyond. Spend a relaxed evening browsing the colorful stalls of street vendors between sampling local tapas dishes and (our favorite part) getting to mix a signature Flash Pack pisco sour at one of the area's best local bars.

Day

02

WINES OF CASABLANCA

For adventure enthusiasts, Santiago is a haven of possibilities and following a restorative night's sleep, it's time to explore on two wheels. You'll be heading out on a bike tour downtown, taking in the city's most historic and picturesque highlights. Then, it's on to the Casablanca hills, an area known for growing wine varieties such as Sauvignon Blanc and Chardonnay as well as cool-climate reds like Pinot Noir and Syrah. Here it's back onto a bicycle as you pedal among the vines before stopping for a bountiful picnic lunch packed with local specialities and accompanied by plenty of wine tasting. Appetites satiated and feeling revived, next up it's a walk through the Valparaiso hills. This UNESCO World Heritage Site is famous for its kaleidoscopic houses, vertiginous stairway and abundance of street art. Enjoy sundowners with your new gang before an evening at your leisure.

Day

03

THE CITY OF ROSES

We're whisking you via luxury transfer to Santiago Airport for your flight to Puerto Montt. From there, it's a short car ride to your next chic lodgings in Puerto Varas. Known as "the city of roses", it sits on the southwest banks of glistening Lake Llanquihue, offering impressive vistas of snow-capped Osorno Volcano and Calbuco Volcano, both still active. The afternoon will be spent strolling through the picturesque streets characterised by traditional German-style architecture, a testament to the city's colonial heritage. Your day will end with a southern-style "tea" (a tradition the Brits brought over in the 19th century) before retreating to your hotel.

Day

04

Petrohue River Rapids

Get ready to tackle the swirling class III and IV rapids of the Petrohue River on this adrenaline-filled white-water-rafting escapade. Promising an invigorating bonding experience, it's a hair-raising ride as you navigate the roaring currents, relying on the camaraderie and encouragement of your new teammates to conquer the waters. Back on dry land and in fresh clothes, we're laying on a well-deserved barbecue lunch. Think marinated anticucho skewers and shish kabobs galore in this asado-style feast, cooked on a traditional parilla grill – Chileans know what they're doing when it comes to communal dining. 

Day

05

EPIC TREKKING

Lace up those walking boots and fill those water bottles because today's excursion is a full-day trek through Alerce Andino National Park, a beautiful temperate rainforest biosphere reserve that is the northern gateway to Chile's epic Route of the Parks trail. Framed by framed fiery volcanoes and serene, icy-blue lakes, it has the largest area of native larch forests and foliage-strung paths hum with the sound of wildlife. The park is home to species such as the colocolo opossum, pudú deer, grey fox and the chingue (hog-nosed skunk). Birdwatching is also exceptional here – keep your eyes peeled for coscoroba swans, ochre-flanked tapaculos, black-throated huet-huet and flocks of migrating shorebirds. A free evening will provide ample time to relax and soothe weary limbs.

Day

06

Hello Patagonia

It's a transfer back to Santiago for your flight and transfer to Punta Arenas, where you'll check into your boutique accommodation. This port city on the Señoret Channel in Chile's southern Patagonia is the launchpad for those exploring the Torres del Paine National Park and boats touring the otherworldly Patagonian fjords. A walking city tour will familiarise you with your new surroundings – a humble but pretty town that's a melting pot for global nomads, with towering mountain peaks and crystalline glaciers, many spilling out from the vast Southern Ice Field. Culture fix and souvenirs in the bag, it's off for a hearty dinner at one of the town's much-loved trattorias.

Day

07

GAUCHO LIVING

One of our favorite days on your Chilean adventure, we're taking you on a mystical boat ride on the Sofia Lake. Gliding across glassy waters between snowy peaks, this ethereal landscape couldn't be further away from the hustle and bustle of the daily grind. Your destination? Pingo Salvaje ranch, where upon arrival, you'll be mounting a horse to transport you through breathtaking Patagonian landscapes. Channel your inner cowboy/girl as you traverse the wild planes past waterfalls, towering rock formations and beech forests – this is one of life's "pinch-me" moments. You'll be guided by a knowledgeable local rancher throughout, who'll give you insight into a hardy life of herding dogs and sheep sheering. Then, back at the ranch, you'll enjoy a mate (traditional gaucho drink) masterclass before rounding off this spectacular day with a Patagonian barbecue.

Day

08

LAS TORRES BASE LOOKOUT

Ending on a high note, your last day will be spent hiking to the Las Torres Base Lookout. This is one of the most famous viewpoints in the region, and it's not hard to see why it's become an iconic landmark on the world hiking list. Your 10-hour trek will be punctuated by plenty of stops to gawp at majestic granite peaks and glittering cerulean lakes, snapping photos of the scenery as you climb. We'll have packed you off with ample supplies too – a picnic box filled with delicious local treats to ensure you skip your way to the summit. Finally, it's a traditional dinner toasting to mountains conquered.

Day

09

BACK TO THE CITY

Today we bid farewell to the wilderness and fly you back to Santiago for one last night in this beautiful city. Arriving at your cosy hotel, you'll have the chance to unwind for a while before heading out to your farewell meal within walking distance of your lodgings. Expect lots of cocktails, lots of tapas, and hours of conversation with new friends as you look back on nine days of pure Chilean adventure.

Day

10

HASTA LA PRÓXIMA, CHILE

After an early breakfast, it's time to book your taxi to the airport. Say so long to your Flash Pack crew, after 10 days of unforgettable adventure. From wine-tasting in the Casablanca hills to the tackling that mighty hike to the Base Las Torres viewpoint; it's been one to remember. Hasta la próxima, Chile!
Our Favorite Hotels
Here's a taste of the hotels we sometimes use on this adventure. The hotels you'll stay in for your departure will be shared with you one month before you go.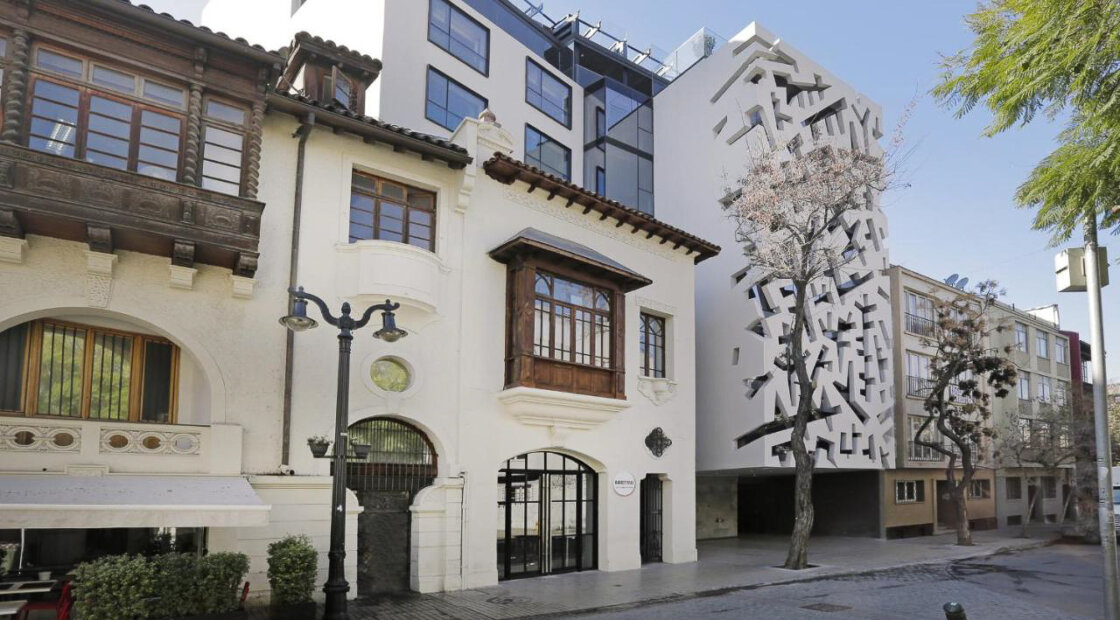 Cumbres Lastarria, Santiago
This avant-garde boutique hotel takes up residence in one of the capital's most artistic neighborhoods, captivating guests with its geometric exterior, rooftop restaurant and infinity pool overlooking the Andes.
PAMPA LODGE, PATAGONIA
Tear yourself away from the incredible views here, and you'll notice minimalist Scandi design notes that only serve to hero the landscape of rivers, forest and cloud-tinted peaks.
Cumbres Puerto Varas
Echoing the inviting ambience of rural Chilean homesteads, Cumbres Puerto Varas integrates indigenous woods with animal hides, antler wall hangings and floor-to-ceiling windows. With commanding views of Lake Llanquihue, the hotel's offerings centre on relaxation with a heated pool, sauna and gym.
Important Notes
Which airport do I need to fly into and out of? Plus airport code

Fly into and out of Santiago International Airport (SCL).

Do I need a visa?

You do not need a visa if you're visiting as a tourist from the EU, UK, USA, Australia or Canada for up to 90 days. Please check with your local consulate/embassy if the country you are travelling from requires you to have a visa.

We recommend that you have at least six months validity remaining on your passport and can show a return ticket.

What time should my flight arrive in time for the welcome meeting?

Ideally no later than 2pm. Check-in at the hotel is from 3pm and the welcome meeting will start at 5pm.

Are airport transfers included?

If you arrive on Day 1 of your adventure, or you book pre-tour accommodation with us, your airport arrival transfer will be included. If you book alternative pre-tour accommodation or are arriving by another mode of transport you must arrange your own arrival transfer.

Arrival transfers are private to Flash Pack and will be in groups depending on flight times. Sometimes this means waiting in the airport for a short while until other flights have arrived.

We don't offer a departure transfer as Flashpackers leave at different times of the day and many stay for extra nights. We will offer you support with finding a local taxi.

What time should my flight depart on the last day?

You can depart at leisure on the last day as there are no activities. Check-out of your hotel will be at 11am.

What fitness levels do I need for this trip?

This is one of our more challenging trips due to the amount of hiking involved. Due to the degree of effort and difficulty for the hiking excursions, we do not recommend this trip to pregnant women or anyone unfit, or with severe health problems.We recommend having a read-through of the itinerary above, and getting in touch if you have specific questions on fitness.

What are the transfer times like?

Chile is a huge (and particularly long) country so long travel days are to be expected. They are, however, exceptionally scenic and we've added some great stops along the way to break up longer drives. There are also three domestic flights included, which may require early starts on flight days.

Will my itinerary change?

Due to seasonality, there are a few scheduled changes to this itinerary worth noting.

If departing on 27th/28th April or 4th May, on Day 5 you'll go trekking in the stunning Lahuen Ñady Natural Monument as the Alerce Andino National Park will be closed to the public. Also, if day one of your adventure falls on a Sunday, rather than a walking tour of Lastarria, you'll enjoy the bohemian delights of Santiago's Bellavista neighborhood.

If departing on our 21st December 2023, 14th January 2024 and 9th November 2024, please note that you'll be staying three nights in Puerto Natales instead of two nights in Puerto Natales plus one night in Torres del Paine, due to limited availability within the national park.

Please be aware that other elements of the itinerary, activities and hotels are also subject to change. These changes can happen with little notice due to availability, poor weather, seasonal changes, or other circumstances beyond our control. From time to time we may also make changes to your itinerary to try out new ideas and keep things fresh.
OUR PROMISE
Joining the Flash Pack comes with a few special guarantees
THE PEOPLE
Our mission to create 1 million friendships so we obsess over the group dynamic. Everyone is aged 30-49, 98% travel solo & 80% stay friends. Want to know more about your group? GET IN TOUCH
THE SECURITY
We operate using a 3rd party trust bank account meaning we guarantee refunds in 14 days if your trip has to be cancelled BOOK WITH CONFIDENCE
THE TRIPS
Our trips are made up of 'can't-do-by-yourself' experiences – think staying on your own private island in the Arctic and glamping in Land Rovers on the Serengeti SEE TRIPS
THE GUIDES
We only work with trusted local guides who know their destinations better than anyone.
Similar Trips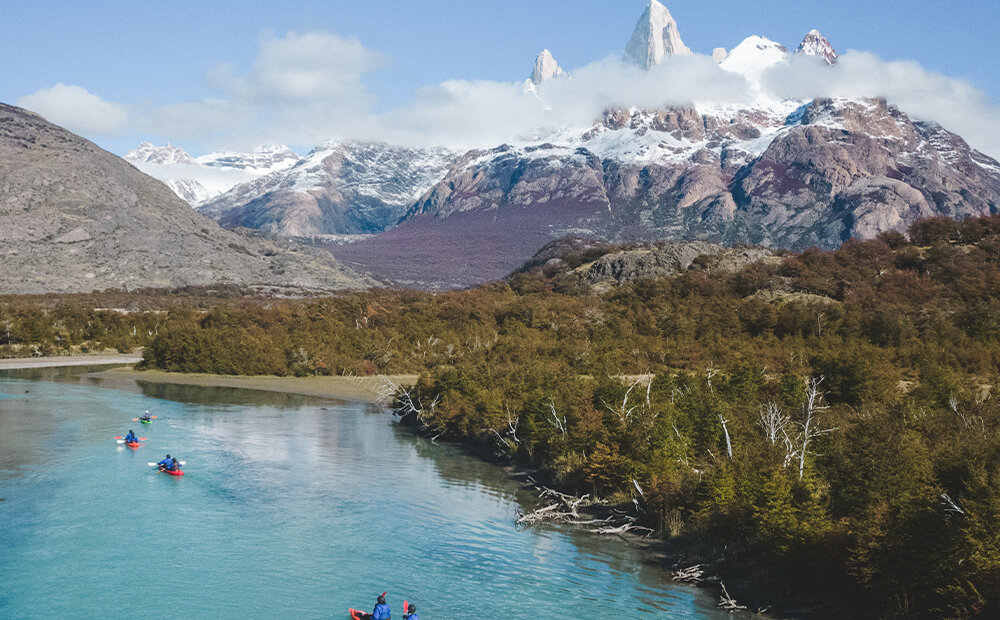 10 days in The Americas
Ultimate Argentina
9 days in The Americas
Vibrant Colombia
8 days in Brazil
Brazil Icons: São Paulo to Rio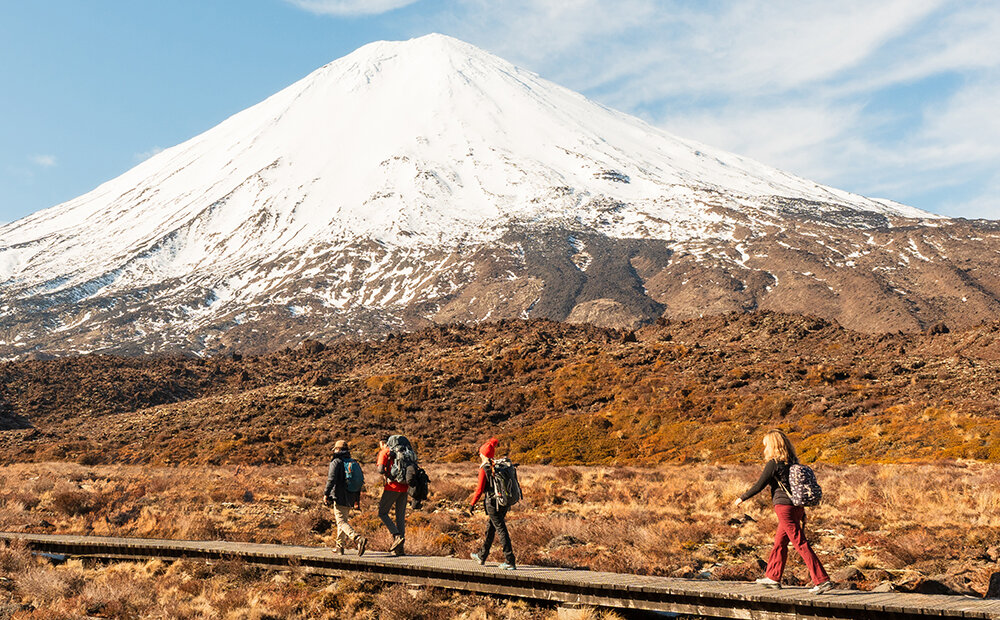 15 days in New Zealand
New Zealand: An Epic Journey
Subscribe to our newsletter
SIGN UP TO OUR NEWSLETTER
Hear about our new adventures before anyone else
Hear about our new adventures before anyone else.
Be the first to hear about exclusive Flash Pack offers.
Access exciting competitions.
Receive weekly inspiration and travel stories from solos just like you.