True Egypt
Explore an ancient desert monastery, take a local-led food tour around the backstreets of Cairo & sail the Nile on a private felucca
Overview
Itinerary
Accommodation
Important Notes
Unique Experiences
Witness the ancient Giza pyramids: last remaining wonder of the ancient world
About your trip
Bypass the generic tours and wander straight into Egypt's beating, authentic heart with Flash Pack.
On this adventure, prepare to go so much further than the Egypt you conjure in your mind's eye. Over the course of eight days you'll explore Cairo's atmospheric backstreets and visit exotic medieval bazaars, and you'll travel to an ancient desert monastery that once housed 1,000 monks. You'll dine with a Nubian family and disappear into the fabric of Egyptian life on a local-led food tour. And, of course, you'll get to marvel at the legendary Pyramids of Giza: last remaining wonder of the ancient world.
Among the more intrepid moments, there'll be hours of perfect calm, too. Think sailing down the Nile on your private felucca, passing untouched riverside communities, and stints in luxe hotels with pools to retreat into from the North African sun. All experienced with new friends, united in a mission to be lost in the heady magic of true Egypt.
Please see our FAQs page about travel to Egypt during the ongoing situation in Israel and Palestine.
What's Included
Accommodation in twin rooms
Max 14 travellers per group
Experienced Pack Leader with you throughout the trip
All activities mentioned on the itinerary
7 breakfasts, 4 lunches, 3 dinners
Stay in hand-picked 4-5 star hotels
We offset the carbon emissions per person on this trip
Arrival airport transfer
All local transport including a private felucca on the Nile
1 domestic flight
Flashpackers must provide evidence that they have purchased travel insurance for the duration of their adventure. Remember, flights aren't included and prices are based on sharing a twin room. If you'd like to upgrade to a single room, you can add this during the booking process or by contacting our Customer Experience team.
Your Itinerary
Day

01

Welcome to Cairo

Be sure to book a window seat on your flight to Cairo for a chance to witness the majesty of the pyramids as you fly over Giza to land. From the airport, you'll be chauffeured through Cairo's overwhelmingly energetic streets to your luxe city hideaway, where you'll have time to settle in before meeting your group and Pack Leader for a celebratory welcome drink. Later, you'll set off on a special tour of Cairo's backstreet food haunts. This is an invaluable introduction to Egyptian cuisine that will immerse you in the local culture and lead you down secret streets most visitors would never find. You'll sample home-made sausages, a distinctive dish called molokhiya and the best baba ganoush you've ever had. 

Day

02

Giza Pyramids

First up today is a short drive to Giza to visit the world-famous pyramids and Sphinx that are synonymous with Egypt. One of the Seven Wonders of the Ancient World (and the only one still standing), these vast pharaonic tombs are an extraordinary testament to the power and ingenuity of the ancient Egyptian dynasties. Standing at the base of these massive monuments, you can't help but feel awed by their sheer scale. Your expert guide will explain the ongoing mysteries surrounding their construction that have baffled Egyptologists for years. Mind-blown, you'll enjoy lunch with your group at a pyramid-view restaurant, before heading back to your hotel to relax or explore the city.

Day

03

King Tut's treasures & Saladin's Citadel

This morning you'll explore the extraordinary Egyptian Museum. Home to a staggering collection of statues, sculptures and carvings, you'll take a wander around the ancient artefacts, immersing yourself in Egypt's rich history and witnessing the rich treasures found over years of excavation. Mind blown, you'll drive downtown to visit another of Cairo's great sights: the 12th-century Citadel – built by Saladin to protect Egypt's rulers from the Crusaders – with its ornate Alabaster Mosque. For lunch today, you'll make your way to Khan El Khalili Bazaar and El Moaz Street, where your Pack Leader will help you source some delicious local food. Then, later this evening, it's time to head back to the airport for your flight south to Aswan.

Day

04

Ancient desert monastery

After breakfast, you'll transfer to the banks of the Nile where a private motorboat will be waiting to transport you across the river. From here, you'll take a tuk tuk up the hill until the imposing stone- and mud-brick ruins of St Simeon Monastery heave into view. In its heydey, this vast seventh- to 10th-century structure housed up to 1,000 monks, who slept on hard stone benches and travelled far and wide to convert Nubians to Christianity. With its well-preserved basilica and humble monks' cells set in miles of empty desert, it's an eerily atmospheric sight. Back in Aswan, you'll have lunch and an afternoon to explore. We recommend paying a visit to the excellent Nubian Museum, which showcases the art and culture of this ancient region.

Day

05

Nile sailing & a Nubian feast

You'll spend much of today on Egypt's grand river – the lifeblood of the country. First, you'll take a motorboat to the tiny island of Agilkia to explore the ancient temple complex of Philae. Then you'll transfer to a private felucca (a traditional Egyptian wooden sailboat) to float leisurely down the Nile, while your onboard hosts keep you fed and watered – leaving you to sit back and absorb the beautiful scenery as it meanders by. This evening, you'll experience an authentic taste of local cuisine with a home-cooked meal prepared by a Nubian family. It's the perfect opportunity to gain a local's perspective into the history and culture of the region, as told through its people.

Day

06

In the footsteps of Pharaohs

After an early breakfast, set off in a private minibus and travel north to the ancient sites and treasures of Luxor. This was the site of mighty Thebes, the seat of the Egyptian pharaohs at their most powerful, and nothing in the world compares to the scale and grandeur of the monuments that have survived. En route, you'll visit the atmospheric Temple of Edfu, preserved by the desert sand. Then, you'll continue on to Karnak, where an English-speaking guide will point out the finest corners of this sprawling wonder of temples, chapels and pylons. Relax at your hotel until sunset when an optional visit to Luxor Temple beckons. Exploring the famed Avenue of Sphinxes at night, as the light and shadows play off the reliefs and colonnades, is a particularly eerie experience.

Day

07

Valley of the Kings

It's your final full day in Egypt and it's sure to be one to remember*. Today, you'll head across the river to explore the Valleys of the Kings and Queens. Dotted among the arid hills, over 60 richly decorated royal tombs have been discovered, including Tutunkhamun's final resting place (additional fee) and the Temple of Hatshepsut. Mind-blown by ancient history, you'll return to your hotel for an afternoon at leisure. There's one last treat in store tonight. You and your fellow Flashpackers will dine in style at an elegant riverside restaurant – the perfect place to reflect on your trip and celebrate eight epic days in Egypt. *You have the option to begin your last full day with a morning hot air balloon over the Valley of the Kings for an additional cost. 

Day

08

Until next time, Egypt

Today spells the end of your Egyptian escape; it's time to say goodbye. Banish the blues by riding high on the incredible journey you've just had – from exploring Egypt's ancient pyramids and temples, to mastering your haggling skills at local bazaars and navigating your way along the mighty River Nile. After all that, we think you deserve a lazy breakfast at your hotel, and the next stop of your voyage is up to you.
Our Favourite Hotels
Here's a taste of the hotels we sometimes use on this adventure. The hotels you'll stay in for your departure will be shared with you one month before you go.
Conrad Cairo Hotel
A sophisticated five-star stay in the heart of the capital. Enjoy killer views of the Nile from the gorgeous outdoor pool or try your hand at a game of roulette in the 24-hour casino.
Sonesta St George, Luxor
Four-star grandeur set on the banks of the Nile, Sonesta St George feels like a world of its own. Expect a glistening outdoor pool, a top-notch restaurant and superb river views to watch the world drift by.
Mövenpick Aswan
Set on an island in the middle of the Nile, river views don't get much better than this. The five-star hotel is a secluded oasis, with a Nubian-style orangerie and infinity pool surrounded by vast tropical gardens.
Important Notes
What airport do I need to fly in and out of?

Fly into Cairo (CAI) and fly out of Luxor (LXR).

What time should my flight arrive (in time for the welcome meeting)?

We recommend arriving by 2 pm. 

Your welcome meeting with your Flash Pack Leader and group will begin at 4:30 pm, but we suggest getting to Cairo earlier to enjoy some time to relax and explore.

What time should my flight depart on the last day?

There are no activities planned for the last day, so leave any time you wish. The airport is approximately 20 minutes away from the hotel, and your Pack Leader can help you book your transfers the night before if needed.

Are airport transfers included?

If you arrive on Day 1 of your adventure, or you book pre-tour accommodation with us, your airport arrival transfer will be included. If you book alternative pre-tour accommodation or are arriving by another mode of transport you must arrange your own arrival transfer.

Arrival transfers are private to Flash Pack and will be in groups depending on flight times. Sometimes this means waiting in the airport for a short while until other flights have arrived.

We don't offer a departure transfer as Flashpackers leave at different times of the day and many stay for extra nights. We will offer you support with finding a local taxi.

How much luggage can I bring?

The luggage allowance for internal flights is 23kg plus a carry-on bag weighing up to 7kg.

Please make sure your luggage is within this weight limit, or you'll have to buy an extra suitcase and pay an extra US$30 at the airport.

Do I need a visa?

Most visitors will require a visa to enter Egypt, including those from the USA, UK, Australia, New, Zealand, Canada and the EU.

Single entry visas cost USD 25 (whether you buy them on arrival or online) and are valid for 30 days of travel within Egypt. Passports must be valid for at least six months after your arrival date.

Note that Canadian passport holders cannot apply for an E-visa or visa on arrival. Please check with your local embassy to find out what the requirements are for your nationality.

Visa on arrival
For most nationalities, the easiest way to get a visa is on arrival at Cairo International Airport.

Purchase the visa at an approved bank kiosk within the arrivals hall before proceeding to the immigration counters. Visas can be purchased in US dollars, British pounds or euros, and only in cash.
You will be given a stamp that you then need to put into your passport yourself.
Proceed to the immigration counters where you need to present your stamped passport, plus a print-out of your travel itinerary, including accommodation and tour bookings.

E-visa
You can also apply online for a visa through the official Egypt e-visa portal www.visa2egypt.gov.eg (beware of other websites falsely claiming to provide this service, often at twice the price). 30-day tourist visas are valid for three months from the date of issue. You must create an application at least seven days before your arrival.

Follow the prompts to sign up, sign in, apply, and pay online. Payments can be made using a credit or debit card in US dollars or euros only.
After your visa application has been processed, you will receive an email updating you on the status of your application.
If successful, you will be emailed a link to download and print your e-visa.
On arrival in Egypt, you must present a printout of your e-visa, along with your passport and a print-out of your travel itinerary, including accommodation and tour bookings.

Entry requirements can change at any time, so it's important that you check for the latest information.

What are the Covid-19 requirements for visiting Egypt?

Due to the changeable nature of Covid-19 entry requirements, we strongly advise Flashpackers to consult the travel advice issued by your local consular services well in advance of your departure date. Some countries do still require travellers to comply with pre-arrival testing and/or vaccination requirements. Links to the key consular services can be found on our Safety page.

What other vaccinations and medication will I need?

We recommend checking with your local travel clinic six to eight weeks before your trip to see if any medications or vaccinations are required.

Will this itinerary change?

Please be aware that the itinerary, activities, and hotels are subject to change. These changes are rare but can happen with little notice due to availability, poor weather, seasonal changes, or other circumstances beyond our control – but we'll always do our best to ensure it has little impact on your experience. From time to time, we may also make changes to your itinerary to try out new ideas and keep things fresh and exciting which we will always try to communicate to you.

How much does the hot air balloon ride cost?

On Day 7 you have the option of a morning hot air balloon ride over the Valley of the Kings. This would take place at around 4am before breakfast. The cost for this is USD 150 per person and can be arranged with your Pack Leader while you're in Egypt.

What about Ramadan? Will it affect my trip?

Your itinerary is not expected to change during Ramadan or Eid Al Fitr (the Festival of Fast-breaking) as tourists sites will remain open. However, many shops and restaurants will be closed and it will be more difficult to buy alcohol – your Pack Leader can advise. Some activities, such as the food tour in Cairo, may not be able to run or will have to run later in the evening.
OUR PROMISE
Joining the Flash Pack comes with a few special guarantees
Similar Trips
8 days in Asia
Untold Jordan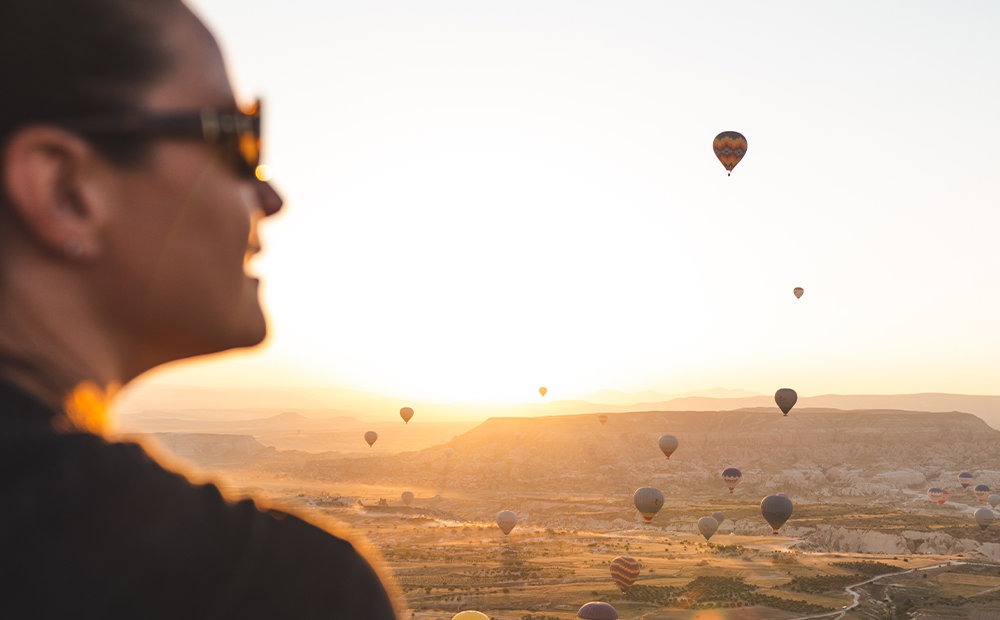 8 days in Turkey
Classical Turkey
Subscribe to our newsletter
SIGN UP TO OUR NEWSLETTER
Hear about our new adventures before anyone else
Hear about our new adventures before anyone else.
Be the first to hear about exclusive Flash Pack offers.
Access exciting competitions.
Receive weekly inspiration and travel stories from solos just like you.