Living for now: How I embraced the adventure on my group trip to Thailand
I've traveled a lot in recent years, but it's always on holidays that are arranged around other people: whether that's a wedding or a guys' trip abroad. 
I decided I wanted to do something just for me and Thailand was top of my list. I also wanted to create memories with other people, which is what led me to Flash Pack – and one of the most magical trips I've ever been on.
My expectations for this adventure were based mostly around the activities and the destination; but it was the group dynamic that made Thailand such a standout experience for me. Right from the outset, we had a great vibe and our connection felt real and genuine – it was like we'd known each other for ages.
I tried hard to immerse myself in every experience
Our first few days in Bangkok definitely helped bond us; we were taken out of our comfort zone pretty quickly. We found ourselves sailing past the old town on a private long-tail boat, trying all kinds of street food and stepping inside a series of serene Buddhist temples. 
Whether it was swimming in Krabi's Crystal Lagoon, hanging from a vine in the jungle or just small talk with my roommate, over the course of the next week, I tried hard to immerse myself in every experience that came my way. 
I'm a waterfall chaser, so being able to climb to the top of one in Khao Sok National Park was a solid-gold experience. I love being outdoors and I've hiked waterfalls before, but I've never tackled one of such magnitude – or in such an immersive way. We were right in the rapids; you could admire the movement of the water from all these different angles. It felt special.
At the remote raft houses, our group stayed up talking late
I was always up the earliest and available for everything. But I still wanted to be out every single night exploring the places we were in, too. Even when we were remote, staying in floating raft houses on Khao Sok Lake, we all stayed up talking into the early hours. 
My aim was to take full advantage of the adventure. I saw it as a once-in-a-lifetime opportunity to see how life unfolds in a different culture and country (rather than just watching it on CNN). Life gets so busy and complicated. You never know when you might get that chance again. I didn't want to look back on Thailand and regret not trying something new. 
I never shy away from spice in life
I had the same mentality with Thai food, which I love. I didn't want to limit myself, so I made it my mission to immerse my palate in every new flavor that I came across. 
And yes, that included the infamous scorpion and tarantula snacks found on Bangkok's Khao San Road (although, I admit, I was hesitant at first). More palatable was my go-to dish of chicken pad thai during the trip, which I like to have as spicy as possible – I never shy away from spice in life. 
I also tried an out-of-this-world pork chop, along with mango rice, which I've been trying to find back home in Florida ever since. Perhaps my favorite foodie moment, however, was learning to make spicy tom yum soup with a local family: I can't wait to try the recipe at home.
Our Pack Leader Gong was everything to us
The local communities in Thailand were super welcoming. Our group encountered so much kindness during our time there. Everyone we met, from stallholders to families and, of course, our Pack Leader Gong, made us feel so comfortable and like we belonged. 
Gong, who meant everything to us, explained that this peaceful accepting attitude is partly down to Thailand's tradition of most boys entering monastic life as they grow up. It creates a culture of calm hospitality and very low crime rates.
Gong really enhanced the local experience for us. He was very present with our group and intuitive to our needs. He also kept us on schedule and prepared us for each day's activities, so we were able to make the most of the beautifully curated itinerary. He's an amazing person and our trip wouldn't have been the same without him.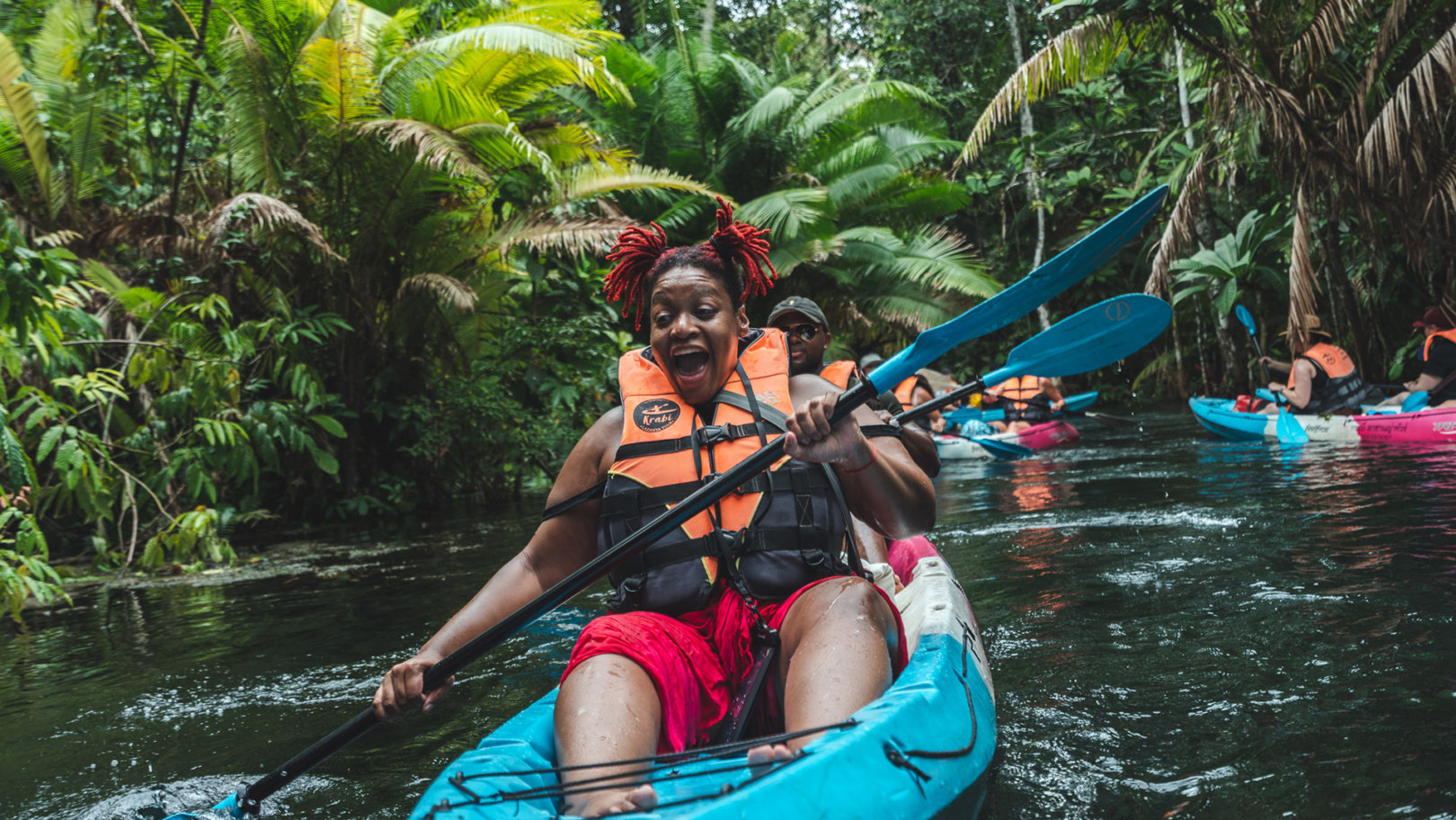 Group tours don't always work out this well
I've traveled with groups before and, for whatever reason, it doesn't always go well. But our Thailand crew had such a collective, like-minded spirit. Throughout the trip, everyone chatted to everyone – no-one was left out – which is unusual with other companies. 
We all had the same mentality of wanting to make the most of the moment and we all looked out for one another, too. We meshed in a short period of time and the easy connection made me feel hope for wider humanity. 
I loved connecting with other men in our group
I got a great insight into the female psyche from the other women on the trip. But I also really liked the fact that I got to connect with other men in our group, especially James and Andy. 
In my experience, men are generally more guarded when it comes to friendship, compared to women who become intimate with one another more quickly. 
With men, it can be harder to crack that shell. But by rotating our shared rooms between us three guys (so that one person always got a room to themselves), we were able to share some really in-depth conversations.
Our connection had everything to do with our shared age
The same goes for everyone I traveled with. I discovered a lot more than you would expect to learn about each person in one week. That was entirely down to our shared experience together. 
Everyone was just open to being among each other and curious. There was also zero pressure if someone felt tired or wanted to sit an experience out; which to me, had everything to do with our age group – all in our 30s and 40s – and the fact that we had a more mature outlook on life. 
Every single person made the Thailand trip for me
We never spoke about work or what everyone did back home; we discussed things like families, relationships and most of all, Thailand. It was amazing to reminisce together on our favorite temples and reflect on our best moments from the day. 
Every single person made the Thailand trip for me. We all made the effort to show up and have a good time. I feel emotional thinking about it, because we shared such a unique connection. I had a blast – and I'd do it again in a heartbeat.
Hezekiah Ross lives in Florida and traveled with Flash Pack on a group adventure in Thailand. 
This year, Flash Pack's "Don't be a Tourist. Be a Flashpacker" campaign aims to encourage travelers in their 30s and 40s to stray away from the expected path – seeking out the road less traveled.
Images for this story were shot on location in Thailand by Flash Pack photographer Rachel Sarah.