Kenya: Masai Mara safari
Glamp in the Masai Mara, cycle amongst African wildlife and soar over the jungle canopy on East Africa's longest zipline
Overview
Itinerary
Accommodation
Important Notes
Unique Experiences
Spot wildlife just feet from your saddle on a cycling safari in Hell's Gate National Park
About your trip
Looking for pure, spectacular safari in the land where safaris were born? Step this way.
This seven-day Kenya adventure might just be our most beautifully simple yet. Perfect for first-time safari go-ers or anyone seeking that classic, boutique safari camp experience; this is the Africa of your mind's eye (with a little bit of Flash Pack sparkle).
We're talking thrilling game drives through the world-famous Masai Mara in search of the Big Five. Getting up close and personal to some of Africa's most intriguing animals on a wildlife cycling tour (yep, two wheels, no car). Plus heart-thumping rides across the forest canopy on East Africa's longest zipline.
Kenya is the land where safaris were invented (the word means 'journey' in Swahili) and they know how to do it well. Expect exclusive tented camps, top-notch local guides and traditional Maasai dinners shared with like-minded travelers under a star-studded sky.
Now, where did you put those binoculars?
What's Included
Accommodation in twin rooms
Max 14 travelers per group
Exclusively for people in their 30s & 40s
Private minibus & safari Jeeps
All activities mentioned on the itinerary
Stays in hotels, lodges and tented camps
We offset the carbon emissions per person on this trip
Experienced Pack Leader with you throughout the trip
9 breakfasts, 5 lunches, 6 dinners
Flashpackers must provide evidence that they have purchased travel insurance for the duration of their adventure. Remember, flights aren't included and prices are based on sharing a twin room. If you'd like to upgrade to a single room, you can add this during the booking process or by contacting our Customer Experience team.
Your Itinerary
Day

01

A Nairobi welcome

Jambo! Welcome to Kenya. Your adventure begins as you touch down in Nairobi, just south of the equator. East Africa's most cosmopolitan city, this concrete jungle is one of the few capitals that have national parks right on the doorstep. Passing through the airport, a Flash Pack transfer will be waiting to transport you to your first hotel, where there'll be time to freshen up before meeting your Pack Leader and group. Tonight, you'll enjoy a traditional welcome dinner and raise a toast of Tusker beer to a week of wildlife-spotting to come.

Day

02

Cycle through Hell's Gate

After an early breakfast, you'll bid goodbye to the city and set off into the wilderness. Your first stop, two hours north, is Hell's Gate National Park in the Great Rift Valley. Here, in the dusty savannah, squeezed between rust-colored escarpments, you'll transfer to two wheels in search of your first African animals. Large carnivores are rare, so it's a safe area to cycle. Keep your eyes peeled for zebras grazing peacefully amongst the dry grass, giraffes plucking leaves from thorny acacia trees and klipspringers clambering up the rocky gorge. As the day heats up, you'll continue to your lodge on Lake Naivasha to spend an afternoon by the pool or spotting prolific birdlife on the papyrus-lined shore.

Day

03

On safari in the Mara

Wake up to stunning bush views and the chance to spot resident zebras, waterbuck and bushbuck wandering through the hotel grounds. Today, you're off to the world-famous Masai Mara National Reserve, backdrop to the 'greatest wildlife spectacle on earth', the annual migration of over one million wildebeest. Arrive in time for lunch at your boutique tented camp, then get your cameras ready for a thrilling afternoon game drive. Travelling in specially designed safari vehicles with pop-top roofs, your knowledgeable local guide is an expert spotter and will soon point out animals such as elephants, cheetah, rhino and the black-maned male lions for which the area is known. Back at camp, relax over dinner to the sounds of the African bush before your full day of game-viewing tomorrow.

Day

04

Big five game drives

If you didn't spot the Big Five (lion, leopard, rhino, elephant and buffalo) yesterday, there's a good chance you'll tick them all off today. At nearly 2,000 meters above sea level, the Masai Mara is a great wedge of beautiful rolling hills and Acacia-dotted grassland that shares an unfenced border with Tanzania's vast Serengeti National Park. Animals wander freely between the two and large rivers support an abundance of wildlife, including Africa's highest concentration of birds. Your safari drives will be carefully planned to see the animals at their most active, typically in the cool early morning as the big cats return from a night of hunting and after they stir from their heat-of-the-day slumber in the late afternoon.

Day

05

A traditional Maasai dinner

There's another full day of game drives today, increasing your chances of spotting the more elusive animals such as solitary leopards and critically endangered black rhino. In between your safaris, you'll be free to indulge in the camp's wellness facilities, take nature walks or sign up for a sunrise hot air balloon ride* to glide silently over the savanna spotting wildlife from above – a breathtaking experience. For your last night in the Mara, your group will visit an authentic Maasai manyatta (homestead). After a local feast under a tree lit with lanterns, join the village elders around a warm campfire, where you'll be treated to an unforgettable evening of cultural dances, ancestral stories and haunting Maasai song under the starry African sky. *You can arrange this with your Pack Leader while in Kenya.

Day

06

Fly through the treetops

It's time to leave the Masai Mara, but the fun isn't over yet. On your journey back to Nairobi, you'll travel via an activity center nestled in the stunning Kereita Forest. Known for its medicinal plants, this pristine tract of indigenous forest is the perfect location for an aerial adventure. Cheer each other on as, one by one, you and your fellow Flashpackers take a heart-thumping ride through the treetops on East Africa's longest zipline tour. Feeling exhilarated, there'll be time for lunch at the canopy-view restaurant before travelling to your final hotel. Your farewell dinner will take place at the famous Carnivore Restaurant where ostrich and crocodile feature on the menu, alongside delicious veggie options.

Day

07

Until next time, Kenya

All too soon, your adventure has come to an end. In just one week, you've been fully immersed in the African wilderness and enjoyed the true safari experience with a group of like-minded solo travelers. After breakfast, it's time to check out from your hotel and make your way to the airport – or why not continue your travels with one of our Tanzanian trips?
Our Favorite Hotels
Browse a selection of our favorite hotels, for a flavor of where you may stay on this trip.
SAROVA STANLEY, NAIROBI
The city's oldest hotel, dating to 1902, retains the elegance of times gone past. A lot of history lies within these walls, which have hosted dignitaries from around the world. The famous Thorn Tree Cafe was where early travelers would pin notes to fellow travelers and is regarded as Nairobi's first regional post office.
LAKE NAVIASHA SIMBA LODGE
Situated on the banks of Lake Naivasha, against a backdrop of towering Mt Lognot, this enchanting hideaway boasts a vast acacia woodland where zebras, bushbuck and waterbuck wander freely to graze. Kick back with a cocktail by the outdoor pool or climb the viewing tower for stunning lake views.
SAROVA MARA GAME CAMP
In the heart of the Masai Mara game reserve, this tented camp offers the classic safari experience with the comfort of a hotel – complete with free-form pool, wellness tent and champagne hot air balloon rides. The setting is superb and the camp has a fleet of well-equipped safari vehicles for optimum wildlife viewing.
Important Notes
Which airport do I need to fly in and out of? Plus airport code

Fly into and out of Jomo Kenyatta International Airport (NBO) in Nairobi.

What time should my flight arrive (in time for the welcome meeting)?

Before 3 pm ideally. The welcome meeting and dinner will be from 5 pm onwards starting at the hotel.

What time should my flight depart on the last day?

We suggest booking a flight from 1 pm onwards in order to leave plenty of travel time. The hotel is close to the airport but the recommendation is that you arrive at the airport three hours before your flight.

Do you include airport transfers?

If you arrive on Day 1 of your adventure, or you book pre-tour accommodation with us, your airport arrival transfer will be included. If you book alternative pre-tour accommodation or are arriving by another mode of transport you must arrange your own arrival transfer.

Arrival transfers are private to Flash Pack and will be in groups depending on flight times. Sometimes this means waiting in the airport for a short while until other flights have arrived.

A group departure transfer is provided at 10 am on the day of departure, from your hotel in Nairobi to Jomo Kenyatta International Airport (NBO). If you require a separate transfer, please consult with your Pack Leader or hotel reception who will arrange a safe and reputable private taxi for you.

Do I need a visa?

All visitors are required to obtain an electronic visa before departing for Kenya. The official eVisa website is https://evisa.go.ke. The visa will be emailed to you within three days of application and must be printed out for presentation on arrival.

If you require a multiple-entry visa, be sure to apply well in advance of travel.

Please ensure that you have at least six months validity remaining on your passport, as well as two blank pages. We also recommend that you can show a return ticket.

Are tips included?

Tips are not included in this adventure. Your Pack Leader can advise on suitable amounts to tip local activity guides or services where appropriate, and we will provide a suggested tipping budget closer to your departure date. Please note that all tipping is optional and will depend on what you feel comfortable with.

How much should I budget per day for extras?

We recommend spending money of approximately 10-20 USD per day, not including any extra activities you may like to sign up for, such as the hot air balloon ride (450 USD per person), boat ride on Lake Naivasha (25 USD) or visit to the Maasai manyatta (homestead).

How much does the hot air balloon ride cost?

On Day 5, you have the option to begin your day with a sunrise hot air balloon ride over the Masai Mara. You can arrange this with your Pack Leader while in Kenya at a cost of 450 USD per person.

Is Kenya safe to visit?

At Flash Pack, the safety and security of our travelers are of utmost importance to us. We work closely with our ground staff to ensure that our itineraries prioritize safety above everything else. Kenya is a beautiful and welcoming country, but it's important to be aware of potential safety issues.

Although most tourist areas are generally safe, it's still possible for travelers to experience crime. Exercise caution, especially in Nairobi after dark. We recommend avoiding walking at night and using reputable transportation services instead, like hotel shuttles.

For more detailed information on safe travel, we suggest consulting government websites such as the US State Department, British Foreign Office, and the Australian Department of Foreign Affairs.

Which vaccinations and medications will I need?

We recommend checking with your local travel clinic six to eight weeks before your trip to see if any medications or vaccinations are required.

What are the Covid-19 requirements for visiting Kenya?

Due to the changeable nature of Covid-19 entry requirements, we strongly advise Flashpackers to consult the travel advice issued by their local consular services well in advance of departure date. Some countries do still require travelers to comply with pre-arrival testing and/or vaccination requirements. Links to the key consular services can be found on our Safety page.

Will the itinerary change?

Please be aware that the itinerary, activities and hotels are subject to change. These changes can happen with little notice due to availability, poor weather, seasonal changes, or other circumstances beyond our control – but we'll always do our best to ensure it has little impact on your experience. From time to time, we may also make changes to your itinerary to try out new ideas and keep things fresh and exciting.

Are plastic bags banned in Kenya?

Yes. Plastic bags have been banned in Kenya for environmental reasons. Visitors are not permitted to bring plastic bags into the country in either their hand luggage or checked luggage. Travelers with duty-free plastic shop bags will be required to leave them at the airport.  If you do bring any plastic bags, your luggage will be intercepted and any plastic bags will be removed.

What sort of luggage should I bring?

For this adventure, we ask that you bring a soft duffel bag/soft-sided bag rather than a rigid suitcase. Our vehicles have very limited luggage compartments of an irregular shape, and soft bags are much easier to stow. In a worst case scenario, suitcases might have to be left behind and stored at our office in Nairobi. Please note that the maximum weight limit for your luggage is 15 kg. An additional day pack is permitted. A complimentary laundry service is offered at many of the camps and lodges.
OUR PROMISE
Joining the Flash Pack comes with a few special guarantees
THE PEOPLE
Our mission to create 1 million friendships so we obsess over the group dynamic. Everyone is aged 30-49, 98% travel solo & 80% stay friends. Want to know more about your group? GET IN TOUCH
THE SECURITY
We operate using a 3rd party trust bank account meaning we guarantee refunds in 14 days if your trip has to be cancelled BOOK WITH CONFIDENCE
THE TRIPS
Our trips are made up of 'can't-do-by-yourself' experiences – think staying on your own private island in the Arctic and glamping in Land Rovers on the Serengeti SEE TRIPS
THE GUIDES
We only work with trusted local guides who know their destinations better than anyone.
Similar Trips
13 days in India
North India: Taj, Tigers & Palatial Beauty
9 days in Tanzania
Wild Tanzania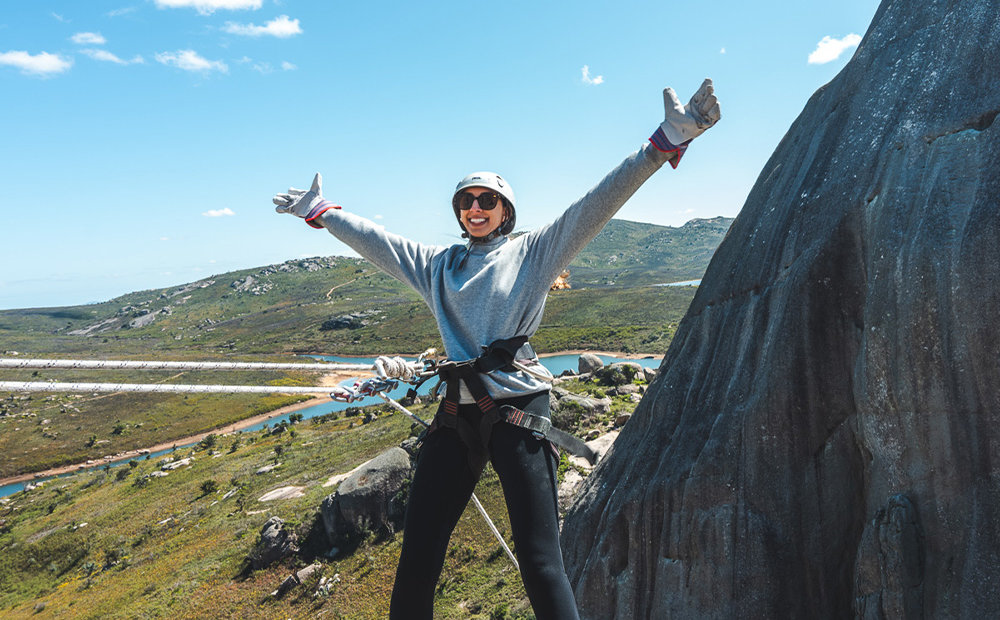 11 days in South Africa
Bucket-List South Africa
10 days in Tanzania
Tanzania: Kili to Crater
11 days in Sri Lanka
Inside Sri Lanka
Subscribe to our newsletter
SIGN UP TO OUR NEWSLETTER
Hear about our new adventures before anyone else
Hear about our new adventures before anyone else.
Be the first to hear about exclusive Flash Pack offers.
Access exciting competitions.
Receive weekly inspiration and travel stories from solos just like you.