As a guide in Thailand, I show travellers how to eat, play and party like a local
I've been leading Flash Pack adventures in southern Thailand for two years now and the groups always have this unique character that makes me go, "wow". 
Maybe it's something to do with the age range – travellers are all in their 30s and 40s and tend to be professionals from all over the world. I'm aware of this deep connection where Flashpackers make friends quickly, even within the short nine days we share together. It's amazing to see. 
Of course, I'm very much part of that dynamic, too. I'm a family guy at heart. I live with my wife and our two teenagers – a daughter and a son. But when I'm with Flashpackers, I end up being the life and soul of the party. Travellers always notice how talkative and energetic I am. I say, "That's because I never get a word in edgeways at home."
It's vital for me to get a feel for a group's chemistry together
Getting to know the Flashpackers on day one of the trip is probably the most important part of the whole itinerary. I've been in the guiding business now for two decades – I qualified in the 1990s, when tourism to Thailand was booming – and every group is different. 
It's vital for me to sound out the mix of personalities and get a feel for a group's chemistry together. That's when I first get a chance to talk to everyone and find out more about their stories. 
One of our first activities together is to make a traditional Buddhist offering at a temple in Bangkok's Old Town. Every guide will have their own local temple that they invite travellers to. It's a really good ice-breaker because Flashpackers get to meet a master monk and ask him questions that I translate.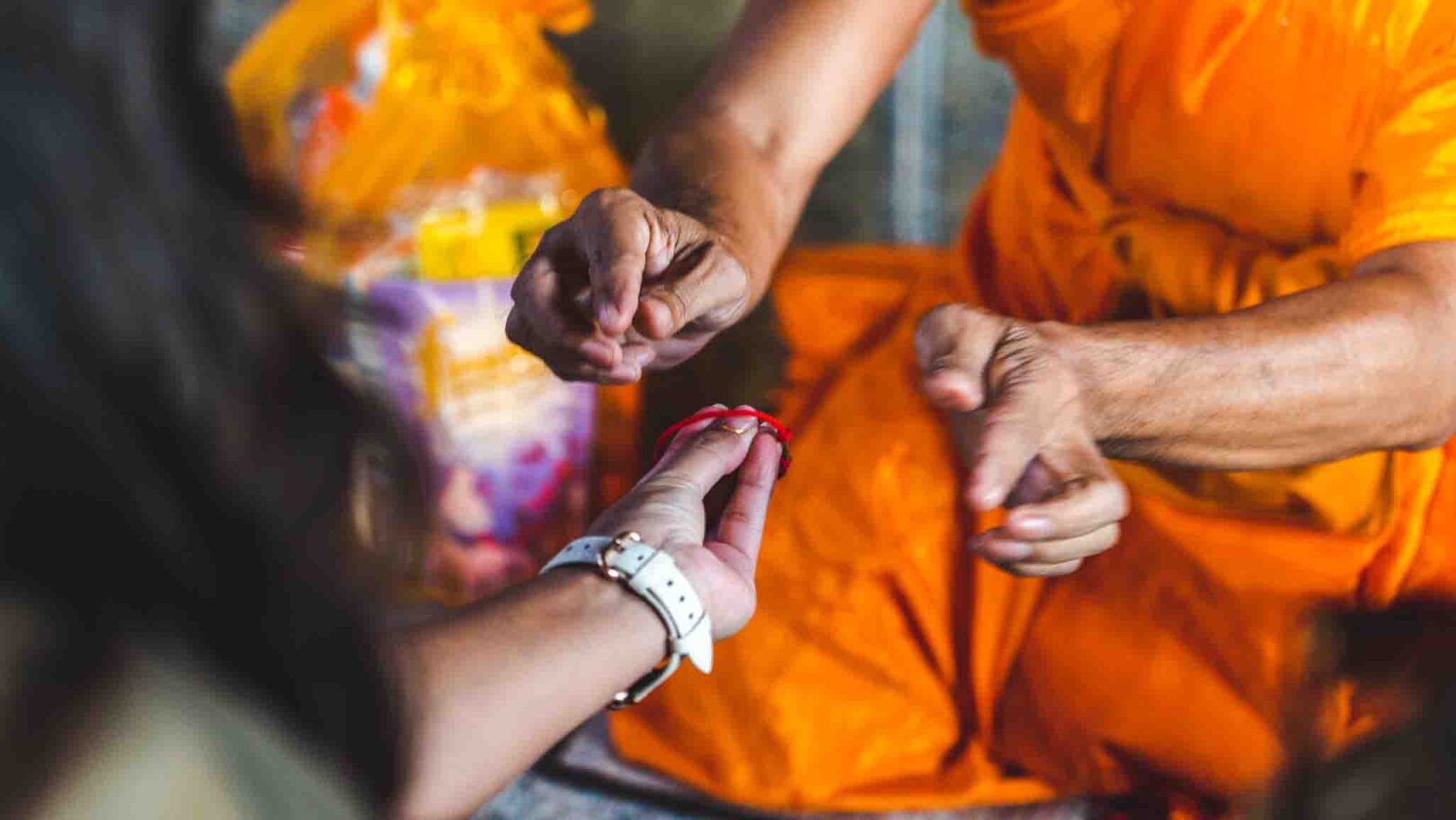 In Bangkok, we visit a monk to learn about the concept of karma
The monk, with all his wisdom, is an expert in bringing everyone together; he introduces a very comfortable, relaxed atmosphere that is all to do with the principle of karma – that going into the world with good intent and good deeds contributes to good fortune and happier rebirths. 
People are always struck by how friendly and happy Thai people are; we'll generally be all smiles, no matter what is going on in our lives. That mentality has a lot to do with karma. For example, I live in Bangkok now but I grew up in the southern province of Krabi, which also now happens the focus of Flash Pack's Thailand trip. 
Krabi is made up of half Muslim Thais and half Buddhist Thais. I'm from a Buddhist background but the community is very united and lives together in harmony. I grew up alongside many Muslim friends and I understand a lot about Islamic culture and vice versa.
My role is to provide Flashpackers with an inside view of Thailand
My role is really to provide Flashpackers with an insider view of Thai culture and communities, and one that is a little off-the-radar from the mainstream tourist perspective. I find one of the best ways to do this is via local cuisine. 
For Thai people, food is everything and everything starts with food. We have very different flavours and farming produce depending on where you are in the country: whether you're up north in the mountains, travelling in the central flatland plains or heading down south to the oceans and islands. 
On the overnight train to Krabi, for example, I'll often buy industrial-sized portions of khao tom mud, which is a sweet snack made from steam cooked sticky rice wrapped in banana leaves. It's a typical dessert that locals love and it's sold everywhere by station hawkers.
The street-food safari around Krabi's night market is a highlight
Kanom jeen namya is another popular dish you'll find everywhere in Krabi; it's rice noodles served with a spicy fish curry sauce. With Flash Pack, we'll always go and grab a helping of this iconic dish at a local restaurant. People can choose from different levels of spiciness (right up to super spicy) alongside local veg, such as shallots, radishes or mini aubergines. 
The street food safari around Krabi's night market is a highlight for many travellers. We'll try everything from barbecue seafood to fresh papaya salads and more. 
But if we have time, we'll also stop at a very local market en route to play a game I made up called "Amazing Race Thailand". Flashpackers divide into groups with a small budget and are sent on a mission to order a sweet treat, like delicious local mango, from local vendors. I tell them the exact phrase to ask for this food and the right amount in Thai baht and they must remember that – no phones allowed. It's a fun little way of getting travellers immersed in local market life.
Another really special moment is when we kayak to Railay Beach
Everyone has the freedom to approach the trip in their own way, too. Some activities we do together. At other points, people can go off and do their own thing, depending on what they feel like in the moment. 
The waterfall hike in Khao Sok National Park, for example, is a standout experience of the trip for many people. But it's also quite a challenging, jungle-y route, especially during the rainy season. So some people sit it out, which is fine. 
Another really special moment is when we kayak to Railay Beach. It's one of the world's most picturesque bays on the Andaman coastline, framed by palm trees and towering limestone cliffs. You can only get there from the mainland by boat so it's a wonderfully secluded place for relaxing, swimming and rock climbing.
Leading Flash Pack adventures doesn't feel like work to me
What really moves me in my position as a Pack Leader is the ability to travel, meet people and make them happy by introducing them to my country, my culture and my people. It's a heartfelt experience. Every time I say goodbye to my group we cry because we've shared something special together. 
At this point, leading Flash Pack adventures doesn't even feel like work to me. It's just a chance to meet great people and make new friendships while introducing people to all that I love about Thailand. 
Gong Ratanaphaisal is a Pack Leader for Flash Pack's alternative Thailand adventure.
Got a story or adventure that could inspire a solo traveller like you? Tag @flashpack on social or email [email protected] to be featured.
Images: Flash Pack