Spectacular Peru
Dine at Lima's best restaurants, search for wildlife in the Amazon and witness the majesty of Machu Picchu
Overview
Itinerary
Accommodation
Important Notes
About your trip
From Machu Picchu to the Sacred Valley, uncover Peru's most iconic sights in just over a week.
Explore Peru's magnificent jungle, highlands and capital city in this nine-day adventure that will lead you from Lima's world famous restaurant scene to the canopies of the Amazon jungle and world-famous Machu Picchu. 
Discover the country's rich gastronomical heritage and learn to make a pisco sour the 'proper way'. Dive deep into the jungle, catching sight of howler monkeys, sloths and caimans, and explore by foot, boat and canoe with some of the best guides in the business. Get up close to Machu Picchu's famous ruins and board a Vistadome train to Cusco with picture windows and glass ceilings for immersive views of the epic scenery, all with a group of like-minded travellers by your side.
We're very excited that Peru is open for adventures once more. Here are some common FAQs we're getting from Flashpackers about travel in Peru right now. In short: our adventure is safe and Peru is ready to welcome you back with open arms.
What's Included
Max 14 travellers per group
Exclusively for people in their 30s & 40s
All activities mentioned on the itinerary
8 breakfasts, 5 lunches, 4 dinners
Hand-picked 3-4 star hotels
3 domestic flights
Private minibus & Vistadome train
We offset 0.34 tCO2e (carbon) per person on this trip
Arrival airport transfer
Accommodation in twin rooms
Experienced Pack Leader with you throughout the trip
Flashpackers must provide evidence that they have purchased travel insurance for the duration of their adventure. Remember, flights aren't included and prices are based on sharing a twin room. If you'd like to upgrade to a single room, you can add this during the booking process or by contacting our Customer Experience team.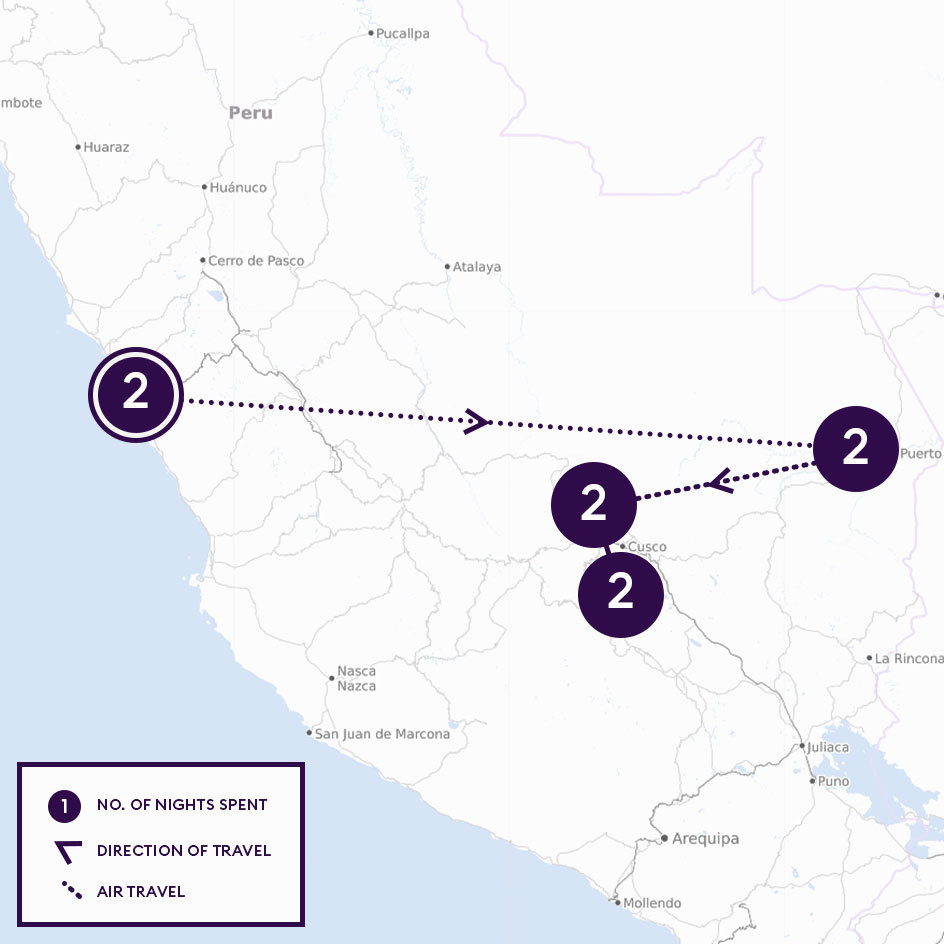 Your Itinerary
Day

01

Lima flavours

Welcome to Lima, Peru's sprawling coastal capital and the heart of the country's foodie scene. Having checked into your central hotel and met your group of soon-to-be friends, you'll be taken to the bohemian neighbourhood of Barranco for an immersive culinary tour that will see you hopping between this eclectic suburb's top eateries. You'll visit three revered haunts, including one of Latin America's 50 Best Restaurants, tasting several dishes at each spot. Expect anything from home-style criollo (spicy Peruvian fare with Spanish and African influences) to Barranco's best churros. This will be a flavour journey across the traditions that have shaped the country's cuisine and so the perfect introduction to Peru (and each other).

Day

02

Master Peruvian cuisine

Today you return to Barranco for a Peruvian cookery class on the rooftop (weather permitting) of palatial Hotel B. You'll enjoy glittering views of the Pacific Ocean while learning how to make a traditional national dish and a Pisco Sour, followed by a three-course lunch. In the afternoon you'll meet with a local art buff for a tour of Barranco, the creative beating heart of Lima. Our expert guide will take you through the district's sweep of colonial architecture and to all the artistic sweet spots – including the Jade Rivera Museum, to learn about the renowned Peruvian street artist, whose murals are found across the city. End your day sipping fine Peruvian coffee at one of the city's best cafes, Bodega Verde.

Day

03

Search for exotic wildlife

It's time to leave for your three-day, two-night adventure to the Amazon. After a short flight to Puerto Maldonado, board a riverboat for a magical two-hour trip to your next hotel, a rustic jungle lodge on the edge of the Tambopata River. You'll learn about the lodge's conservation efforts after lunch, when you head out on a hike with one of the guides to discover the importance of the Amazon's plants and wildlife. Dusk brings the opportunity for spotting nocturnal animals such as caimans near your lodge and star gazing at the southern constellations.

Day

04

Paddle on an oxbow lake

Today will be jam-packed with the kind of wildlife experiences only the Amazon can offer. After an early breakfast you'll be taken over to the shores of the flawless Tres Chimbadas oxbow lake. Floating through the pristine waters, catching sight of giant river otter, red howler monkeys and the yellow-spotted side neck turtle, is an experience like no other. Your afternoon will be spent back on land for more wildlife spotting opportunities, as well as a look at the medicinal properties of the exotic plants around you, and you'll enjoy one last wildlife hike, this time under the cover of darkness.

Day

05

R&R in the Sacred Valley

After a 45-minute boat trip back along the Madre De Dios River, you'll board your plane to Cusco. The excitement of the jungle will mean a rest will be welcome and your next hotel is the perfect spot for it. Perched on the banks of the Vilcanota River, with sweeping views across the Sacred Valley, this restored 17th-century hacienda is your chance to kick back. You call the shots this afternoon: enjoy one of the many activities, soak in the spa or just drink up the new vista before we move to the higher altitudes of the uplands.

Day

06

Mountain bike to Incan ruins

There are few better ways to see Peru's famous Sacred Valley than on a mountain bike. We'll get you kitted out before whizzing along to the archeological site of Moray, renowned for its architectural platforms and terraces, built by the Incas for agricultural research. You'll walk down into the belly of the ruins and learn the history of this important site, before peddling onto the salt mines of Maras, where thousands of salt pans spill out across the hillside. On your descent back, you'll stop at the pre-Incan ruins of Pichingoto, a collection of tiny stone houses forged into the cliff face, before crossing the Urubamba River and meeting your driver, who will deliver you safely back to Inkaterra for dinner.

Day

07

Witness Machu Picchu

It's time for your pilgrimage to world-famous Machu Picchu. Your transport? A Vistadome train, with huge panoramic windows and glass ceilings that allow you to capture every glimpse of the phenomenal scenery. Hurtling through the ancient landscapes you'll feel a real sense of awe as you approach the iconic Inca citadel. High up in the Andes, surrounded by lush vegetation and dramatic escarpments, it's a pinch-me moment that lives up to every expectation. Having enjoyed a stop at Aguas Calientes for lunch, you'll travel on to Cusco by train, where you'll check into your new hotel and exchange stories around the fire pit.

Day

08

Exploring Cusco

Enjoy an immersive morning as you take a guided walking tour through the former Incan capital, weaving your way through the cathedral, the ancient Koricancha Temple, the artists' district of San Blas and the Sacsayhuamán Fortress. You'll have a final afternoon at leisure after this, soaking up the beauty of cosmopolitan Cusco, until it's time for your group's last dinner together. You'll gather at one of Cusco's top restaurants to feast on Peruvian fusion food and raise a toast to all your incredible experiences and precious new friendships.

Day

09

Farewell Peru

Your Flash Pack adventure ends today with a final breakfast before your group catches their transfers to the airport or next destination. Speaking of which, if you want your Peru trip to continue, we can give you tips on where and how to extend your time in this dazzling country – just ask. Until next time, buen viaje!
Our Favourite Hotels
Here's a taste of the hotels we sometimes use on this adventure. The hotels you'll stay in for your departure will be shared with you one month before you go.
Posada Amazonas Lodge
Search for crocs, swing in hammocks and hike the jungle from these atmospheric huts in the heart of the Amazon.
Aranwa Sacred Valley
Beautiful spa hotel with smart, spacious rooms in a restored 17th century hacienda, nestled on the Vilcanota river.
Novotel Cusco
A 16th-century house in the centre of Cusco, the four-star Novotel is imbued with a cosy colonial feel thanks to its beautiful courtyards (perfect for relaxing in at the end of a long day) and contemporary yet classic-feeling rooms.
Important notes
Which airport do I need to fly in and out of? Plus airport code

Fly into Lima Airport (LIM) and out of Alejandro Velasco Astete Cusco International Airport (CUZ).

What time should my flight arrive (in time for the welcome meeting)?

Before 4 pm ideally. The welcome meeting and dinner will be from 5 pm onwards starting at the hotel, which is located approximately 40 minutes away from the airport.

What time should my flight depart on the last day?

There are no activities planned for the last day, so leave any time you wish. The airport is approximately 15 minutes away from your final hotel.

Are airport transfers included?

If you arrive on Day 1 of your adventure, or you book pre-tour accommodation with us, your airport arrival transfer will be included. If you book alternative pre-tour accommodation or are arriving by another mode of transport you must arrange your own arrival transfer.

Arrival transfers are private to Flash Pack and will be in groups depending on flight times. Sometimes this means waiting in the airport for a short while until other flights have arrived.

We don't offer a departure transfer as Flashpackers leave at different times of the day and many stay for extra nights. We will offer you support with finding a local taxi, which will cost around 55 PEN/11 GBP.

Do I need a visa?

You do not need a visa if you're visiting as a tourist from the EU, UK, USA, Australia or Canada. Please check with your local consulate/embassy if the country you are travelling from requires a visa. 

We recommend that you have at least six months validity remaining on your passport and can show a return ticket.

What fitness levels do I need for this trip?

We recommend having a read-through of the itinerary above, and getting in touch if you have specific questions on fitness.

Overall, Peru is one of our more active adventures with a long hike up Machu Picchu, a full day of mountain biking, and canoeing too. So, we recommend joining us on this one if you are fit enough to hike for five+ hours, and like to challenge your fitness.

The hike to Machu Picchu Mountain is the most challenging, but the views along the way are totally worth it.

Canoeing is also a great, adventurous activity which those with a fear of water may not want to partake in.

When's the best time to go? What is the weather like?

The best time to visit Peru is during the dry season, between May and October, as the days are sunny, with bright blue skies in the Andes, and chilly nights.

It is considered the best time to go trekking, but being the peak season, early booking is crucial.

For an overview of the weather in the places you visit on our trip, please see below:

Lima: The summer is from December to March and winter from April to August. It does not rain very much as it is above sea level.

Amazon (Puerto Maldonado): It is hot and humid, but also sunny most of the time.

Highlands (Cusco): The weather is divided into the rainy season (from December to March) and the dry season (from April to August). Cusco is approximately 3,400 meters above sea level.

Will the itinerary change?

Please be aware that the itinerary, activities, and hotels are subject to change.

These changes can happen with little notice due to availability, poor weather, seasonal changes, or other circumstances beyond our control – but we'll always do our best to ensure it has little impact on your experience. From time to time, we may also make changes to your itinerary to try out new ideas and keep things fresh and exciting.

What standard of hotels should I expect?

The hotels used for this trip are rated three to four stars. Where possible, we use centrally located accommodation that's close to our activities. In Lima, the hotel we use is slightly more basic and less central than our other location, however it is still a good, comfortable option.

What are the Covid-19 requirements for visiting Peru?

Due to the changeable nature of Covid-19 entry requirements, we strongly advise Flashpackers to consult the travel advice issued by your local consular services well in advance of your departure date. Some countries do still require travellers to comply with pre-arrival testing and/or vaccination requirements. Links to the key consular services can be found on our Safety page.

What other vaccinations and medication will I need?

We recommend checking with your local travel clinic six to eight weeks before your trip to see if any medications or vaccinations are required.

Why do I need to provide my passport details when booking?

We need your passport number to buy tickets for Machu Picchu, which are becoming increasingly challenging to secure. Without this information, there is a risk that we won't be able to secure a ticket for you.
As captured on Instagram
The latest from Flashpackers in Peru on #picsworthsharing
OUR PROMISE

Joining the Flash Pack comes with a few special guarantees

Similar Trips

9 days in The Americas

Vibrant Colombia

10 days in The Americas

Ultimate Argentina

5 days in The Americas

Mexico City Immersion

12 days in Sri Lanka

Inside Sri Lanka

5 days in Iceland

Unknown Iceland

9 days in Tanzania

Wild Tanzania

Subscribe to our newsletter

SIGN UP TO OUR NEWSLETTER

Hear about our new adventures before anyone else

Talk to an expert

Need help choosing your perfect adventure? Speak to one of our dedicated Travel Advisors now.

Contact Us

WHAT TO EXPECT

Hear about our new adventures before anyone else.

Be the first to hear about exclusive Flash Pack offers.

Access exciting competitions.

Receive weekly inspiration and travel stories from solos just like you.

You are browsing our US website.

Please choose your current location below:

You are browsing our UK website.

Please choose your current location below: