Wild Tanzania
Glamp atop converted Land Rovers in the Serengeti, spot the Big 5 & find paradise on the beaches of Zanzibar
Overview
Itinerary
Accommodation
Important Notes
Unique Experiences
Stay in the Bush Rover Migration Camp in the heart of Serengeti National Park
About your trip
An award-winning, one-of-its-kind Land Rover camp at the heart of the Serengeti (complete with private chef), endless opportunities to spot the Big 5 and a stint on the beaches of Zanzibar…Could this be the ultimate African experience?
Over nine days, you'll stay in Little Okavango Camp for canoe rides on the shores of Lake Victoria, the source of the Nile and a much-loved spot for hippos and wandering elephants. You'll traverse the iconic Serengeti to stay in a roaming Land Rover retreat, where you'll sleep atop converted 4x4s and enjoy unparalleled views of the 1.5 million wildebeest that cross the plains.
You'll get up-close with lions, cheetahs and more on daily game drives, whilst camp-side canapés are all part of the experience, served up by your own private chef. And finally, you'll wrap things up in style on the pristine beaches of Zanzibar, otherwise known as paradise.
Did someone say bucket-list?
What's Included
Exclusively for people in their 30s & 40s
All activities mentioned on the itinerary
8 breakfasts, 5 lunches, 8 dinners
Private chef for 3 nights
2 domestic flights
Converted Land Rover glamping & boutique hotels
We offset 0.53 tCO2e (carbon) per person on this trip
Private minibus & safari Jeeps
Arrival airport transfer
Accommodation in twin rooms
Maximum 12 travellers per group
Flashpackers must provide evidence that they have purchased travel insurance for the duration of their adventure. Remember, flights aren't included and prices are based on sharing a twin room. Single supplements are not possible on this adventure due to the nature of the accommodation you'll be staying in. Please note that on some trips the order of activities may change for days 2-6, visiting the Serengeti before Little Okavango Camp.
Your Itinerary
Day

01

Touch down in Tanzania

Welcome to a wildlife wonderland. After touching down at the airport, you'll be whisked by private transfer to a lodge surrounded by African savannah. Freshen up and enjoy the bird-filled gardens, sip an ice-cold drink by the pool and take in the panoramic views. Your fellow travellers will arrive throughout the afternoon, and you'll join together at the welcome meeting to enjoy a cocktail or two and toast the bucket-list trip ahead.

Day

02

Onwards to Little Okavango Camp

Today, you'll fly south to Mwanza, known as Rock City for the huge boulders scattered across its landscape. From here, you'll skirt the shores of Lake Victoria to Little Okavango Camp, arriving at your secluded lakeside hideaway in time for a late lunch. After a rest, you'll head out for a gentle canoe ride around the many waterways that stretch out from this beautiful spot. Drift through the tall papyrus grasses, and soak in the beauty of herons, egrets, swooping kingfishers and more, all in their natural habitat. You'll return to camp in the evening for dinner with a front-row seat to more incredible bird life.

Day

03

The dazzling Okavango

This morning, you'll wander around the fishing village of Mwaburugu, a beautiful hub by Lake Victoria that gives a taste of local life with boat building, fish markets and more. Returning to the camp by motor boat, you'll stop for brunch en route at the Little Okavango viewing tower. This unique structure spans three stories, for a close-up view of Okavango birds at nesting, Serengeti park and lake level. Village weavers are particularly joyful to watch, with their dazzling yellow feathers and intricate nests. Next, things only get more exciting as you head out on an afternoon to sunset game drive into the Kijureshi game reserve, where you'll spot more wildlife and enjoy a traditional Swahili feast. Finally, as you make your way out of the reserve and back to the lodge, you'll be treated to an evening game drive, searching for nocturnal wildlife such as porcupine, bush babies, pangolin and more.

Day

04

Wildlife & converted Land Rover glamping

Today you'll depart for Serengeti National Park, one of the planet's greatest windows onto the natural world, and home of the world-famous wildebeest migration. As this is a moving spectacle, you'll head for whatever Bush Rover Migration Camp gives the best view (Grumeti, Kusini or the River Mara, depending on the time of year). You'll take an afternoon game drive to get to the camp, with a first glimpse of thundering herds of gazelle, zebra and wildebeest crossing the Serengeti plains. On arrival, the drama continues with converted Land Rovers situated at the heart of the migration, right off the tourist trail. Settle in with sunset drinks and your first four-course dinner in the bush. Note: the journey today is on unpaved roads which can be muddy and potholed – it's often joked that you get an 'African massage' due to the bumps in the road. It's a real African adventure experience!

Day

05

The greatest show on earth

Every year, more than 1.5 million wildebeest move in a vast loop across the Serengeti plains, in search of seasonal rains. Named one of the Seven Natural Wonders of Africa, the extraordinary spectacle is often described as the greatest show on Earth. Nothing beats the excitement of seeing these beautiful white-bearded herds tearing across golden grasslands, the sound of thousands of hooves echoing in the air. Because of its remote location, the Bush Rover Migration Camp offers some of the best, most intimate views of this electrifying pageant. The camp itself stays stationary but you will head out on safari Jeeps for morning and afternoon game drives today and tomorrow – for a ring-side seat to the action.

Day

06

Game drives & off-grid living

The drama of the wild continues today, with more mesmerising game drives. As well as over 35 species of plain animals, keep your eyes peeled for the many lions, leopards, rhinos and more that call this area home. In-between safaris, you'll be treated to hand-drawn baths and cocktails, along with decadent meals and campfire appetisers from a talented team of chefs. The safaris are incredible, but thanks to the off-grid setting, you'll also catch amazing views of the migration from the camp itself. From your private Land Rover verandah, it's not unusual to see wildebeest calves or the odd cheetah wandering into camp, along with herds of elephants washing in a nearby river. Breathtaking indeed.

Day

07

White sands and sunshine in Zanzibar

Trading grassy plains for wonderful beaches, you'll leave safari life behind today for the spice-scented islands of Zanzibar. You'll travel from the airstrip via Arusha to this idyllic archipelago, located in the turquoise Indian Ocean. After the internal flight, you'll take a private transfer to your boutique hotel on the northeastern tip of Zanzibar. This remote, palm-fringed haven* is your base for the next two days, promising a brilliant finale to a memorable trip. Crack out those flip-flops for a mosey along idyllic white sand beaches, with fronds swaying in the background and glistening blue sea on the horizon. The fishing village of Nungwi is well worth exploring, too. *If you'd rather be based in Stone Town, consider our Kili to Crater trip.

Day

08

Life by the Indian Ocean

It's your final day – and how you spend it is up to you. Since Zanzibar is a diving and snorkelling mecca, you might want to arrange a trip to nearby Mnemba Island (for an additional cost), with its azure waters and colourful coral gardens. Late afternoon, you'll gather for a private sunset cruise on a traditional dhow, stocked with chilled drinks. Don't forget your swimwear as there'll be the option to swim and snorkel. Finish off your trip with a special farewell dinner in the gardens of your hotel – set up just for Flash Pack – perhaps followed by a bar hop around the beach huts of Nungwi. It's your last night, after all.

Day

09

Take off from Tanzania

You've had an immense nine days together, on safari and by the beach. But today you must bid farewell to your slice of Tanzanian paradise. The hotel can help you arrange a transfer back to Zanzibar airport, where you can travel onwards – fuelled by sensational photos and memories of a once-in-a-lifetime trip.
Our Favourite Hotels
Here's a taste of the hotels we sometimes use on this adventure. The hotels you'll stay in for your departure will be shared with you one month before you go.
BUSH ROVER MIGRATION CAMPS, SERENGETI NATIONAL PARK
The award-winning Bush Rover Migration Camp is set in a series of converted Land Rovers, for world-class game viewing away from all the crowds. Immerse yourself in the splendour of wildlife just moments away, from your unique Rover base with private balconies and safari baths. Delicious cuisine, including canapés by the campfire, is all part of the service at this magical retreat. 
LITTLE OKAVANGO CAMP, LAKE VICTORIA
Surrounded by waterways, the Little Okavango Camp lies on the cusp of Lake Victoria, with a front-row seat to incredible bird life. The large tented rooms feature carved wooden beds and Maasai-themed decor, with a peaceful bird lounge/bar area fringed by papyrus reeds. A canoe trip to the camp's Little Okavango Tower – with three floors overlooking tree nests and lake life – is not to be missed.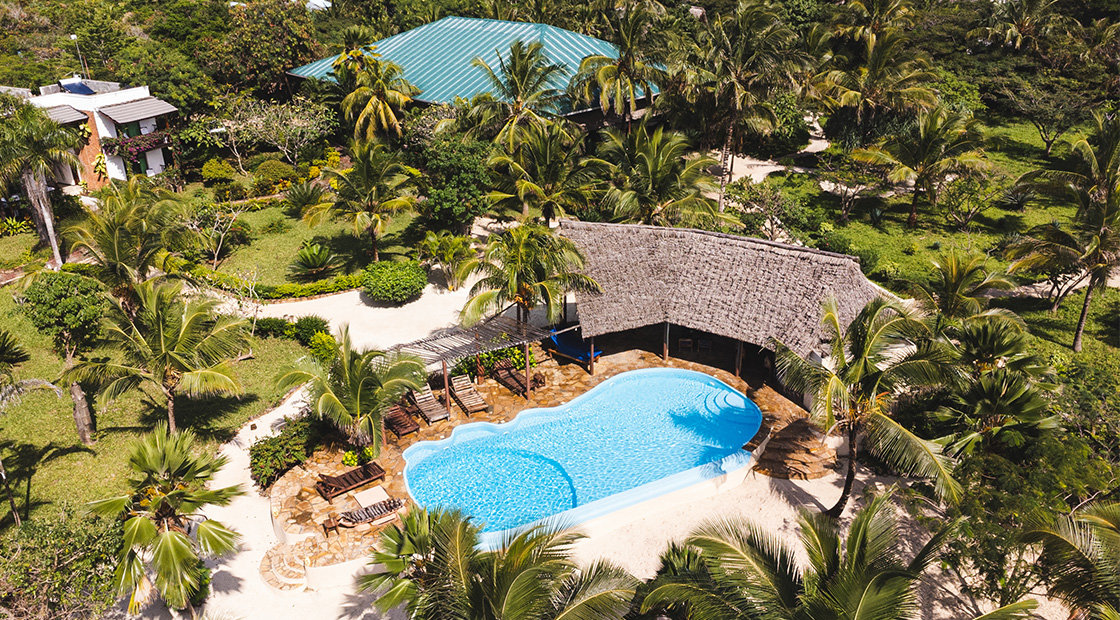 THE ZANZIBARI, ZANZIBAR
Blissfully remote, on the northeastern tip of the island, the Zanzibari sits on a dazzling white-sand beach, wreathed by palm trees. Ensuite rooms have large wooden balconies overlooking the Indian Ocean. There's a turquoise swimming pool here, as well as the atmospheric Dhow bar – a great spot for one of the hotel's signature cocktails. Staff can arrange expeditions to nearby villages and diving spots, or organise trips into Stone Town (1.5 hours away). 
Important Notes
Which airport do I need to fly in and out of? Plus airport code

Fly into Arusha Airport (ARK) OR Kilimanjaro International Airport (JRO) and fly out of Zanzibar – Abeid Amani Karume Airport International Airport (ZNZ).

What time should my flight arrive (in time for the welcome meeting)?

Before 3 pm ideally. The welcome meeting and dinner will be from 6 pm at the hotel, which is 15 minutes away from Kilimanjaro Airport or 1 hour and 30 minutes from Arusha Airport.

You can check-in to your room from 11 am, but if you arrive on an earlier flight you are welcome to use the hotel facilities (pool, bar, etc) until your room is ready.

What time should my flight depart on the last day?

Check-out time is 10 am but bear in mind that the airport is approximately 1 hour and 30 minutes away from the hotel, so make sure you book a flight from 2 pm onwards in order to leave plenty of travel time. It is also recommended to arrive at the airport three hours before your flight.

Do you include airport transfers?

If you arrive on Day 1 of your adventure, or you book pre-tour accommodation with us, your airport arrival transfer will be included. If you book alternative pre-tour accommodation or are arriving by another mode of transport you must arrange your own arrival transfer.

Arrival transfers are private to Flash Pack and will be in groups depending on flight times. Sometimes this means waiting in the airport for a short while until other flights have arrived.

We don't offer a departure transfer as Flashpackers leave at different times of the day and many stay for extra nights. We will offer you support with finding a local taxi, which should cost around £55.

When is the best time to go?

From June to mid-July, the Bush Rover Migration Camp is located on the fabulous Grumeti river where the migration is expected to be at this time of year. The aim of the camp is to be right in the heart of the great migration

After the November rains when the fresh grasses grow in the southeast of Serengeti, the wildebeest continue to move from north to south. The Bush Rover Suites are in situ, having arrived at their final annual destination in the area of Kusini. The camp will remain here, with the wildebeest, until mid-March

During mid-July, the Bush Rover Suites move from the west to the north of Serengeti with a stunning site with a view of the great Mara river that many would envy. Why is this so important? At this time of year, the herds move to this area in the far north to graze on the new grasses in this area. To see an actual crossing of the Mara river by thousands of wildebeest is the holy grail of wildlife viewing.

Do I need a visa?

You will need a visa to enter Tanzania, which you can apply for in advance on the Tanzanian Government website:  https://visa.immigration.go.tz/.

It is possible to get a tourist visa for a single entry on arrival (multiple entry visas are not granted on arrival) at the main ports of entry to Tanzania. 

If you are a US national, you must apply for a multiple entry visa in advance as you are not entitled to enter with a single entry visa. 

We recommend that you have at least six months validity remaining on your passport and can show a return ticket.

What are the Covid-19 requirements for visiting Tanzania?

Due to the changeable nature of Covid-19 entry requirements, we strongly advise Flashpackers to consult the travel advice issued by your local consular services well in advance of your departure date. Some countries do still require travellers to comply with pre-arrival testing and/or vaccination requirements. Links to the key consular services can be found on our Safety page.

What other vaccinations and medication will I need?

We recommend checking with your local travel clinic six to eight weeks before your trip to see if any medications or vaccinations are required.

How much should I budget per day for extras?

All Pack Leader and driver tips are included and most of the meals are all-inclusive.

Approximately 95,000 TZS, the equivalent of £30 per day.

Will the itinerary change?

Please be aware that the itinerary, activities and hotels are subject to change. These changes can happen with little notice due to availability, poor weather, seasonal changes, or other circumstances beyond our control – but we'll always do our best to ensure it has little impact on your experience. From time to time, we may also make changes to your itinerary to try out new ideas and keep things fresh and exciting.

The order of some of the activities may change. Please check with one of our trip experts about the specific departure you are interested in.

Can I request a single room on this adventure?

Single supplements are not possible on this adventure due to the nature of the accommodation you'll be staying in. Please contact us should you require more information.

Will we have a Pack Leader for the duration of the trip?

For the duration of your safari in the Serengeti (days 2 to 6) you will have a dedicated Pack Leader with you.

On Day 1 when you arrive, you will be met by a lovely member of our team on the ground who will help you check in and catch your flight the following morning where you'll meet your official Pack Leader. Then, when you land in Zanzibar on Day 6 you will be greeted by the Zanzibari hotel staff who will whisk you away to your beach-front boutique hotel. They will be on hand throughout your stay to help you arrange any activities you'd like and also help you arrange airport transfers when the time comes.
As captured on Instagram
The latest from Flashpackers in Tanzania on #picsworthsharing
OUR PROMISE

Joining the Flash Pack comes with a few special guarantees

Similar Trips

11 days in South Africa

Bucket-List South Africa

12 days in Asia

Bali & The Gilis: Island Adventures

8 days in Asia

Untold Jordan

12 days in Sri Lanka

Inside Sri Lanka

4 days in Finland

Finland's Secret Island

5 days in Iceland

Unknown Iceland

Subscribe to our newsletter

SIGN UP TO OUR NEWSLETTER

Hear about our new adventures before anyone else

Talk to an expert

Need help choosing your perfect adventure? Speak to one of our dedicated Travel Advisors now.

Contact Us

WHAT TO EXPECT

Hear about our new adventures before anyone else.

Be the first to hear about exclusive Flash Pack offers.

Access exciting competitions.

Receive weekly inspiration and travel stories from solos just like you.

You are browsing our US website.

Please choose your current location below:

You are browsing our UK website.

Please choose your current location below: