The ultimate solo travel guide to Thailand: Everything you need to know
Solo travellers, take note: Thailand is where golden temples, karst-lined beaches and just-cooked street food come together – creating a combination that results in this being one of the world's most visited countries. Well-loved it might be, yet there are still quieter alternative corners to seek out and a more diverse mix than just its headline attractions.
In the north, you'll uncover remnants of the ancient Lanna Kingdom in Chiang Mai. Around Krabi, you can go kayaking through the knitted mangroves of Nong Thale lake. Or hop on a sleeper train to pass through rural villages and rice paddies as the sun retreats beyond the charred horizon. And yes, of course, you'll also find tropical islands and plenty of beaches, scattered off across the Andaman Sea and the Gulf of Thailand… 
Traditionally, the country has been a stalwart backpacker destination, thanks to its affordable prices. But there's also plenty of luxury to seize in its spoiling spas and smart hotels, carving out space for a more sophisticated take on solo travel to Thailand. Joining a group trip with Flash Pack gives you space to explore under your own steam, with the support of a like-minded group, taking you off the beaten path in Alternative Thailand or Off-Grid in Thailand with neighbouring Laos. Here we look at what you need to know before taking that solo holiday to Thailand.
Thailand travel facts
Firstly, some numbers: 1,430 islands, 35,000 temples, 156 national parks and 58 wildlife sanctuaries all converge to create one endlessly intriguing place for solo travellers in Thailand. As the only Southeast Asia nation that wasn't colonised by Europeans, its name means "Land of the Free" but it's also referred to as the "Land of Smiles" due to its happy, hospitality-focussed locals. 
There are six Unesco-listed sites throughout Thailand: the archaeological site of Ban Chiang in the northern province of Udon Thani; Sukhothai Historical Park and Ayutthaya Historical Park with their ruins; Thungyai–Huai Kha Khaeng Wildlife Sanctuaries, home to elephants and tigers; Khao Yai National Park where you'll find bears, gibbons, hornbills and more; and Thung Yai Naresuan Wildlife Sanctuary, close to the Myanmar border.
Is Thailand good for solo travel?
Thailand is well set up for solo travel. It's easy to get around, find accommodation, book excursions and meet new people in all the main hubs, from Bangkok to Chiang Mai and Chiang Rai. The country is best known for backpacking and budget travel but Thailand is also incredibly well set up for more luxury experiences. There's a great buzz in the main cities and spots further out that are perfect for solitude, too. Booking a group solo trip to Thailand can simplify the experience, swerving busier spots and steering you to more unknown places.
Best places to visit in Thailand
In Bangkok, the Grand Palace, Chao Phraya River and night markets add to the city's reputation of sending senses into overdrive – and don't miss Jay Fai street food stall which is the world's first to receive a Michelin star. Be sure to head out of the capital and on to other adventures, too. There are so many islands (like Phuket) and national parks (like Khao Sok National Park) geared up for relaxing on Thailand's sand or shoreline, surrounded by limestone karsts or a jungle soundscape of birdsong. Time here can be chilled or active with kayaking, tubing, hiking and more to seek out. You can branch out to villages, too, like Khlong Noi, where you can witness fireflies flickering at night, or to mountain-surrounded cities like Chiang Mai. Wherever you go, there are so many places to visit as part of your Thailand solo travel itinerary.
Where to stay as a solo traveller in Thailand
Thailand's hotels extend well beyond the traditional backpacker bases. Today, luxury hotels line its beaches and islands, brimming with smart spas, pools and rooftop bars. Like much of the world, the single supplement can still be an issue for solo travellers, keeping them away from the best places to stay. But if you're travelling alone, sharing a room on a group solo trip to Thailand can help level this out, letting you experience the same luxury accommodation while splitting the cost. Still want a private suite? No problem. And psst: Thailand has floating raft houses and hidden hotels that aren't always bookable online – another perk you unlock through group solo travel.
How to get to Thailand
Most people reach Thailand via the two main international hubs: Suvarnabhumi Airport near Bangkok and Phuket International Airport in the south. The capital especially is a major gateway, not just for Thailand, but for connecting flights to the rest of Asia, with a range of national and international airlines flying here from around the world. There's also a good network of bus and train services for travelling between neighbouring countries, with Thailand bordering Myanmar, Cambodia, Malaysia and Laos. Ferries also travel to Thailand from Langkawi and connect many of the country's own islands, too.
How to get around Thailand
Getting around the country is pretty straightforward and solo travellers in Thailand typically find it easy to navigate. Public transport methods – including a network of trains, buses and inter-island boats – are the most popular (as well as easiest). In cities, rickshaws are usually the go-to. By joining a group solo trip, like Flash Pack's Alternative Thailand, you can step away from the most popular routes, safe in the knowledge that all internal travel is included.
Best time to visit Thailand
Between November and early April is the driest and warmest. The sun shines for up to 12 hours a day and the temperature typically hovers between 32-36°C. March and April can get fairly hot in the cities but make good months for beach and island trips. The rainy season starts in May, with hiking trails in August and October sometimes becoming impassable due to rainfall. Generally speaking, though, this is a year-round destination. The seasons are a bit staggered on the east and west coast, so you'll usually always find a part of the country that's dry and warm on a solo holiday to Thailand.
Thailand solo travel itineraries
Thailand solo travel itineraries that venture away from the traditional tourist trails are often rewarding. Take time to explore the country's national parks, offshore islands and quieter beaches to really immerse yourself. See Thailand from different perspectives by staying in a raft house in Khao Sok National Park, kayaking through a flooded forest and seeing wildlife at sunrise in Phuket on Flash Pack's Alternative Thailand trip. Or take advantage of easy cross-country travel in Southeast Asia by combining it with a trip to Laos.
What to pack for solo travel in Thailand
Beyond the usual sunscreen, beachwear and comfortable clothes to hike in, there are a few extras to keep in mind for solo travel in Thailand. Because much of travel around the country involves buses or trains, you'll want to keep your luggage light. Warm tropical weather makes cooling featherweight clothes the sensible choice. Pack cover ups for visiting the temples or palaces. If you're planning any jungle treks, you'll want a light rain jacket and high-Deet insect repellent – go for a natural one to be kinder to the environment.
Solo travel advice for Thailand
Respect the local culture and familiarise yourself with etiquette ahead of time. For example, in Thailand it's considered offensive to point to things or people with your index finger. Wildlife tourism is big but do your research to find conservational-led ethical operators for tours and excursions. Travelling solo here doesn't have to mean that you do everything alone. By joining a group solo trip to Thailand, you get all the perks of solo travel with the support of other like-minded people to share experiences with.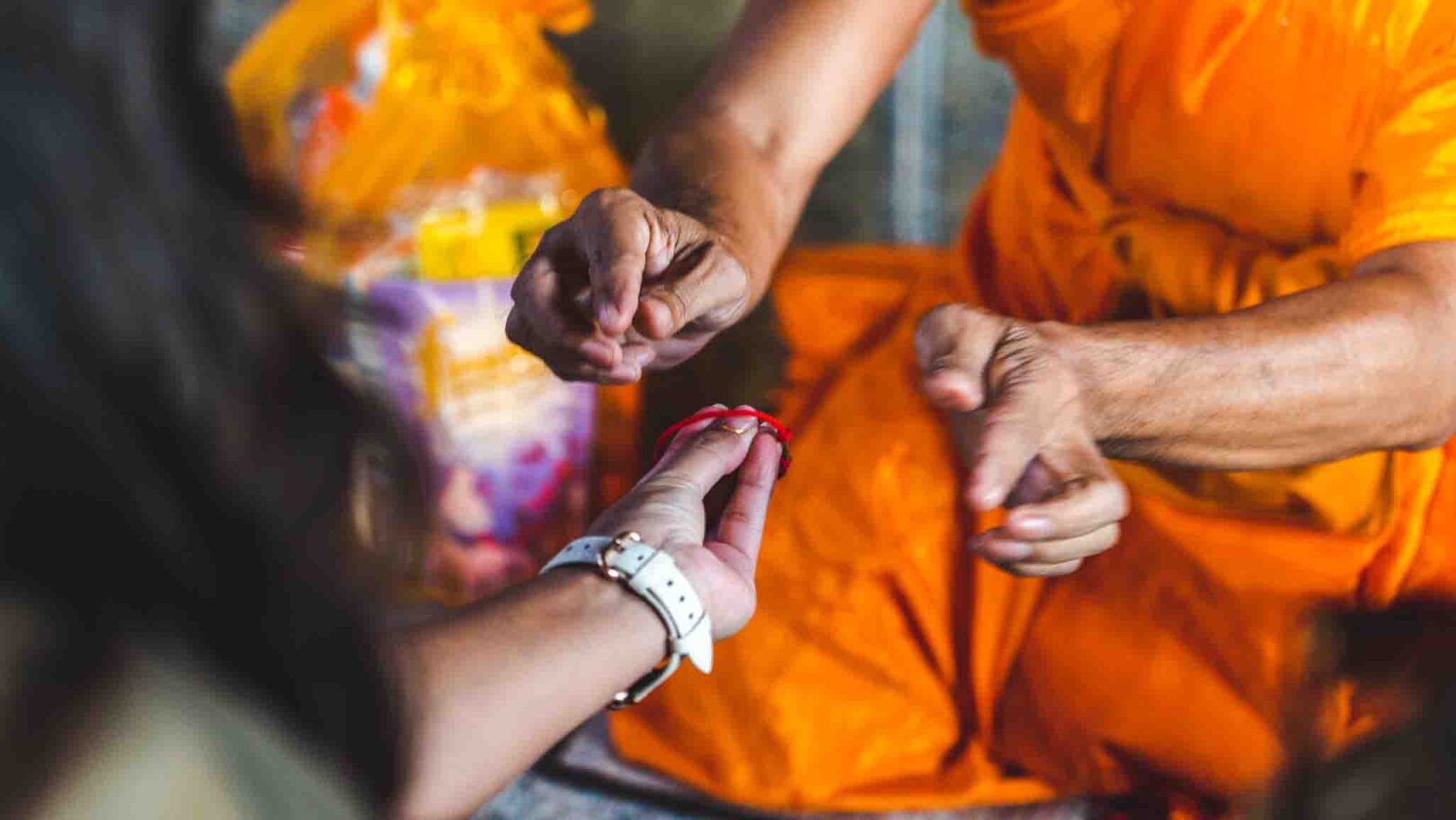 Is it safe to travel solo in Thailand
Thousands of visitors travel to Thailand every year and most trips are trouble-free. However, do check out the Foreign and Commonwealth Office (UK), the Department of State Travel Advisories (US) or your country's local government guidelines for the latest advice before travelling. 
Once there, follow local advice and be aware of your surroundings at all times. Generally speaking, solo visitors to Thailand tend to feel safe and comfortable (the most likely safety issue tends to be centred around scams). For extra peace of mind, consider travelling solo as part of a group to ensure there's support from others if needed.
Ready for your next adventure? Try group solo travel to Thailand with Flash Pack – designed exclusively for people in their 30s and 40s, seeking the independence of solo travel within the safety of a group.
A cool 98% of Flashpackers arrive solo to join our group adventures. So, you'll be in good company – whether a first time solo traveller or a seasoned pro looking for like-minded new friends.
Images: Flash Pack