The Best of Morocco
Cross Saharan dunes by camel and lose yourself in bustling souks on this 13-day hit-list of Morocco's must-sees
Overview
Itinerary
Accommodation
Important Notes
About this trip
This is Morocco's ultimate hit list in 13 days, and when we say 'ultimate', we mean it. 
Following in the footsteps of ancient traders, you'll dine with indigenous Berber families and sleep in exquisite riads. Trekking by camel to a luxury tented camp, you'll experience a silent star-filled night before plunging into the mayhem of the Marrakech medina on a guided backstreet food tour. You'll try your hand at traditional pottery and embark on an epic three-wheeled adventure in a classic vintage sidecar.
Most importantly, as the sun sets over a thousand red-tiled rooftops, you'll discover the meaning of true Moroccan hospitality and forge friendships and memories that will last a lifetime.
PACKAGE INCLUDES
Max 14 travellers per group
Exclusively for people in their 30s & 40s
All activities mentioned on the itinerary
12 breakfasts, 4 lunches, 8 dinners
Stay in hand-picked 3-4 star hotels
We offset 0.39 tCO2e (carbon) per person on this trip
Private minibus & sidecar
Arrival airport transfer
Accommodation in twin rooms
Experienced Pack Leader with you throughout the trip
Flashpackers are required to produce proof of COVID-19 vaccination 30 days before departure OR proof of a negative test within 72 hours of their adventure starting. Flashpackers must also provide evidence that they have purchased travel insurance for the duration of their adventure. Remember, flights aren't included and prices are based on sharing a twin room. If you'd like to upgrade to a single room, you can add this during the booking process or by contacting our Customer Experience team.
DETAILED ITINERARY
Day

01

WELCOME DINNER

Your Moroccan adventure begins in Casablanca, the country's economic powerhouse, where a private shuttle will be waiting to transport you to your boutique hotel to freshen up. Early arrivals might choose to visit the mighty Hassan II Mosque (optional, but highly recommended) before getting to know the rest of your group over a cold beer and Mediterranean dinner. It's the perfect chance to sip sundowners and enjoy your first experience of warm Moroccan hospitality.

Day

02

MOROCCO'S BLUE PEARL

Today you'll travel cross-country to one of Morocco's prettiest towns: Chefchaouen. It's a full morning drive but you're in for a treat when you arrive. Tucked into a fold of the rugged Rif Mountains, the bright blue-washed buildings with their red-tiled roofs and Andalusian-style courtyards are impossibly photogenic. Keep your camera to hand as you follow your guide through the steep cobbled alleys of the medina packed with artisans selling traditional Berber wares. You'll have free time this evening to go out for dinner, trek up to the waterfall spring for breathtaking views or simply relax at your riad.

Day

03

DINE WITH A LOCAL FAMILY

Enjoy a relaxed morning exploring Chefchaouen at your own pace. You might enter the red-walled kasbah with its medieval fortress and dungeon, visit the Ethnographic Museum or simply wander the streets soaking up local life. The laidback town is also a good place for some hassle-free shopping, with artisan workshops brim-full of leather bags, colourful Berber blankets, lanterns and jewellery. This afternoon, you'll continue your journey south through fertile fields to the Middle Atlas mountains. Arriving in Fes, you'll be invited into the home of a local family. As well as being treated to truly traditional dinner, you'll gain a fascinating insight into life within the walls of the medina.

Day

04

WINDING MEDINA MAZE

Waking up in your riad, you'll know you're in Morocco. On your doorstep are 10,000 labyrinthine alleys boasting a bewildering array of leather and carpet stalls, apothecaries and metalworkers, spice merchants and goods-laden donkeys. You'll spend the morning immersed in the medina's old-world atmosphere, visiting the famous tanneries, observing weavers at their loom and discovering hidden workshops where generations of artisans adapt their centuries-old techniques to a modern market. Later, you'll visit the gates of the Royal Palace and explore the Jewish cemetery, before stopping off at the fascinating pottery quarter where the city's distinctive blue and white ceramics are made. As the sun sets, listen to the call of the muezzins radiating out from a sea of minarets and echoing across the city – a quintessential Moroccan experience.

Day

05

SOARING PEAKS & ATLAS TROUT

After breakfast, it's time to begin your long journey towards the Sahara Desert. Winding your way through the Middle Atlas, you'll enjoy dramatic views of soaring peaks and deep valleys against a cerulean sky. En route, you'll stop off to take a hike through the native cedar forests where you might spot Barbary apes high up in the tree tops. The mountain lakes in this region are renowned for their Atlas trout and today's restaurant lunch stop will have fresh fish on the menu. Continuing south through the mountains, the landscape opens out onto a rocky plain and you'll feel an irresistible sense of wonder as you first glimpse the spectacular Ziz Gorges: a dense canopy of deep-green palms wedged between striated cliffs. You'll have a chance to explore this ancient river valley before spending the night in Errachidia, the gateway to the desert.

Day

06

DESERT EXPEDITION

Following the old trading routes, through a vast wilderness punctuated by crumbling mud-brick villages and long valleys of date palm oases, you'll feel a sense of growing anticipation. After seeing the immense dunes of Merzouga appear out of nowhere – your first glimpse of the Sahara – you'll explore the desert, meet a family of musicians and visit the great marble factories which process fossilized desert stone. Lunch today will be a chance to try a local pizza called merfouna. And waiting for you at the end of the road? Your transport to your luxury desert camp: a train of camels. With the shadows growing long in the late afternoon, you can't help but feel intrepid as you saddle up and trek out across the vast empty swathes of sand. Tonight, you'll have the chance to sandboard, bake bread in the sand or simply huddle up on carpets and cushions around a welcoming campfire, to dine under a blanket of stars.

Day

07

LUSH OASIS LIVING

It's time to leave your desert camp behind and say goodbye to your camels. After trekking back to your minibus, you'll set off westwards towards the spectacular towering rock walls of the Todra Gorge. Traveling across this remote region, punctuated by bright oases and remote villages, you'll see few other tourists and get a sense of the real Morocco. You'll take a hike through the lush palm groves and fields that fill the snaking valley before finding a spot for a picnic lunch alongside the crystal-clear river. Unsurprisingly, it's a popular place for climbing and attracts adrenaline junkies from around the world. You'll spend tonight in a boutique hotel close to the gorge.

Day

08

POOL RELAXING

Today is all about free time and relaxing – the day is yours to do as you please. You'll have the chance to head out on an optional walk with your group, venturing further into the gorge where the rock facades reach 300 metres, and on to the end of the valley. The gorge provides great opportunities for beginners to get harnessed up and give it a go. Or you might choose to enjoy your hotel's facilities instead. With a backdrop of mountains and gently swaying palms, it's the perfect spot for soaking up the Moroccan sun while you recover from yesterday's hike.

Day

09

HOLLYWOOD LANDSCAPES

Continuing west along the 'Route of a Thousand Kasbahs', you'll travel onwards to Ait Benhaddou – one of the best preserved kasbahs in the Atlas and a UNESCO World Heritage Site. The red earthen clay houses crowded together within defensive walls have been the setting of many famous films including Gladiator and Game of Thrones. Here, you'll enjoy lunch with a local family before exploring the town. As the red hues begin to deepen with the changing light, climb to the granary for uninterrupted views of the Atlas mountains.

Day

10

BACKSTREET FOOD TOURING

There's time this morning to visit an artist's gallery before setting off on your journey over the high Atlas mountains on the highest road in the country. You'll stop off at the historic village of Telouet to stretch your legs and explore the abandoned palace of the Pacha of Marrakech. The red exterior walls may have been left to crumble but the rooms within are lavishly adorned with colorful tiles and intricate Moorish decor. Then it's over the mountains and down into the sun-drenched Marrakech valley. Before plunging into the heady mayhem of Morocco's most vibrant city, you'll have the chance to settle into your stylish urban hotel where you'll be spending the next three nights. As evening falls, you'll set off down secret alleys on a private backstreet food tour. From lamb kefta to harira soup, you'll get the chance to sample specialities that many visitors miss and deepen your understanding of Moroccan culture.

Day

11

EXPLORE MARRAKECH

With its intoxicating mix of Moorish palaces, exotic gardens and densely packed streets, Marrakech is an assault on the senses. Founded as a trading hub nearly a thousand years ago, a shopaholic could spend a lifetime here bartering through the city's souks. Today, you'll have the chance to explore it as you wish and your Pack Leader will be on hand to help you choose some activities. Maybe you'd like to learn to make perfume, treat yourself to a hammam or learn to cook a local meal. Or perhaps you'd prefer to lose yourself in the labyrinthine medina, visit the architecturally astounding Palais Bahia and weave your way to the bustling Jemaa-el-Fna Square, where a melee of BBQ stalls, date vendors, snake charmers and storytellers all vie for your attention.

Day

12

VINTAGE SIDECAR ADVENTURE

Your final day is rather special. This morning you'll recreate the spirit of expeditions from the early 1900s on a vintage sidecar experience. Setting off in style, you'll venture away from the city and into the rocky plains of the Agafay Desert where you'll view the lunar landscapes from your unique sidecar viewpoint. Taking it in turns with a fellow Flash Pack traveller to ride on the back of the motorbike or in the sidecar, you'll navigate the rugged terrain as you make your way up to the Kik Plateau, over 1,000 metres above sea level. Here, you'll be treated to an exclusive picnic with panoramic views in all directions. Later, you'll return to Marrakech for your final night in the city. Your Pack Leader can advise on the best spots for a final dinner with rooftop drinks – the perfect way to toast the end of your adventure.

Day

13

FAREWELL, MOROCCO

Today you'll be checking out and transferring to Marrakech Airport for your flight home. You've done it: a 13-day epic journey across Morocco's vast and changing landscapes. There's no doubt you'll leave with stories to last a lifetime as well as some new friendships, too.
Our favourite hotels
Here's a taste of the hotels we sometimes use on this adventure. The hotels you'll stay in for your departure will be shared with you one month before you go.
Sahara Luxury Camp
Nothing can quite prepare you for the stillness and ethereal beauty of both the desert and this wonderful camp. Expect cosy tents, al fresco dining and incredible star-gazing opportunities.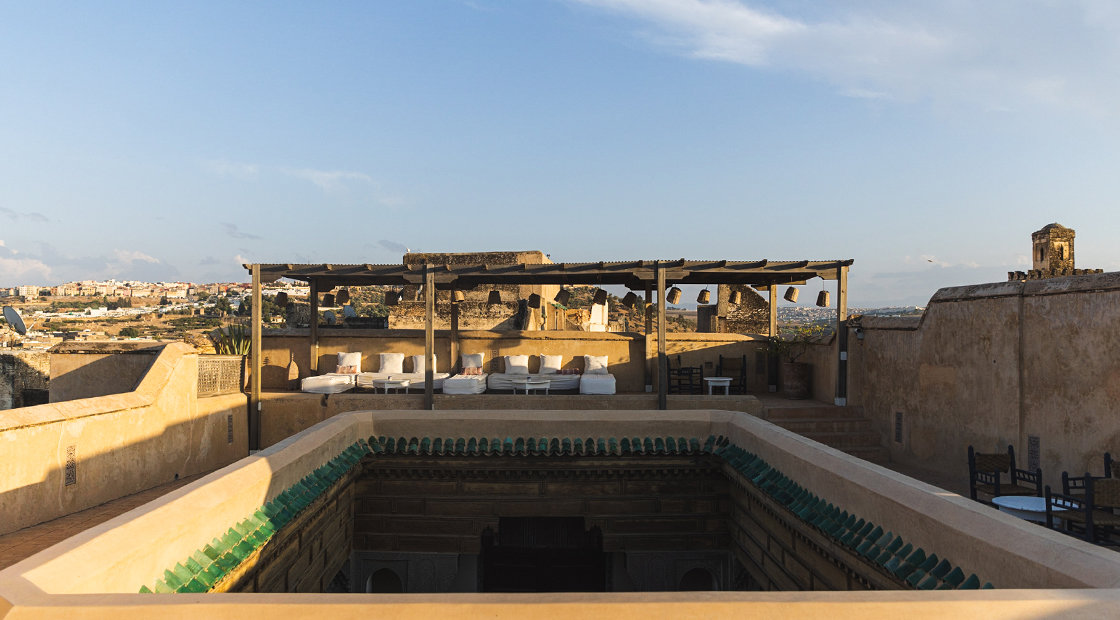 Riad Bensouda, Fes
Set around the fountain courtyard, the 18 elegant rooms feature painted wooden ceilings, majestic doors and ancient zellij floors. There's a courtyard pool, hammam with treatments and a stunning rooftop terrace looking out across the medina, particularly atmospheric at sunset.
Dellarosa, Marrakech
A few minutes from legendary Jemâa el Fna square, this chic city hotel offers a welcome dose of post-desert comfort. Dine against a panoramic backdrop of the Atlas Mountains or kick back on the poolside loungers draped with hanging vines. This is modern Morocco at its best.
Important Notes
Which airport do I need to fly in and out of? Plus airport code

Fly into Casablanca Airport (CMN) and out of Marrakesh Menara Airport (RAK).

Do I need a visa?

You do not need a visa if you're visiting as a tourist from the EU, UK, USA, Australia or Canada for up to 90 days.

Please check with your local consulate/embassy if the country you are travelling from requires a visa. 

We recommend that you travel with at least six months validity remaining on your passport and can show a return ticket. When entering the country, make sure your passport is stamped as some tourists have experienced difficulties leaving the country because their passport bears no entry stamp.

Are there additional Covid restrictions for travellers from China?

With effect from 3 January 2023, Morocco has imposed a ban on all travellers from China, whatever their nationality, until further notice. This ban does not apply to people who left China seven days before their arrival in Morocco. The Moroccan National Airports Office specifies that passengers who have left China seven calendar days before their arrival in Morocco will be admitted to the territory of the Kingdom of Morocco.

What time should my flight arrive? (to arrive in time for the welcome meeting)

Before 3pm ideally. The welcome meeting and dinner will be from 6pm onwards starting at the hotel, which is located approximately 1 hour away from the airport.

What time should my flight depart on the last day?

Check-out time is 11 am but you can leave anytime that suits you. The airport is approximately 15 minutes away from the hotel, and your Pack leader can help you book your transfers the night before if needed.

Are airport transfers included?

The arrival transfer is private to Flash Pack and will be in groups depending on flight times.

We don't include departure transfers however, the airport is approximately 15 minutes away from the hotel, with the cost of a taxi being 180 MAD, the equivalent of £15/$20.

If you and some other travellers are all getting the same flight, we recommend splitting the taxi journey.

What fitness levels do I need for this trip?

We recommend having a read-through of the itinerary above, and getting in touch if you have specific questions on fitness. Overall, the trip is relatively relaxed.

What are the drive times like?

This is a trip for travellers that enjoy a road trip. The total drive time is around 35 hours so we don't advise joining if you suffer badly with motion sickness or any other ailment that extensive travel can make worse. We use a comfortable vehicle, complete with Bluetooth through which you can connect your Flash Pack Spotify playlist, but there are some long drives, like from Fes to Errachidia, for example. We do break up the drives with local and authentic experiences like visiting a local market at Moulay Idriss, but it's worth noting that you could be in the vehicle for up to five hours on most of the travelling days.

Why you should print your travel documents

There's a chance that Marrakech airport will not accept mobile versions of boarding passes (and other important documents). With this in mind, please ensure you have printed all boarding passes and other required documents to present alongside any mobile information you have stored on your phone.

Will the itinerary change?

Please be aware that the itinerary, activities, and hotels are subject to change. These changes are rare but can happen with little notice due to availability, poor weather, seasonal changes, or other circumstances beyond our control – but we'll always do our best to ensure it has little impact on your experience. From time to time, we may also make changes to your itinerary to try out new ideas and keep things fresh and exciting which we will always try and communicate to you.

What will the accommodation be like?

On this trip, you'll be staying in three- to four-star riads (boutique Moroccan B&Bs) that are clean and comfortable but not the same standard as a large chain hotel. Riads are typically traditional Moorish houses with beautiful tile work and an interior courtyard with fountain; some of them have hammams and pools. One of the most noticeable differences between hotels and riads is their more intimate size. What you lose in facilities, you'll gain in authentic atmosphere and hospitality.

What about Ramadan? Will it affect my trip?

Ramadan in 2023 will begin on the evening of Wednesday 22nd March and continue until the evening of Friday 21st April 2023. This is then followed by national celebrations for Eid Al Fitr (the Festival of Fast-breaking) and many people will be on holiday until 1 May.

Some aspects of your itinerary could change during this time as many shops and restaurants will be closed. It will also be quite difficult to obtain alcohol during Ramadan – your Pack Leader will be able to advise.
What Flashpackers say
"A fantastic trip to Morocco with a great group. This was my third Flash Pack trip and they always go well with a great group of people. "
"Amazing guide, great accommodations. A small group made it easier to get to know others traveling with you. Definitely enjoyed the off-the-beaten-path experience that Flash Pack created."
"Great tour guide and local guides. Excellent itinerary with enough time for unscheduled activities. Good hotels. Wonderful fellow travelers."
"Just an epic experience with everything planned so we could just focus on the adventure. I've also made new friends on the adventure."
AS CAPTURED ON INSTAGRAM
The latest from Flashpackers in Morocco on #picsworthsharing
OUR PROMISE

Joining the Flash Pack comes with a few special guarantees

Similar Trips

8 days in Asia

Untold Jordan

9 days in Tanzania

Wild Tanzania

5 days in Iceland

Unknown Iceland

12 days in Asia

Spiritual Bali

10 days in Asia

Secret Vietnam

11 days in South Africa

Bucket-List South Africa

Subscribe to our newsletter

SIGN UP TO OUR NEWSLETTER

Hear about our new adventures before anyone else

Talk to an expert

Need help choosing your perfect adventure? Speak to one of our dedicated Travel Advisors now.

Contact Us

WHAT TO EXPECT

Hear about our new adventures before anyone else.

Be the first to hear about exclusive Flash Pack offers.

Access exciting competitions.

Receive weekly inspiration and travel stories from solos just like you.

You are browsing our US website.

Please choose your current location below:

You are browsing our UK website.

Please choose your current location below: